Tickets on Sale Friday for TYRA BANKS: PERFECT IS BORING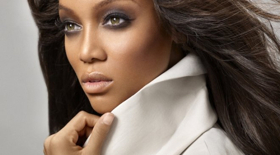 The nonprofit AT&T Performing Arts Center and Interabang Books announced today that tickets for Tyra Banks: Perfect Is Boring will go on sale Friday, March 2 at 10 a.m. Super model, super entrepreneur, and super CEO of our time, Tyra Banks, will share her journey from insecure preteen to supermodel and entrepreneurial powerhouse at 7:30pm. Wednesday, April 11
at the Winspear Opera House in the downtown Dallas Arts District.
All ticket-holders will receive an autographed copy of Tyra's book Perfect Is Boring.
Center Circle get access to the best available tickets. Call Membership
Services at 214-978-2888 or go to www.attpac.org/support to join. Center
Circle presale begins February 26 at 10 a.m.
Ticket prices for Tyra Banks: Perfect Is Boring range from $37-$67 and can be purchased, beginning March 2 at 10 a.m., online at www.attpac.org, or by phone at 214-880-0202, or in person at the AT&T Performing Arts Center Winspear Opera House Box Office at 2403 Flora Street. The Box Office will open 10 a.m. - 4:30 p.m. Monday through Friday and before performances - closed Saturdays and Sundays.
Tyra Banks is the supermodel, super entrepreneur, and super CEO of our time. As an original Victoria's Secret Angel, the first African American model to be featured on the cover of the Sports Illustrated swimsuit edition, and the creator/executive producer of one of the longest-running competition shows, America's Next Top Model, Tyra has made it her life's mission to expand the definition of beauty and empower women worldwide. In 2012, she graduated from the Owner/President Management program at Harvard Business School, and now teaches personal branding at Stanford University's Business School. She has been listed twice among Time magazine's "100 Most Influential People in the World."
About Perfect Is Boring
Supermodel and super CEO of our time Tyra Banks and her mother Carolyn show readers why when you kick perfection to the curb and showcase your unique beauty ain't nobody gonna stop you!
In Perfect Is Boring,
Tyra Banks
and her mother, Carolyn, get raw, real and cray-in-a-good-way as they share what they've learned on Tyra's journey from insecure preteen to supermodel and entrepreneurial powerhouse. Though she'll be the first to tell you she is not her daughter's best friend-'cause she ain't that kinda mama!-there's no doubt that Carolyn's signature mix of pep talks and tough love got Tyra to where she is today, and here they pay it forward to empower readers with a reminder that perfect really isn't all that. Whether they're writing about watching Tyra's most imperfect moment go viral (Does "Be Quiet Tiffany!" ring any bells?), no-holds-barred sex talks or how they've overcome everything from fashion industry discrimination to media fat-shaming and a misguided attempt at a music career, they never lose their sense of humor or we-got-your-back-spirit. Full of smart, wise, and often hilarious lessons for mothers, daughters, fathers and sons everywhere-including "Take Responsibility for Yourself," "Lip Gloss + Pizza Sauce = Boss," and "Fix It or Flaunt It"-Perfect Is Boring is a must-read for anyone who needs a kick in the booty, a pat on the back, or a good reason to laugh-out-loud.Top of Form

Related Articles View More Dallas

Stories

Shows
More Hot Stories For You