Photos: Sneak Peek at WaterTower Theatre's THE GAME'S AFOOT
WaterTower Theatre Producing Artistic Director Terry Martin presents Ken Ludwig's The Game's Afoot (or Holmes for the Holidays) running December 13 - January 5, 2014 on the Main Stage at the Addison Theatre Centre. The cast features Greg Holt as William Gillette; Allyn Carrell as Martha Gillette; Randy Pearlman as Felix Geisel; Emily Scott Banks as Madge Geisel; Christian Genco as Simon Bright; Kaycee Reininger as Aggie Wheeler; Krista Scott as Inspector Goring and Sherry Hopkins as Daria Chase. BroadwayWorld has a sneak peek below!
Making their WaterTower Theatre stage debuts in this production are Greg Holt, Christian Genco, Kaycee Reininger and Krista Scott.
The creative team is led by Director Robin Armstrong. Rodney Dobbs is the Set Designer, Robin Armstrong is the Costume Designer, Ryan Flores is the Lighting Designer and Devon Miller is the Stage Manager.
It's December 1936 and stage star
William Gill
ette, an iconic actor admired all over the world for his role as Sherlock Holmes, is shot onstage during a show. While he recuperates, he invites his fellow cast members to his Connecticut castle for a lively Christmas weekend of fun. But, when one of his guests is found stabbed to death, the fun turns dangerous. It's up to Gillette, as he assumes the persona of his beloved Holmes, to find the killer before someone else is killed. It's written by Tony Award winner
Ken Ludwig
(Lend me a Tenor, Moon Over Buffalo).
Ken Ludwig
is a playwright whose work has been performed in at least 30 countries and in over 20 languages. He has won two
Laurence Olivier
Awards, holds three Tony Award nominations, two
Helen Hayes
Awards, the Edgar Award and the SETC Distinguished Career Award. His best known plays include Lend Me A Tenor, Crazy For You, Moon Over Buffalo, Three Musketeers, Treasure Island and The Beaux' Stratagem.
Ken Ludwig
's The Game's Afoot (or Holmes for the Holidays) opens Friday, December 13, running through Sunday, January 5, 2014. Press/Media night is Friday, December 13 at 8:00 pm. Performances: Wednesdays (Dec. 18 only) & Thursdays: 7:30pm; Fridays: 8pm; Saturdays: 2pm (December 21 only) & 8pm; and Sundays: 2pm. No performances on Christmas Day, New Year's Eve or New Year's Day. Ticket Prices: Single Tickets: $30 - $40. Individual tickets do not go on sale for
Ken Ludwig
's The Game's Afoot (or Holmes for the Holidays) until September 18th at 12 noon. Tickets will be available online at
www.watertowertheatre.org
or by phone at 972-450-6232 or in-person at the WaterTower Theatre box office. Photo Credit: Kelsey Leigh Ervi

Greg Holt as William Gillette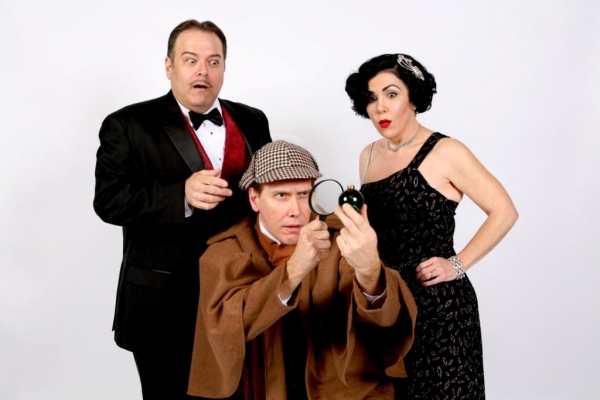 Randy Pearlman as Felix Geisel, Greg Holt as Williams Gillette and Emily Scott Banks as Madge Geisel