Photo Flash: Second Thought's RED LIGHT WINTER
Second Thought Theatre(STT) presents the second show in our 7th season: Red Light Winter by Adam Rapp. This dark, edgy story tells the tale of two friends, Matt and Davis, who take off to the Netherlands and find themselves thrown into a bizarre love triangle with a beautiful prostitute named Christina. The romance they find in Europe is eventually overshadowed by the truth they discover at home. This production contains strong sexual content and prolonged male and female nudity.
Red Light WInter features a talented cast headed up by STT Ensemble Member and Artist in Residence Drew Wall in the role of Matt. Alex Organ, recently seen in Dallas Theater Center's production of A Christmas Carol, makes his STT debut in the role of Davis. Natalie Young, previously seen on the STT stage in Edmond and Some Girls, will play Christina.
Directing for his first time with Second Thought is award winning director, designer and actor Regan Adair. Regan returns to the STT family after playing the title role in STT's critically acclaimed and award winning production of Edmond by David Mamet. Adair (set and costumes) will also head up the design team which includes Matt Gray (sound), Drew Wall (properties) and Jason Foster (lights.)
A story that deals with subject matter as intimate and sexually charged as Red Light Winter requires unique handling from both playwright and director. "When I first read this play, I was immediately struck by its tragic beauty and brutal honesty," says Adair. "We see sexuality portrayed in film all the time. But as an audience, we're removed. In Red Light Winter, Rapp forces us to experience the pain, the sexuality and the intimacy firsthand. Everything is exposed, and there's nothing to hide behind. It's really quite beautiful."
"At its heart, this play is an exploration of the complexities, mysteries and moral ambiguities implicit within the concepts of love and friendship," says Adair. "The people we care about the most can sometimes be our worst enemies. And painful as it may be, love is often unrequited. But in this play, much like in life, there's a glimmer of hope: that through our pain, we can learn who we are, pick ourselves up and get on with the business of life...living."
Adair returns to Dallas and the STT stage after recently moving to New York City to continue to pursue a life in the theater.
"I'm thrilled about the opportunities ahead of me," says Adair. "But Dallas is my theatrical home. I cut my teeth as an artist here. And I'm thrilled that STT has given me this chance to give a farewell performance."
Performance dates and times:
Red Light Winter runs April 21st 2011 - May 7th 2011.
Thursday April 21st at 7:30, Friday April 22nd at 8:00, Saturday April 23rd at 8:00, Monday April 25th at 7:30, Thursday April 28th at 7:30, Friday April 29th at 8:00, Saturday April 30th at 8:00, Sunday May 1st at 2:00, Thursday May 5th at 7:30, Friday May 6th at 8:00, Saturday May 7th at 8:00
INDUSTRY NIGHT, PAY WHAT YOU CAN: Monday April 25th 2011 at 7:30
All shows in STT's 2010-2011 Mainstage Season will be performed at the Addison Theatre Centre Studio Space, 15650 Addison Road in Addison, TX. Price of admission is $20 per person. To purchase tickets or to find out more information, please call the ticket information line at 214-616-8439 or visit www.secondthoughttheatre.com and click on ATTEND.
About Second Thought Theatre
Second Thought Theatre is an ensemble theatre company comprised of an eclectic group of actors, designers, playwrights, directors, and arts administrators dedicated to providing the Dallas community with a quality of performance that is in keeping with the highest national standards. Second Thought Theatre seeks to capture the moment of creation between artist and audience. Dedicated to ensemble productions that explore challenging and dramatic works from the canon of theatrical literature, we strive to enlighten and entertain our audience by pushing the boundaries of human thought and emotion. Old works done in new ways, new works done in old ways. Everything is possible when you take a second thought.
Photo Credit: David Leggett


Natalie Young, Alex Organ , Drew Wall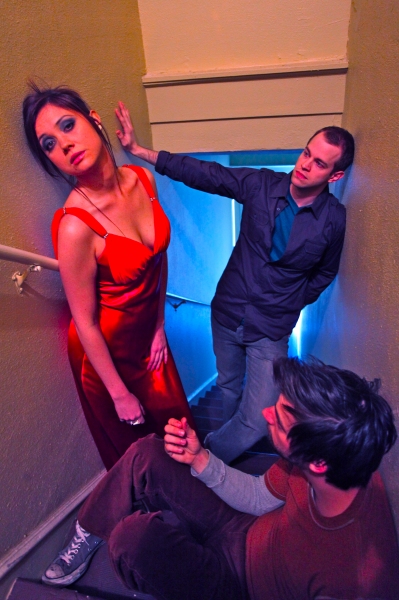 Natalie Young, Alex Organ , Drew Wall

Natalie Young, Alex Organ , Drew Wall

Natalie Young, Alex Organ , Drew Wall

Natalie Young, Alex Organ , Drew Wall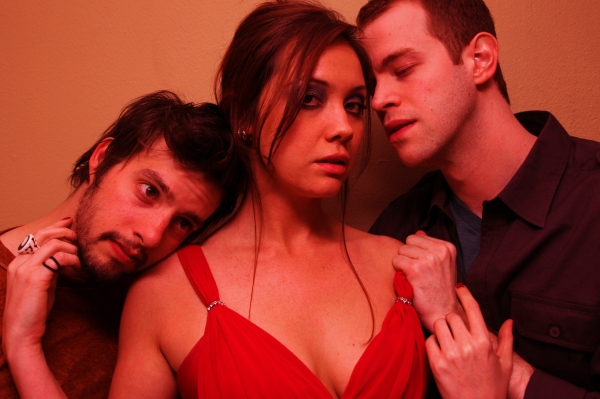 Natalie Young, Alex Organ , Drew Wall