OFFICE HOUR Announced At Circle Theatre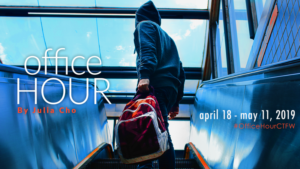 A penetrating drama that could leap from today's headlines comes to Circle. A troubled student hides behind dark glasses and writes disturbing and provoking literature. Is he venting or really troubled? His professor is the only one willing to get close enough to understand. Will the day end in tragedy, hope...or somewhere in between?
*Adult language and subject matter
*Simulated gun violence
Circle's production is directed by Jenny Ledel and features Olivia de Guzman (Gina), Whitney Holotik (Genevieve), Ivan Jasso* (David), and Alex Vinh* (Dennis)

Office Hour is presented by special arrangement with Dramatists Play Service, Inc., New York.

Circle Theatre's production team members include Sasha Davis (Assistant Director), Clare Floyd DeVries (Set Design), Danielle Georgiou (Choreographer), Haley Nelson (Dramaturg) Cathy O'Neal* (Stage Manager/ Props Design), Jennifer Owen (Lighting Design), Melissa Panzarello (Costume Design), and Amy Poe (Sound Design).

*Member of Actors' Equity Association
Julia Cho (Playwright)- Julia Cho's plays include, The Language Archive, The Piano Teacher, Durango, The Winchester House, BFE, The Architecture of Loss and 99 Histories. She has been a resident playwright at New Dramatists since 2004. Her work has been produced at the Vineyard Theatre, The Public, South Coast Repertory, Long Wharf Theatre, Playwrights Horizons, New York Theatre Workshop, East West Players, Theatre @ Boston Court, and Silk Road Theatre Project, among others. Honors include the Susan Smith Blackburn Prize, Barrie Stavis Award, the Claire Tow Award for Emerging Artists, and the L. Arnold Weissberger Award. Durango was also named one of the Top 10 Plays of 2006 by Entertainment Weekly and one of the Best of 2007 by the The L.A. Times. She is an alumna of the Juilliard School and NYU's Graduate Dramatic Writing Program.
Jenny Ledel (Director)- Jenny is an actor living in Dallas, TX where she is an Artistic Associate at Second Thought Theatre and a company member at Kitchen Dog Theater. Her film credits include Karma Police, Spider Veins, and One Tree Hill. Her theatrical credits include Second Thought Theatre, Kitchen Dog Theater, Texas Shakespeare Festival, WaterTower Theatre, Theatre Three, Trinity Shakespeare Festival, Undermain Theatre, and Dallas Theater Center. She is a multiple recipient of the DFW Critics Forum Award for Best Actress. She is also a voice over artist, playwright, and theatre director. She is represented by the Mary Collins Agency.
Office Hour
by Julia Cho
Circle Theatre
230 W. 4th Street
Fort Worth, TX 76102
Sundance Square Entertainment District


Previews:
Thursday, April 18, 7:30 pm ($15)
Friday, April 19, 8:00 pm ($20)
Saturday, April 20, 3:00 pm ($15)

Opening Night:
Saturday, April 20, 8:00 pm ($38)

School Night
Friday, April 26, 8:00 pm
($5 students - $10 faculty & staff)

Interpreted Performance for the Deaf/Hard of Hearing
Friday, May 3, 8:00 pm ( $30 - use code ASL to purchase tickets in this section)

Regular Shows:
Thursday at 7:30 pm ($25 - $33)
Fridays at 8:00 pm ($30 - $38)
Saturdays at 3:00 pm ($25 - $33)
Saturdays at 8:00 pm ($30 - $38)
More Hot Stories For You