Mowgli, Baloo And Sherakhan Come To DCT's Great Jungle In JUNGALBOOK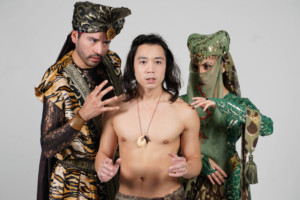 Welcome to a jungle full of animals and life lessons galore when Dallas Children's Theater (DCT) opens JUNGALBOOK, based on Rudyard Kipling's original 1894 coming of age tale. The daunting greatness of the jungle takes over DCT's stage with a larger-than-life set and combines with the moral lessons of home, betrayal, life and death, and loyalty to create a must-see play that captures the imagination. JUNGALBOOK runs at the Rosewood Center for Family Arts from May 4 - 26.
Mowgli lives in the jungle surrounded by panthers, bears, wolves, snakes, and tigers. They are his protectors, and he believes he is one of them. When Mowgli comes face to face with a fearsome tiger, he is forced to choose between his bond with the jungle and the reality of his humanness. This classic story of the struggle for survival and a place that feels like home will have audiences on the edge of their seats.
"Like any true classic, Kipling's work remains relevant for new audiences. This adaptation has a dramatic rhythmic style of language that seems to borrow from Kipling's poetry. It's an exciting and suspenseful coming-of-age adventure about finding and defining family, and it is filled with subtle lessons of loyalty, courage, honor, and tradition, and, perhaps, most importantly, empathy," said Artie Olaisen, director of JUNGALBOOK and Associate Artistic Director at DCT.
In addition to stunning costumes designed by Lyle Hucton, another highlight of the production is how the actors epitomize the animals. JUNGALBOOK will incorporate special movement techniques created by Katy Tye, co-founder of Prism Movement Theatre. Tye's instruction pushes the performers to embody the animal nature of their characters and adds an enhanced element of authenticity to the production. DCT alum Douglass Burks will also return to the stage, reprising his role as Baloo. Burks appeared as Baloo in the 2003 mount of JUNGALBOOK, also directed by Olaisen.
Channel Your Inner Animal During The Entire Run of JUNGALBOOK...
Before every show, DCT audiences will have a chance to design a mask of one of their favorite jungle friends. Photo ops abound in the DCT Lobby which has been transformed into a rich and lush jungle scene with lions, tigers and bears...oh my! Of course, everyone is encouraged to come dressed in their favorite jungle animal attire.
JUNGALBOOK
An adaptation of Rudyard Kipling's classic story
By Edward Mast
May 4 - May 26, 2018
Recommended for ages 5 and up
Cast
Mowgli, a man cub - Christopher Lew**
Baloo, a bear - Douglass Burks*
Bagheera, a panther - Aaron Jay Green*+
Sherekhan, a tiger - Ivan Jasso*
Akela, leader of the wolf pack - Brandon Whitlock**
Grab, a young wolf - Matt Holmes*
Grey, a young wolf - Parker Fitzgerald
Kaa, a python / Water God - Kia Nicole Boyer*
Hathi, an elephant / Water God - Phillip Brown
Chil, a vulture / Water God - Stephanie Cleghorn Jasso
Hyena / Water God - Doak Rapp
Perchy, a monkey / Water God - Marla Acevedo
Understudy Water God Artie Olaisen*
Fight Captain Aaron Jay Green*+
Production Team
Director - Artie Olaisen
Movement - Katy Tye
Scenic, Video & Props Designer - H. Bart McGeehon
Lighting Designer - Jason Lynch
Sound Designer - Marco Salinas
Costume Designer - Lyle Huchton
Stage Manager - Matt Grevan*
*Denotes a member of Actors Equity Association. **Denotes Equity membership candidate.
Performance Dates and Times:
- Friday, May 4, 7:30 PM - Opening Night
- Saturday, May 5, 1:30 PM (Sensory-Friendly)
- Saturday, May 5, 4:30 PM
- Sunday, May 6, 1:30 PM
- Sunday, May 6, 4:30 PM
- Saturday, May 12, 1:30 PM
- Sunday, May 13, 1:30 PM
- Sunday, May 13, 4:30 PM (ASL)
- Saturday, May 19, 1:30 PM
- Saturday, May 19, 4:30 PM
- Sunday, May 20, 1:30 PM
- Sunday, May 20, 4:30 PM
- Saturday, May 26, 1:30 PM
- Saturday, May 26, 4:30 PM
Ticket Prices:
$15-$28 for single tickets. Prices subject to change. Group rates available for parties of 10 or more. Phone reservations required for Sensory-Friendly performances. Call the Box Office for details, 214-740-0051. General tickets are available online atdct.org
Weekday Student Matinee shows also available Tuesdays through Fridays. Call Dallas Children's Theater at 214-978-0120 or visit dct.org/fieldtrips
Photo credit Lawrence Jenkins.
Texas Instruments is the Title Sponsor for JUNGALBOOK.
2017-18 Season Sponsors are: Texas Instruments, City of Dallas Office of Cultural Affairs, TACA, Anonymous Family, The Shubert Foundation, and The Carlson Foundation. General Sponsors Include: The Rosewood Corporation, Melinda & Jim Johnson, The Eugene McDermott Foundation, The Theodore and Beulah Beasley Foundation, Inc., Carl B. & Florence E. King Foundation, March Family Foundation, Maintenance, Inc./Maintenance, Inc. of America. Additional Support is Provided By: Texas Commission on the Arts and the National Endowment for the Arts, Legacy Texas Bank, Frost Bank, Orien Levy Woolf & Dr. Jack Woolf Charitable Trust, The Graham & Carolyn Holloway Foundation, Stephen M. Seay Foundation, TXU Energy, Karen & Jim Wiley, Green Mountain Energy, DCT's official renewable energy partner. Sensory-Friendly Sponsors Include: The Crystal Charity Ball, Bank of America, Anonymous Foundation, The Aileen and Jack Pratt Foundation, W.P. & Bulah Luse Foundation. DCT's National Touring Sponsor is Neiman Marcus.