Imprint Theatreworks Announces Cast of BLOOD BROTHERS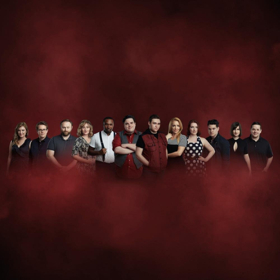 "Did y'hear the story of the Johnstone Twins?"
Imprint Theatreworks is pleased to announce the phenomenal cast and creative team of our anticipated inaugural season closer, Blood Brothers by Willy Russell!
Willy Russell's Blood Brothers is the hilarious, provocative and heartbreaking multi-award winning musical that tells the unforgettable story of the Johnstone twins. Separated at birth when their mother cannot afford to keep them both, Mickey and Edward grow up streets apart, becoming best friends but never knowing the truth of their heritage. The prophecy that twins who are separated at birth will die on the day they find out their heritage fills this stunningly crafted musical with tension and inevitable heartbreak.
With a book, music, and lyrics by Willy Russell (Educating Rita, Shirley Valentine), the London production of Blood Brothers ran for more than 24 years, winning every British "Best Musical" award along the way. It is one of only three musicals in West End history to play for more than 10,000 performances - the other two are Les Misérables and The Phantom of the Opera.
"Blood Brothers is a modern masterpiece that draws the audience in and never lets go. It's deeply moving and wickedly funny, much like life itself. Willy Russell has crafted an emotional experience that feels as relevant today as it did in 1983. The show's themes of class struggle, gun violence, depression, and those who feel invisible within society are still front and center in today's world. We hope Blood Brothers forces the hard conversations we need to have as we all strive to live together in equality and peace."
- Director & Co-Artistic Director, Joe Messina
Blood Brothers plays October 26 - November 10 at the Bath House Cultural Center and tickets are already going fast! Get yours today at www.imprinttheatreworks.org
Cast
Lauren LeBlanc - Mrs. Johnstone
Jonathan McInnis - Mickey
Colin Phillips - Edward
Justin A Duncan - Sammy
Jamall Houston - Narrator
Lee Jamison - Mrs. Lyons
Victoria Anne Lee - Linda
John Wenzel - Mr. Lyons/Ensemble
Kaylee Killingsworth - Ensemble
Quinn Angell - Ensemble
Madeleine Morris - Ensemble
Joseph House - Ensemble
Creative Team
Director: Joe Messina
Musical Director: Scott A Eckert
Stage Manager: Devon Miller
Scenic Designer: Ellen Doyle Mizener
Costume Designer: Jessie Wallace
Sound Designer: Riley Larson
Lighting Designer: John Aspholm
Website, Information, and Tickets: https://imprinttheatreworks.org/
Photo Credit: Jonathan McInnis