Click Here for More Articles on SHAKESPEARE SPOTLIGHT
Denton Community Theatre to Present RICHARD III This Fall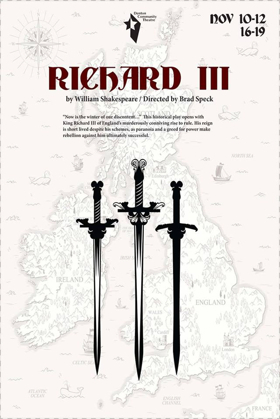 "Now is the winter of our discontent..." Denton Community Theatre (DCT) will present Richard III, by William Shakespeare. This historical play, opens with King Richard III of England's murderously conniving rise to rule. His reign is short lived despite his schemes, as paranoia and a greed for power make rebellion against him ultimately successful.
Director, Brad Speck, has assembled a large cast of actors to bring this tragedy to the Campus Theatre stage. He has had full suits of armor custom made for this production and began sword fight training and choreography early in the rehearsal process. Although this play is known for its length, Speck has cut it to be more palatable for modern audiences.
As he explained, "In Shakespeare's day, watching a play was an all afternoon social event. In order to make certain the audience didn't miss essential parts of the story as they conversed, ate, and relieved themselves in the corner, he would repeat critical information several times to make sure the audience got it. Modern audiences, penned in their seats and encouraged not to converse with their neighbors or relieve themselves in the corner are more attentive." His cuts were carefully considered and he assures theatre goers that he has, "attempted to preserve all the lines anyone except a very picky Shakespearian scholar would be looking for."
In addition, Speck changed a few words to a modern equivalent to make the meaning comprehensible for today's audience. He promises that he has full permission from The Bard himself, as he channels him daily with the goal of bringing this great work to the stage with, "the full flavor of Shakespeare's words without the audience becoming sleeping pumpkins by the end."
Performances are November 10, 11, 16, 17, 18 at 7:30pm and November 12, 19 at 2:00pm at the Campus Theatre located at 214 W. Hickory, Denton. Ticket prices are $22 for adults, $18 for seniors (62+), and $15 for students (through college) and $10 for children 12 and under. Tickets are available at dentoncommunitytheatre.com, or at the Campus Theatre Box Office Monday through Friday from 1:00pm - 5:00pm. Credit card purchases may be done over the phone during these same hours by calling 940-382-7014. Box Office also opens one hour prior to each performance for walk-up patrons. For more information, call (940) 382-7014 or email thedctteam@campustheatre.com.