WEEKEND AT BERNIE'S Will Be Screened at the Warner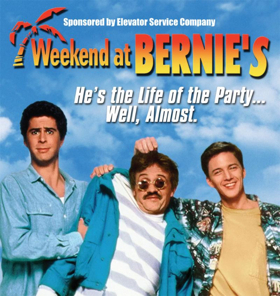 Get dressed in your summer best and head to the Warner Theatre on Friday, March 1 at 8 pm when WEEKEND AT BERNIE'S will be shown on the big screen, sponsored by Elevator Service Company. Doors open at 7 pm and tickets are just $5! It sounded like a great weekend away at their boss Bernie's beachside pleasure palace. But when working stiffs Richard and Larry (Andrew McCarthy and Jonathan Silverman) arrive to find a real stiff their murdered boss they're forced to concoct a crazy scheme to avoid being implicated and/or dead themselves! With Bernie propped up and his death effectively covered up, Richard and Larry's weekend escape becomes exactly that, as they dodge curious babes, a curtain of bullets and one confused hit man! Hilarious performances by McCarthy and Silverman make this fatally funny comedy a good old, knockdown slapstick with just the right dose of cruelty thrown in! (The Hollywood Reporter) Rated PG-13. To purchase tickets, call the Warner Box Office at 860-489-7180 or visit warnertheatre.org.
Built by Warner Brothers Studios and opened in 1931 as a movie palace (1,772 seats), the Warner Theatre was described then as "Connecticut's Most Beautiful Theatre." Damaged extensively in a flood, the Warner was slated for demolition in the early 1980s until the non-profit Northwest Connecticut Association for the Arts (NCAA) was founded and purchased the theatre. The Warner reopened as a performing arts center in 1983, and restoration of the main lobbies and auditorium was completed in November 2002. In 2008, the new 50,000 square foot Carole and Ray Neag Performing Arts Center, which houses a 300 seat Studio Theatre, 200 seat restaurant and expansive school for the arts, was completed. Today, the Warner is in operation year-round with more than 160 performances and 100,000 patrons passing through its doors each season. Over 10,000 students, pre K-adult, participate in arts education programs and classes. Together, with the support of the community, the Warner has raised close to $17 million to revitalize its facilities. NCAA's mission is to preserve the Warner Theatre as an historic landmark, enhance its reputation as a center of artistic excellence and a focal point of community involvement, and satisfy the diverse cultural needs of the region.
Related Articles View More Connecticut

Stories

Shows
More Hot Stories For You