First International Vaudeville Con Food Drive For Pawcatuck Neighborhood Center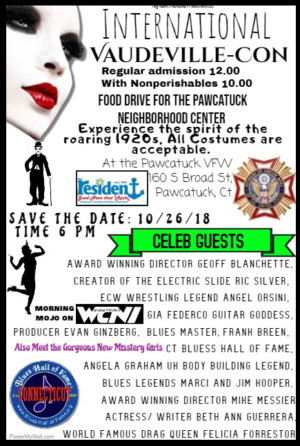 In the spirit of the Roaring 20's come, The First International Vaudeville Con will be held at the Pawcatuck VFW 160 South Broad St. Pawcatuck, Connecticut on October 26, 2018 to help the Pawcatuck Neighborhood Center with a food drive for nonperishable items. This event is 1920s and Steampunk themed, so costumes are highly encouraged.... prizes will be awarded. The roaring twenties was a true renaissance for America and was the foundation of modern music and entertainment.
Famous movie stars such as Charlie Chaplin, and Red Skelton got their start in Vaudeville. Vaudeville was popular in the United States and Canada from the early 1880s until the early 1930s. A typical vaudeville performance was made up of a variety of separate, unrelated acts grouped together on a common bill.
Tag Team Friendship Productions in association with the CT Blues Hall of Fame, and members of the Pawcatuck VFW are uniting together for this great cause. On October 26, 2018 all Celebrities from around the world will be volunteering their time as well. ECW Legend Angel Orsini, Blues legends Marci and Jim Hooper, World renown award winning guitarist Gia Federico, Producer of films "350 Days" and "The Wrestler" starring Mickey Rourke, Evan Ginzburg, Misstery Girls, Blues master Frank Breen, internationally renowned Drag Queen Felicia Forrestor, award winning film maker Mike Messier, and from Yorkshire, England, Model/Pioneer Body Builder Angela Graham have all been confirmed. Locally shot and recent Award winning film "2018 Oniros International Film Festival", "Silent Times," Directed by Christopher Annino and starring Queen of the Paranormal Kadrolsha Ona Carole, WWE legend Brian Blair and star of "Kick Ass 2" Olga Kurkulina will be shown that night.
Another component of this event is Award winning film maker Christopher Annino (Mitchell College Class of 09), Geoff Blanchette (University of RI), in association with Beth Anne Guerrera from Brown University and Bethany Diekmann formed The Pawcatuck VFW Players. So far the short films have been shown on "Quiet 4 a Cause", and The Rock N Variety Show on YouTube and SEC TV. The mission objective for this program is to involve all who want to learn film making and acting. Local talent Essex Steam Train Conductor and honor guard rifle expert Bill McNally will be assisting with this as well. The program also focuses on individuals with disabilities. The goal is to combine professionals and locals to create a positive experience that one can be proud of. Between now and the end date of October 26th we will be shooting short comedic, meaningful films. All who want to participate in this program are welcome. We hope to educate and unite all the community for one cause. Donation at the door is $12.00 and can be purchased at the Pawcatuck VFW. Tickets can be purchased for $10 with the donation of non-perishable food items to be donated to the Pawcatuck Neighborhood Center. Proceeds will go to the Andrea Tegan Post Memorial Fund for the Arts.
Related Articles View More Connecticut

Stories

Shows
More Hot Stories For You