BWW Review: MAN OF LA MANCHA at Westport Country Playhouse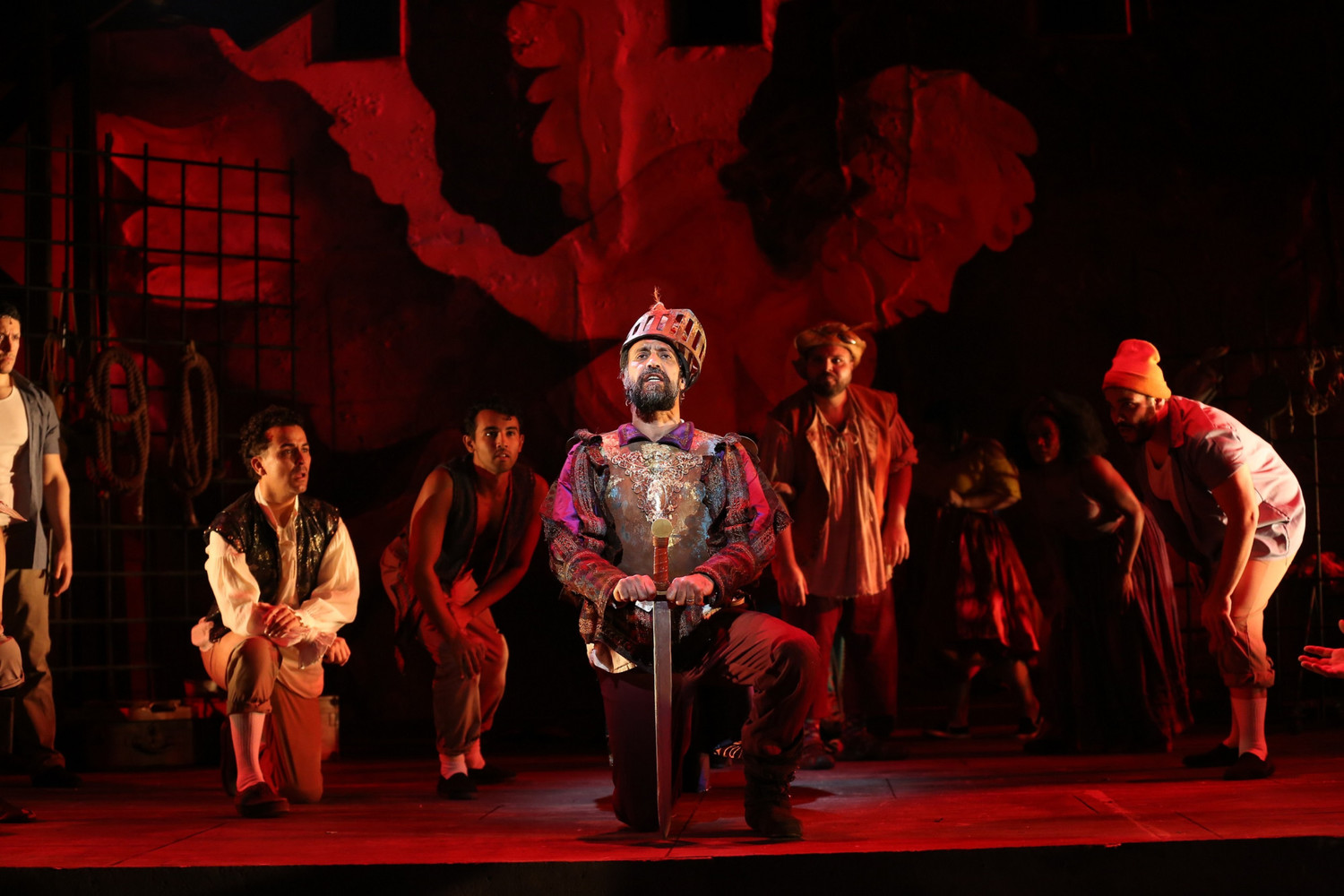 Is there anything that Mark Lamos can't do extremely well when it comes to theater? His latest show at the Westport Country Playhouse, Man of La Mancha, is beyond masterful, from the direction to the performances to the choreography to the set design. Even if you think you've seen this show at least once before, you haven't really seen it until you've seen Lamos's Man of La Mancha. Dale Wasserman's book, Mitch Leigh's music, and Joe Darion's lyrics are still delightful, but Lamos's magic touch adds so much more.
You know the story. It takes place during the Spanish Inquisition and the newly imprisoned poet/writer Cervantes/Don Quixote (the superb Philip Hernandez) creates a story for and with the other prisoners about a man who envisions himself a knight dedicated to the principals of knighthood and all its glory. The rest of the cast include Tony Manna as Sancho/Panza, Gisela Adisa as Aldonza, Ceasar F. Barajas as Pedro, Carlos Encinias as Padre, Michael Scott Gomez as Paco, Guard, and Horse, Jermaine Rowe as Juan, Guard, and Horse, Paola Hernandez as Antonia, Michael Mendez as Innkeeper and Tenorid, Ian Paget as Captain and Anselmo, Lulu Picart as Maria, Housekeeper, and Guitar Player, David Sattler as Governor, Esteban Suero as the Barber, and a very impressive Clay Singer as the Duke and Carrasco. OK, so we know Don Quixote is sweetly touched, but winning, and the messages he sends have at least as much relevance as it did when the show opened in 1965. And that is something that Lamos makes sure he conveys - the scandal of high imprisonment, sexual misconduct, and the dreams of people who are not part of the rich and powerful class. Lamos's production of Man of La Mancha coincidentally opened just as the FBI would begin a limited investigation of the accusations against Judge Brett Kavanaugh, and the scene of the gang rape in the show was all that much more chilling.
Back to the performances. Philip Hernandez is this generation's Man of La Mancha. He adds more depth to Cervantes/Don Quixote than any other performer this critic has seen. Hernandez's rich baritone voice is magnificent. Gisela Adisa fared far better in acting than singing as Aldonza. More vocal coaching could make her the definitive Aldonza. Tony Manna was perfect as Sancho. Michael Scott Gomez and Jermaine Rowe were standouts as Don Quixote's horses. Westport's own Clay Singer (he graduated from Staples High School) was remarkable in both his acting and singing as the conniving Carrasco. Tara Rubin Casting always gets it right.
Also remarkable is Marcos Santana's choreography. Born and reared in Puerto Rico, Santana gave the show more authenticity with his choreography, particularly in the scene with the horses. Michael Rossmy's fight direction was also marvelous, especially in the scenes at the inn. Kudos also to the Wilson Chin's extraordinary set design. What a brilliant idea to use the prison cage instead of a theatre curtain. The moving staircase was like the jaws of a dinosaur. The mirrored gigantic knight was mind-blowing. Alan Edwards' lighting and Domonic Sack's sound complemented the set to perfection. Fabian Fidel Aguilar's costumes were amazing. Samantha Shoffner's props were ideal. Don Quixote's bent sword was a brilliant touch. Andrew David Sotomayor and Wayne Barker get credit for music direction. Just seven musicians gave the sense that there was a full orchestra.
Man of La Mancha has been extended through October 14 at the Westport Country Playhouse. 25 Powers Court, Westport. 203-227-4177. www.westportplayhouse.org
| | | |
| --- | --- | --- |
| | Donations | Arts Orgs |
Related Articles View More Connecticut

Stories

Shows