Actors' Theatre Announces 2019 Season - 'Tainted Love'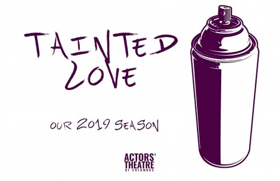 Actors' Theatre of Columbus presents its 2019 season, "Tainted Love." This season's theme is about all of the mishaps and miseries of love: familial, romantic, human. As Lysander predicted in William Shakespeare's A Midsummer Night's Dream, "The course of true love never did run smooth."
Beowulf (and the Bard) by Vidas Barzdukas
Directed by Philip J. Hickman
April 11-20, 2019 - MadLab Theatre
"If worship even of a star had some meaning in it, how much more might that of a Hero! Worship of a Hero is transcendent admiration of a Great Man. I say great men are still admirable; I say there is, at bottom, nothing else admirable!"
So frothed Thomas Carlyle; but do the heroes we love earn the love we give? That is the central question of Vidas Barzdukas' Beowulf (and the Bard), the world premiere tongue-in-cheek comedy. This new play is a funny, satiric, family-friendly take on the oldest English epic of all, Beowulf.
Romeo and Juliet by William Shakespeare
Directed by Amanda Phillips
May 23 - June 16, 2019 - Schiller Park Amphitheatre
"Knowledge will brighten the sunshine; right is more beautiful than private affection; and love is compatible with universal wisdom."
Ralph Waldo Emerson knew what William Shakespeare was capable of in his Romeo and Juliet - a love story that is honest, compassionate, funny, and tragic. These "star-crossed" lovers and all of their entourage are the depth and breadth of human relationships, and the most famous whirlwind romance of all time.
Little Women by Louisa May Alcott
Adapted by Marian De Forest, Directed by Beth Josephsen
June 20 - July 14, 2019 - Schiller Park Amphitheatre
"Be worthy of love, and love will come."
Louisa May Alcott wrote the first great American novel - a story of longing, love, and patience that has stood the test of time. With genuine family affection, tragedy, and finally, hope, Little Women is a classic, buoyant romance that gives the sentiment, wisdom, and humor that makes us able to "Be comforted, dear soul! There is always light behind the clouds."
As You Like It by William Shakespeare
Directed by Pamela Hill
July 18 - August 12, 2019 - Schiller Park Amphitheatre
"Most friendship is feigning, most loving mere folly."
As Amiens says in As You Like It, relationships are fraught with deceptions and false identities. William Shakespeare's bright and brilliant comedy is light and joyful, yet beneath that surface is a wealth of wisdom about what it means to be human, to turn life's catastrophes of chance into triumphs.
Les Liaisons Dangereuses (Dangerous Liaisons) by Christopher Hampton
Directed by Andy Falter and Philip J. Hickman
August 15 - September 1, 2019 - Schiller Park Amphitheatre
"I resolved to write a book which would make a sensation and echo over the world after I left it."
Pierre Ambroise François Choderlos de Laclos' Les Liaisons Dangereuses (Dangerous Liaisons) is the pinnacle of scandalous novels. Published in 1782, the story of scheming aristocrats, coersion, and manipulation makes a stunningly relevant tragedy for our times. With its adult themes of sexual predation, and contrast of genuine love with possessive relationships, this play is a fitting finale to the 2019 season.
Related Articles View More Columbus

Stories

Shows
More Hot Stories For You