Click Here for More Articles on STUDENT CENTER - COLLEGE EDITION

Kent State University Orchestra To Feature Winners Of The Annual Concerto Competition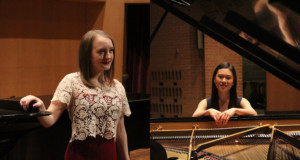 The Kent State University Orchestra presents its fourth subscription series concert of the 2018-2019 season on Sun., Feb. 17 at 3 p.m. in the University Auditorium at Cartwright Hall. Joining the orchestra are the student winners of the annual concerto competition: Heather Morrison, undergraduate soprano, and Vicky Hei Man Tong, graduate pianist. Cartwright Hall is at 650 Hilltop Drive in Kent, Ohio. Free parking is available off of Terrace Drive. Advance tickets are available online, in-person and over the phone through the Performing Arts Box Office.
Directed by Dr. Jungho Kim, the Kent State University Orchestra will open the program with the Overture to "Ruslan and Ludmilla" by Mikhail Glinka. Soprano Heather Morrison will then join the orchestra to perform Wolfgang Amadeus Mozart's beloved motet "Exaltate Jubilate" K. 165. Audience members will then be treated to a performance by pianist Vicky Hei Man Tong of Maurice Ravel's jazz-infused Piano Concerto in G Major. Other works on the program include George Bizet's popular "Carmen" Suite No. 1 and Nikolai Rimsky-Korsakov's Spanish-influenced "Capriccio Espagnol" Op. 34.
Northeast Ohio native soprano Heather Morrison is an active performer in both opera and as a recitalist. In the summer of 2018, she was selected to attend the prestigious Berlin Opera Academy. Along with her appearance with the Kent State Orchestra this semester, she is a member of the cast for the Kent State Opera's production of "The Tender Land" running March 15 thru 17. She is currently a student of Kent State voice faculty member Lara Troyer and is pursuing her Bachelor of Music degree in performance.
Kent State graduate pianist Vicky Hei Man Tong is an active recitalist and competition participant, including the International Keyboard Institute and Festival (New York), Cremona International Music Academy and Competition, Hong Kong Piano Competiton and more. A native of Macau, China, Vicky earned her Bachelor of Music in piano performance at Wright State University and is currently a first-year masters student at Kent State studying with pianist Jerry Wong.
The Kent State University Performing Arts Box Office is located in the Center for the Performing Arts at 1325 Theatre Drive, Kent Campus and is open from 12 p.m. to 5 p.m. Monday through Friday. Patrons can purchase tickets in advance three ways: in-person, by calling 330-672-2787 (ARTS), or online at www.kent.edu/music/buy-tickets. Tickets are $15, adults; $13, seniors and Kent State University faculty and staff; $10, groups of 10 or more; $8, non-Kent State students and Kent State students ineligible for the Fee for Free; and FREE for full-time Kent State undergraduate students and those 18 and under. Free parking available off of Terrace Drive. Tickets will also be available at the door one hour prior to the performance.
The Hugh A. Glauser School of Music at Kent State University (Kent, Ohio) is one of the most distinguished schools of music in the Midwest. The school offers a wide variety of opportunities for both music majors and non-majors through our courses and ensembles. Music education is a vital and central part of the School of Music at Kent State. With in-depth preparation and exposure in pedagogy and musicianship, our students are eager and ready to embark upon the field of teaching. Concentrations in performance and composition are also available and include study with our distinguished applied and academic faculty. In addition, the school hosts the Kent Blossom Music Festival in partnership with The Cleveland Orchestra, among the most respected summer professional training festivals in the country.