BWW Review: Shallow script hampers "This Much" at convergence continuum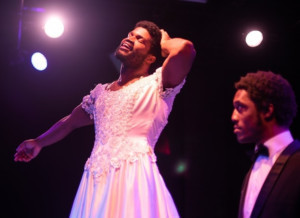 Clyde Simon, the Artistic Director of convergence continuum, often referred to as con-con, knows his potential audience well. His tiny Tremont theatre draws a diverse group who tend to like off-beat shows, from out of the norm authors. This is not the home of Arthur Miller or William Inge. More like the abode for Alexi Kaye Campbell, Athol Fugard and Nick Payne (authors who are having their scripts performed next year at the venue).
Many of his patrons are gay, or are gay supporting, so Simon usually peppers his seasons with a couple of explicit homosexual scripts. That can create a problem. After the epic "Angels in America" and the classic "Boys in the Band" and the staples like "Jeffrey," "Love! Valour! Compassion," "Lips Together, Teeth Apart," "Beyond Therapy" and "The Night Larry Kramer Kissed Me," the quality of scripts falls-off. This often leaves Simon scampering for material. Sometimes he uncovers a gem, other times the scripts are, at best, adequately conceived.
A case in point is the theatre's present production, "This Much (or An Act of Violence Towards the Institution of Marriage)."
The play is described as, "Gar can't decide between the man who plays games and the man on one knee with a ring. In fact, Gar can't decide on anything because every choice seems like a compromise. Everyone wants answers but nothing lives up to the image he has in his head. Facades start crumbling into a violent mess as the world implodes around him but Gar just wants to dance with his friends," while contending "I don't want to be a parody of a straight family."
Sounds promising. It could be an exploration of how we define relationships or the role of traditions on marriage. Or, since Gar is obsessed with wearing a white wedding gown, how clothing choices affect marriage ceremonies. Or, the difficulty of gay marriage is another possible theme.
Unfortunately, "This Much" is not the quality of writing of such out-gay playwrights Tony Kushner or Christopher Durang who dig into the gay psyche, leaving clear and strong messages through drama and humor.
As is, the script does not probe deeply into the backgrounds, histories and motivations of characters, thus failing to give the actors the sociological background to use in developing motivations to make their characters real.
Daryl Keley (Anthony), Maximillian Winer (Albert) and Wesley Allen (Gar) do their beginning and ending and dance with style and smooth moves, but develop characters who stay on the surface. We don't know much about them. Thus it is difficult to feel much empathy and care what happens to any of them.
The Liminis Theatre's small space, with its runway configuration, places the audience within close proximity to the performers, maybe too close for the male frontal nudity and simulated sex acts, but that's what draws some of con-cons audiences to the theatre.
Capsule Judgment: "This Much" is a rather shallow script, which gets an acceptable production at con-con, is filled with forced dialogue and contains little about the true life of gay dating and marriage, and why we should care about these particular characters.

"This Much" runs through November 3, at 8 pm on Thursdays, Fridays and Saturdays at convergence-continuum's artistic home, The Liminis, at 2438 Scranton Rd. in Cleveland's Tremont neighborhood. For information and reservations call 216-687-0074 or go to http://www.convergence-continuum.org/

Next up at con-con: "Rapture, Blister, Burn," Gina Gionfriddo's unflinching comedy about gender politics from November 30-December 15.

Related Articles View More Cleveland

Stories

Shows