BWW Review: BEEHIVE Rocks Great Lakes Stage as it Tells a Tale of Change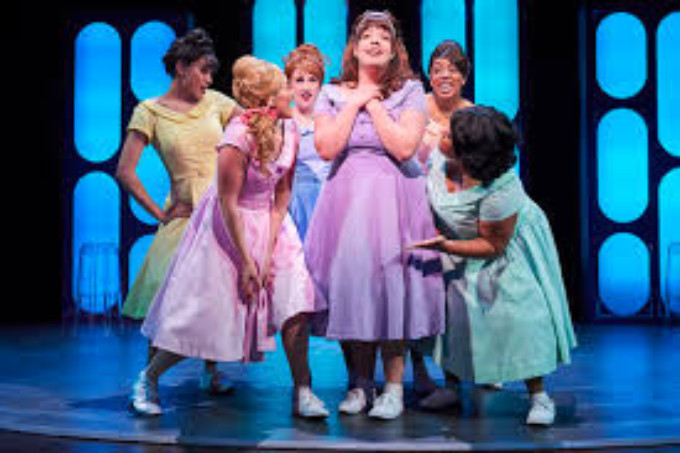 Jukebox musicals contain a story, wrapped around a series of pre-written songs. Think "Mama Mia," "Jersey Boys," "Buddy-The Buddy Holly Story," "On Your Feet," and the present Broadway hit, "Escape to Margaritaville."
Though it has music from the past, "Beehive," now on stage at the Hanna Theatre, isn't a Jukebox show. There is no storyline, per se. Instead the show is all or part of 40 songs, all but two written for other stars and productions, that chronicle an array of popular female performers from the innocent days of the late 1950s and early 1960s to periods of women's activism for rights and equality.
There are girls' groups with their pastel dresses, full skirts, puffy crinolines and beehive hairdos to the natural look and tight jeans and cleavage, and the era of hippiedom.
Created in the mid-1980s by Larry Gallagheer, the show starts "pretty" and ends pretty powerful. We travel from the Chiffons, the Shirelles and The Supremes, with their coordinated hand movements and footwork, to the solo work of early Janis Joplin, electric Tina Turner, and dynamic Aretha Franklin.
The evening, with adept directing by Victoria Bussert, dynamic choreography by Greg Daniels, and musical pitch-perfect sounds under the baton of Matthew Webb, is a great summer evening get away. Yes, problems in the world exist, but harking back to "those days" will grab and hold the attention of those of "a certain age" who grew up with these musical sounds and performers.
Many a member of the audience forgot they were watching and started to sing along. (BTW...that is encouraged, as is dancing in the aisles.)
A couple in front of me snuggled in and were seen "making out" as if they were in a 1960's convertible parked on lover's lane.
For those too young to call the tunes "their music," this will be an excellent education on the evolving history of "female" musicology from the later mid-twentieth century.
First act songs included "Walking in the Rain," "My Boyfriend's Back," "Will, You Still Love Me Tomorrow," "One Fine Day," "Son of a Preacher Man," and "To Sir, With Love."
The mood changes quickly as the second act morphs into "Proud Mary," "Cry Baby," "Try (Just a Little Bit Harder)," Me and Bobby McGee," and what could be the show's theme, "Make Your Own Kind of Music."
The cast, many of whom are Baldwin Wallace Music Theatre students or graduates, are all strong. Each develops a clear song image and personality. Kudos to Adrianna Cleveland, Annalise Griswold, Shelby Griswold, Christiana Perrault, Camille Robinson and Hannah-Jo Weisberg.
Capsule judgement: Go tap your feet, hark back to those "olden" days when life had a different level of angst, hum or sing along with the talented young ladies, and be educated in the way that theater represents the era from which it comes. In this case, the musical 60s.
"Beehive" runs through May 20, 2018 at the Hanna Theatre. For tickets: 216-664-6064 or www.greatlakestheater.org
Related Articles View More Cleveland

Stories

Shows
Roy Berko, a life-long Clevelander, holds degrees, through the doctorate from Kent State, University of Michigan and The Pennsylvania State University. Roy was an actor (read more...)