Kelly Hall Tompkins Announced As CSO Artist In Residence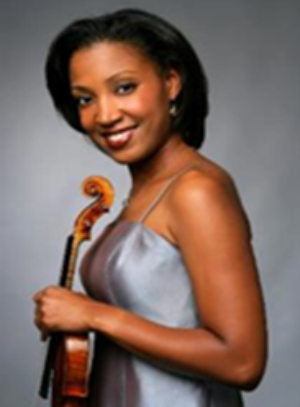 The Cincinnati Symphony Orchestra (CSO) is proud to announce its inaugural Classical Roots Artist-in-Residence, acclaimed violinist, Kelly Hall-Tompkins.
Classical Roots is a signature outreach program of the Cincinnati Symphony Orchestra focused on engaging communities and celebrating African-American musical traditions and musicians who embody exceptional artistry, innovation, commitment to education and community engagement.
Between April 2nd through the 5th, Ms. Hall Tompkins will work with CSO musicians, engaging local students, young musicians and members of the community. She will also work with the CSO/University of Cincinnati College-Conservatory of Music Diversity Fellows during her visit.
Ms. Hall-Tompkins' plans include visiting the Cincinnati School for Creative and Performing Arts and Frederick Douglass Elementary School before performing a recital with CSO musicians at First Unitarian Universalist Church on April 5th, at 7 pm. The program will include Samuel Coleridge-Taylor's Clarinet Quintet, Stravinsky's The Soldier's Tale and music from her latest recording, The Fiddler: Expanding Tradition.
Named as The New York Times' 2017 "New Yorker of the Year" Ms. Hall Tompkins' is forging a dynamic career as a soloist and chamber musician. Her YouTube videos have garnered over 1,472,000 views.
City Gospel Mission will host a performance by Ms. Hall-Tompkins. Her work as a community activist and founder of Music Kitchen, a not-for-profit that takes high-level classical music performances to homeless shelters in New York City. This program has inspired CSO musicians to join her in a production of Stravinsky's The Soldier's Tale for clients at the City Gospel Mission as part of her residency.
The Classical Roots Artist-in-Residence program is an extension of the beloved annual Classical Roots concert focused on the community from which it originated.
The program includes an annual concert at Music Hall featuring the Orchestra, the 150-member Classical Roots Community Mass Choir as well as acclaimed guest artists, an Artist-in-Residence program, additional performance opportunities for the Mass Choir and educational programming including the "Express Yourself" Young People's Concert this season with the CSO.
Recital tickets are $10 and can be purchased for the April 5th concert at 7:00 pm, held at the First Unitarian Universalist Church located at 536 Linton Street in Avondale.
Call the CSO box office or visit the website, 513.381.3300 or www.cincinnatisymphony.org/artist-in-residence For additional information about Ms. Kelly Hall-Tompkins visit http://www.kellyhall-tompkins.com/
About the Cincinnati Symphony Orchestra
The CSO is one of America's finest and most versatile ensembles. With a determination for greatness and a rich tradition that dates back 123 years, the internationally acclaimed CSO has performed the American premieres of works by the likes of Debussy, Mahler, Ravel and Bartók, and commissioned important compositions that have since become mainstays of the classical repertoire including Aaron Copland's iconic Fanfare for the Common Man. With new commissions and groundbreaking initiatives like the Pélleas Trilogy, LUMENOCITY, One City and the MusicNOW Festival collaboration, the Orchestra is committed to being a place of experimentation. As Cincinnati's ambassador, the Orchestra has toured extensively, most recently to Asia and Europe in 2017, and sold millions of recordings around the globe. As Cincinnati's own, the Orchestra elevates the City's vibrant cultural scene not only through CSO and Cincinnati Pops performances but also by serving as the official orchestra for the Cincinnati Ballet, Cincinnati May Festival, and Cincinnati Opera.