Jeffrey Seller Gifts Educational Theatre Foundation with Donation to Support Musical Theatre in Middle Schools
The Educational Theatre Foundation (ETF) announces a major gift from Jeffrey Seller, in support of its JumpStart Theatre program that builds sustainable musical theatre programs in middle schools that previously had none. The gift will enable the program to expand to a new city in 2019.
Seller is best known for his work on Rent (1996), Avenue Q (2003), In the Heights (2008), and Hamilton (2015), which are transformational shows about "young people asking themselves: Who am I? What am I going to do with my life? What is my purpose?"
The announcement was made by ETF President Julie Cohen Theobald at the fourth annual New York benefit event for the Foundation where Freddie Gershon, Co-chairman of Music Theatre International (MTI), and Dr. Sharon Dunn, former Senior Manager for Arts Education for the New York City Department of Education, were honored with the Broadway Back to School Award that recognizes the furtherance of access and excellence in school theatre. Gershon and Dunn received the inaugural honor for their initiation of the Broadway Junior program, which inspired ETF's JumpStart Theatre initiative to help build middle school musical theatre programs across the country.
ETF President Julie Cohen Theobald read a statement from Seller that said in part:
"Freddie and Sharon, I wish that Josh and I could be with you tonight and celebrate you as the first recipients of the Broadway Back to School Award. I love the Broadway Junior program and its impact on New York City, getting musical theatre into the schools. Josh and I are delighted to announce that we've made a gift to JumpStart Theatre, with the hope that what you got started will someday benefit kids in Detroit, as well as in many other communities. Thanks and congratulations!"
Theobald thanked Seller saying, "On a night where we celebrate Broadway giving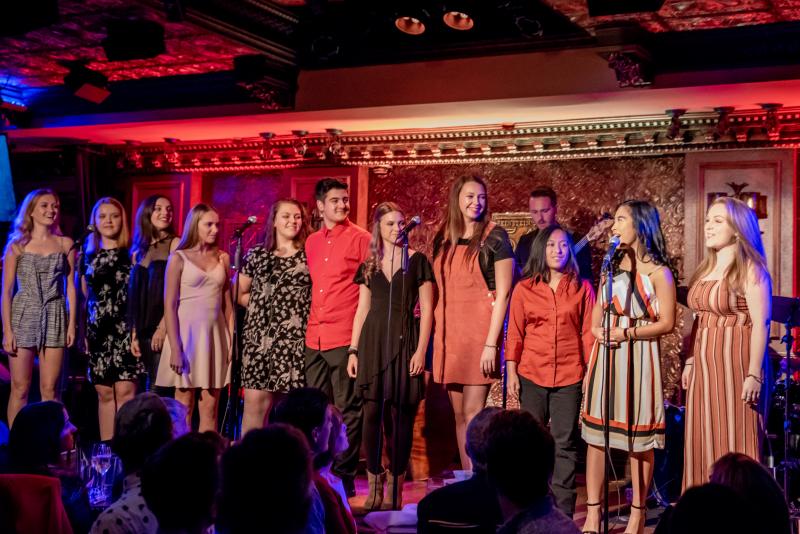 back to school theatre, it means so much to receive this support from such a visionary Broadway producer. I've seen the transformative impact of JumpStart Theatre in the most underserved communities in this country, and this gift will change many lives for the better."
Entertaining and engaging the sell-out crowd, current Broadway performers also devoted the evening to giving back to school-Preston Max Allen (We Are The Tigers, Never Better); Jeremy Brown (ASL Cabaret, Fiddler on the Roof); Morgan Siobhan Green (Between the Lines); Caitlin Kinnunen (THE PROM, Spring Awakening, Law & Order: SVU); Justin Gregory Lopez (Jesus Christ Superstar Live in Concert on NBC, Evita, In the Heights); Michael Maliakel (Anything Can Happen: The Songs of Maury Yeston, Monsoon Wedding); Marcy & Zina (Ever After, The Marcy and Zina Show); Bonnie Milligan (Head over Heels, Kinky Boots, Search Party on TBS); Renee Rapp (2018 Jimmy Award winner for Best Actress); and Garrett Zuercher (Deaf West's international Broadway tour of Big River, Law & Order: Criminal Intent, Wonderstruck). Each of the performers thanked one of their high school theatre teachers. And one was present.
One of the many touching highlights of the evening was when Tony Award-winning theatre teacher and Thespian troupe director Corey Mitchell from North Carolina was on hand to congratulate and have a mini reunion with his former student, Renee Rapp who performed "The Life of the Party," from The Wild Party.
In addition the show includes International Thespian Society student performers from New York and New Jersey.
Photo Credit: Walter McBride / WM Photos