A CHORUS LINE Completes First-Ever China Performances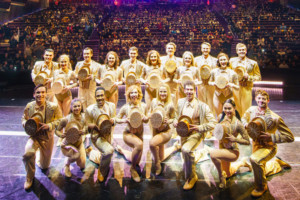 Following a US tour and run in Japan, Big League Productions proudly presented the Tony Award and Pulitzer Prize-winning singular sensation, A CHORUS LINE in Shanghai, China. The 2019 engagement, which premiered at the top venue in China for musicals, Shanghai Culture Square, featured Michael Bennett's original Broadway direction and choreography, as recreated by original cast member Baayork Lee. The engagement ran from January 17 to 27, 2019.
This was the first time that A CHORUS LINE played in China. Richard Fei, a top executive at the Shanghai Culture Square, felt it was crucial that the Chinese newly developing musical theater audience see this classic work. Daniel Sher, producer, experienced the audience's emotional response to the show's iconic, heartfelt and candid stories. Also in attendance for this first in the classic show's history was John Breglio, esteemed lawyer, producer and the exclusive representative of Michael Bennett's work.
Big League Productions' A CHORUS LINE features Michael Bennett's original work restaged by the legendary Baayork Lee. A director, actress, author and choreographer, Lee played Connie Wong in the original 1975 production of A CHORUS LINE, and has gone on to direct and choreograph more than 35 international productions of the show, including the most recent Hollywood Bowl version, which she staged with the National Tour's associate director, Peter Pileski. She was also the recipient of the 2017 Isabelle Stevenson Tony Award for her contributions to theater education programs around the world. The show also featured casting by Alison Franck, scenery by Robin Wagner, costumes by Theoni Aldredge, sound by Steve Rogers, and lighting by Charlie Morrison.
A CHORUS LINE is produced by Big League Productions, Inc. Led by President and Executive Producer Dan Sher, Big League is celebrating its 29th season of producing, general managing and booking Broadway musicals and special attractions for touring throughout North America and the world. For more information visit www.BigLeague.org.