Theatre Y To Present Premiere Of Lukas Barfuss' Black Comedy, MALAGA (or The Inner Ear)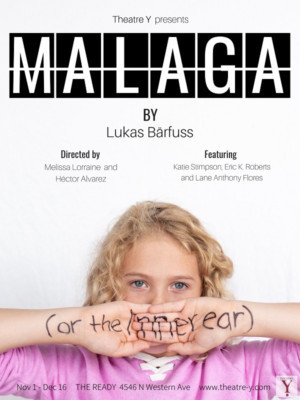 Theatre Y is proud to present the English Language World Premiere of MALAGA (Or the Inner Ear), by Lukas Bärfuss at The Ready, 4546 N. Western Ave. Theatre Y Artistic Director Melissa Lorraine and Ensemble Member Héctor Alvarez direct this brand new translation by Neil Blackadder, featuring Ensemble Members Katie Stimpson and Eric K. Roberts, and introducing guest artist Lane Anthony Flores.
MALAGA will be the second Theatre Y production offered to the public free of charge as part of its new FREE THEATRE MOVEMENT! Opening night is Thursday, November 1 at 7:30 p.m. Press Nights are Saturday and Sunday November 3 and 4, and the play runs through December 16. The regular performance schedule is Thursday-Sundays at 7:30pm. Industry night is Monday, November 26 at 7:30 p.m. For more information and to reserve your seat visit http://www.theatre-y.com/.
A couple has just split up, between them a child. Vera wants to go to Malaga for the weekend with her new boyfriend; Michael is due at a conference. The only available babysitter is hired quickly, despite countless red flags. Nevertheless "where there's a will, there's a way to soothe the voice of conscience." And once catastrophe is welcomed, it will not be governed.
Bärfuss´ tells stories that are related to our everyday lives but explore wideranging themes such as guilt, responsibility, individual fulfillment - funny, tragic, grotesque. Full of unexpected turns. Exciting. Bärfuss lets things start off like a piece of conversation and swell to a tragedy of Greek proportions. - Andreas Klaeui, Frankfurter Rundschau
For directors Lorraine and Álvarez the absent (yet thematically central) little girl becomes the productions' guiding obsession. This negative space, along with the voyeuristic nature of the text and subject matter invite a dialogue between theater and film, between our ideas of ourselves and what we're "caught" having done.
Cast for Malaga: Katie Stimpson (Vera), Eric K. Roberts (Michael), Lane Anthony Flores (Alex), Adrian Garcia Jr. (U/s Alex).
The production team for Malaga includes: Héctor Álvarez (Co-director/Sound Design), Cody Beyer (Technical Direction), Neil Blackadder (Translator), Rebecca Hinsdale (Costume Design), Melissa Lorraine (Co-Direction/Set Design), Claire Sangster (Lighting Design), Kevin Hurley and Justin Theodore Jones (Film/ Projections Design).
Lukas Bärfuss (Playwright)
Lukas Bärfuss is one of the most successful contemporary German dramatists. Voted playwright of the year in the critic poll featured by the magazine "Theater Heute" in 2005. Awards:Mühlheim Dramatist Prize (2005), Book Prize from the City of Bern (2005), Spycher Literature Prize (2007), Anna-Seghers Prize (2008), MaraCassens Prize for the best German debut novel (2009), Schiller Prize from the Swiss Schiller Foundation, Erich-Maria-Remarque Peace Prize (2009), Hans-Fallada Prize from the town of Neumünster (2010).
Melissa Lorraine (Co-Director and Theatre Y Artistic Director)
Graduating from Northern Illinois University with a B.F.A. in acting, Lorraine became a company member of Studio K in Budapest, Hungary. Co-founding Theatre Y with now deceased Director Christopher Markle. Premiering the English language version of Transylvanian writer András Visky's JULIET with over two hundred performances worldwide. Starring in Visky's I KILLED MY MOTHER, earning a Chicago's Best Actress Orgie Award. Lauded by The Chicago Reader for turning even an "overwritten" and "implausible script" into "probing, harrowing, hallucinogenic truth," for her Directorial work on VINCENT RIVER. In 2013 Lorraine directed the world premiere of THE BINDING, a collaboration between Theatre Y and two acclaimed Serbian/Hungarian choreographers, which was a cover feature of the Chicago Reader. Collaborating with Georges Bigot for one year (2015-16), Lorraine developed the Theatre Y Ensemble of 12 actors, according to the traditions of the Theatre du Soleil. She now leads this ensemble to discover a common language and a new way to work, searching for a way to make theater without the "dictator".
Héctor Álvarez (Co-Director and Theatre Y Ensemble Member)
Héctor Alvarez is a writer, actor and director from Spain based in Chicago. He has studied non-Western theater traditions in China, Japan and Indonesia, and in 2008 received a Watson Fellowship to research community-based performance in Latin America. He has a BA in Theater from Macalester College and an MA in Modern English Literature form University College London.He has trained with Augusto Boal, Peter Schumann, Malte Lambrecht, Guillermo Heras, Georges Bigot and Anne Bogart, and has performed in more than 20 productions. He has been an ensemble member of Theatre Y since 2015. In 2017 he presented his one-man show about gun violence The Ghoul Exhibition (directed by Melissa Lorraine), described by The Chicago Reader as "A deeply affecting solo show. Truly audacious."
Theatre Y
Theatre Y creates challenging and innovative theater that addresses the contradictions of the human experience. The following values and practices form the foundation of our work: 1) We operate as in international laboratory, inviting artists from diverse cultures and backgrounds, because this exchange enriches our work. 2) Inspired by director Anne Bogart, we believe that "all great life-changing work made for the theater has historically been made by companies." That is why Theatre Y has constituted itself as an ensemble devoted to experimentation and artistic excellence. 3) Continuous, weekly training is critical for the health and development of our ensemble. 4) We make work for our community and have pledged to remove all financial barriers that would exclude anyone.
More Hot Stories For You