Pride Films and Plays Announces a Fve-Show Season for 2018-19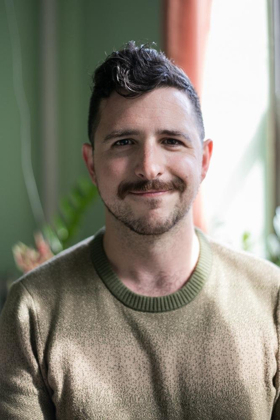 For 2018-19, its second full season in its home at the two-stage Pride Arts Center, Pride Films and Plays will expand to a five-show season, up from the four-show schedule of 2017-18. Artistic Director Nelson A. Rodriguez today announced the company's lineup of four plays and one musical under the theme "We Are Family." Rodriguez explains, "This season we are focusing on Chosen Families and their importance in our community - especially during trying times. These four plays and one musical delve into the family-like bonds, romantic relationships, and professional circles which give us the strength and faith to persevere in the face of adversity."
the company
will use its two performance venues - the 85-seat Broadway and the 50-seat Buena, to present a range of LGBTQ-themed or authored works from writers both known and new to Chicago audiences.
The season will open in early September with the Chicago premiere of HOMOS, OR EVERYONE IN AMERICA by Jordan Seavey (pictured). The comedy-drama deals with a young urban gay couple dealing with the aftermath of a vicious crime. The play premiered in 2016 in a production by New York's LAByrinth Theater Company. Seavey is the co-Artistic Director of NYC's Collaboration Town. Pride Films and Plays Associate Artistic Director Derek Van Barham will direct.
The season's second production will be IT'S ONLY A PLAY, by Terrence McNally. McNally is arguably Broadway's most prolific gay male playwright, with 20 Broadway credits to his name, plus many other plays produced off-Broadway. IT'S ONLY A PLAY is a comedy set behind the scenes of a Broadway play that satirizes theater folk as it celebrates the sort of "chosen family" they form during their production. It premiered off-Broadway in 1986 and was revised and updated by McNally for a 2014 Broadway revival. The Pride Films and Plays production will be Chicago's first look at the revised script. A director will be announced later.
I KNOW MY OWN HEART by Irish-Canadian author Emma Donoghue will open in January. Inspired by the secret coded diaries of Yorkshire gentlewoman Anne Lister, it details Lister's affairs with various women in the early 19thCentury. Donoghue is best known for her novel and subsequent screenplay and stage play of ROOM. The film version of ROOM was nominated for four Academy Awards, including Best Picture, Director, Adapted Screenplay and Brie Larson's award-winning performance. This will be the US premiere of I KNOW MY OWN HEART and it will be directed by Elizabeth Swanson.
The life of a transgender man in Georgia is the subject of the musical SOUTHERN COMFORT, to open in the Pride Arts Center's Broadway stage in March under David Zak's direction. Based on the 2001 Sundance Film Festival documentary,
SOUTHERN COMFORT follows the last year of Robert Eads, a transgender man in Georgia. He surrounds himself with his chosen family, as they share monthly potluck meals. Like any family, they have their own trials and tribulations, but ultimately, they all seek acceptance for who they are in their own skin.
SOUTHERN COMFORT received its premiere at
The Public Theater
in New York City in February of 2016 and was written by
Dan Collins
(book and lyrics) and
Julianne Wick Davis
(composer), who created TREVOR: THE MUSICAL, which was warmly received in its world premiere production at Writers Theatre in summer 2017.
The season will close with the world premiere of DESIRE IN A TINIER HOUSE, by Brazilian-American, Chicago-based playwright Ryan Oliveira. Oliveira's play explores the challenges of maintaining loving gay relationships amidst the societal forces that attack such relationships. DESIRE IN A TINIER HOUSE had a workshop by Commission Theatre in 2017, directed by Pride Films and Plays Artistic Director Nelson A. Rodriguez, who will direct this fully staged production as well.
Season subscriptions will be $96.00 for the five-show season, offering one reserved seat for each of the five productions. Patrons purchasing subscriptions by June 1 will also receive one free seat to see THE DAYS ARE SHORTER - the final production of the 2017-18 season, which will play in the Buena from May 8 - June 3, 2018. Flex passes, providing six admissions to any season production that can be divided among productions however the patron wishes, will be available for $168.00. Both season subscription packages are available now at www.pridefilmsandplays.com or by phone at 866-811-4111 or 773-857-0222.
Related Articles View More Chicago

Stories

Shows
More Hot Stories For You