Pride Films And Plays' YANK! Extends to 3/18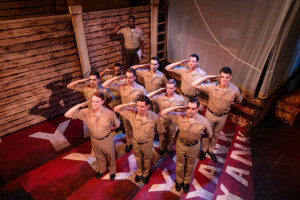 Pride Films and Plays' Chicago premiere of YANK! A WWII Love Story will be extended by four weeks due to audience demand. David Zak, Executive Director of Pride Films and Plays, announced the extension today.
The hit off-Broadway musical, which opened to the press in Chicago on January 18, is the story of a midwestern boy who joins the Army during World War II, falls in love with another soldier in his squad and is later introduced to the gay underground of the Armed Services through a journalist for the Army magazine YANK. Zak directs the musical, with Robert Ollis providing musical direction and Jenna Schoppe choreography.
Matthew Huston
,
William Dwyer
,
John Marshall
, Jr. and
Molly LeCaptain
will continue to lead the cast as Yank extends for four more weeks. Huston, who previously appeared with Pride Films and Plays in PRISCILLA: QUEEN OF THE DESERT, is Stu, a scared kid who gets drafted in 1943. Dwyer, who was Freddy Eynsford-Hill in
Light Opera Works
' MY FAIR LADY last year, will continue to play Mitch, the handsome soldier Stu meets and falls in love with.
John Marshall
Jr. (MAMMA MIA at Marriott and ALL SHOOK UP at Theater at the Center) will remain as Artie, a self-assured gay reporter for "Yank - a magazine by and about servicemen."
Molly LeCaptain
, who plays all the women's roles - including girlfriends, a military career-woman, and popular radio singers of the era, is staying through the extension as well.
Newcomers to the cast beginning February 22 will be Bradley Halverson as Czechowski and Jeremiah Alsop as India/ensemble. Others remaining in the production are Nate Strain (Tennessee), Tommy Thurston (Professor), Xavier Euzarraga (Rotelli), Brian Kulaga (Cohen/Speedy), Marc Prince (Sarge), and Parker Guidry (Melanie/ensemble). The musical, a product of the New York Musical Theatre Festival, gained critical attention, awards nominations and a loyal audience in its 2010 production by the off-Broadway York Theatre Company. Though a planned Broadway production never happened, YANK! has been produced on three continents, and a production played at the Charing Cross Theatre in London's West End this past July and August. YANK! is performed in the Pride Arts Center's 85-seat Broadway stage, at 4139 N. Broadway.