Photo Flash: Renee Fleming, Yo-Yo Ma Surprise Diners With Performance at Thompson Center
Hundreds of lunchtime diners in downtown Chicago were treated to a surprise performance 12:30-1 p.m. today by soprano Renée Fleming, cellist Yo-Yo Ma, members of the Chicago Symphony Orchestra, a Lyric Opera of Chicago pianist, and 100 high-school chorus members from Lake View High School, Chicago High School for the Arts, and Merit School of Music.
Renée Fleming is Creative Consultant for Lyric Opera of Chicago. Yo-Yo Ma is the Chicago Symphony Orchestra's Judson and Joyce Green Creative Consultant.
The surprise concert took place on the lower level of the James R. Thompson Center (formerly the State of Illinois Center). High-school singers under the direction of Lake View HS music teacher Catherine Mascari began with a call-and-response South African folksong, "Tshotsholoza," that drew the students from around the food court to the center of the rotunda.
Then in walked Fleming, Ma, and Lyric pianist Matthew Piatt, to perform Rachmaninoff's l "Vocalise." By this time all present were raptly attentive and astonished at the music-making in their midst.
Illinois Gov. Pat Quinn introduced and thanked the assembled artists, spoke about the important role the arts play in everyone's lives, then invited all present to sing along for the grand finale, an arrangement of "America the Beautiful" by Cliff Colnot.(The lyrics were distributed in advance, and were also accessible by smart phone.) Fleming led the singing, accompanied by Ma and CSO musicians Jennifer Gunn (flute), Xiomara Mass (oboe), J. Lawrie Bloom (clarinet), William Buchman (bassoon), Susanna Gaunt (horn), and David Griffin (horn). Gov. Quinn and others sang along for the repeat of the first verse.
Earlier in the day, Fleming, Ma, a small ensemble of musicians from the CSO and a Lyric pianist visited Lake View High School, a Chicago Public School known for its excellence in arts education. Fleming, Ma and the CSO musicians visited three classrooms and participated in a school-wide assembly led by Damian Woetzel, director of the Aspen Institute's Arts Program and former principal dancer with the New York City Ballet. Choral students from Merit School of Music and Chicago High School for the Arts also attended the assembly and performed with choral students from Lake View High School, along with the CSO musicians and Lyric pianist.
These events are part of ongoing initiatives by both the CSO and Lyric Opera. The CSO's Citizen Musician initiative, launched in January 2011 by the Institute for Learning, Access and Training at the CSO, calls on all musicians (professional, young and amateur), music lovers and music teachers and institutions to use the art form to bridge gulfs between people, to create community and to inspire and transform lives (www.citizenmusician.org).
The goals of Lyric's Renée Fleming Initiative, announced in December 2010, include collaborating with other Chicago arts institutions to champion Chicago as a center of culture, as well as increasing opera audiences and awareness of the art form through new educational partnerships, innovative marketing, and expanded programming (www.lyricopera.org).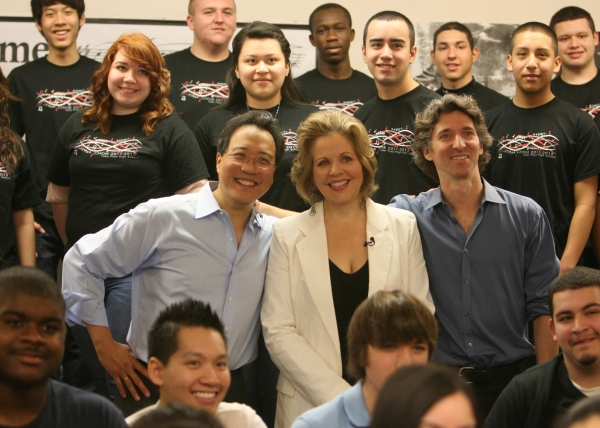 Renee Flemming/Yo-Yo Ma at Lake View High School and the Thomson Center