Photo Flash: Porchlight Music Theatre Revisits LITTLE ME on Opening Night
Porchlight Music Theatre and Artistic Director Michael Weber are proud to announce the continuation of the fourth season of Chicago's hit "lost" musicals in staged concert series, Porchlight Revisits Little Me, music by Cy Coleman, lyrics by Carolyn Leigh and book by Neil Simon based on the novel by PatRick Dennis, with direction by Porchlight Artistic Director Michael Weber, musical direction by Linda Madonia, choreography by Craig Miller with special guest choreography by veteran Bob Fosse dancer Jane Lanier and starring Jeff Award-winner Matt Crowle. Porchlight Revisits Little Me is presented for three-nights-only Tuesday, Feb. 28 through Thursday, March 2 at 7:15 p.m. and is performed on the set of Porchlight's The Scottsboro Boys (previews begin Friday, Feb. 3) at Stage 773, 1225 W. Belmont Ave. Tickets for Little Me are $35. All tickets include access to the popular pre-performance event, Behind the Show Backstory, a multimedia presentation, created and hosted by Weber that discusses that evening's production including the show's creative history, backstage gossip and the state of the art on Broadway that season. Single tickets to Little Me are available at PorchlightMusicTheatre.org or by calling the Stage 773 box office, 773.327.5252.
Originally created for the legendary comic talents of Sid Caesar and inspired by an imaginary autobiography entitled Little Me: The Intimate Memoirs of that Great Star of Stage, Screen and Television, Belle Poitrine (as told to PatRick Dennis), by PatRick Dennis (also the author of Auntie Mame), Little Me is a brash, fast and furiously funny musical comedy. It tells the story of the glamorous and big hearted "Belle Poitrine" and her six husbands and lovers-an assortment of oddballs ranging from an innocent college boy to a lecherous octogenarian to the king of a non-existent country and how they got her from the "wrong side" to the "right side" of the tracks. Featuring the hit numbers I've Got Your Number, Real Live Girl and The Rich Kid Rag, Bob Fosse won the 1963 Tony Award for Little Me's original choreography.
Starring Matt Crowle as "Noble Eggleston" & "Mr. Pinchley" & "Val du Val" & "Fred Poitrine" & "Otto Schnitzler" & "Noble Junior" & "Prince Cherney," the ensemble cast of Porchlight Revisits Little Me includes: Michael Accardo as "Benny Buchsbaum" & "General 'Over-the-Top' Schreiber;" Elya Bottiger as "Young Belle"; Kayla Boye as "Ramona Nightengale;" Michael Ferraro as "George Musgrove;" Dan Gold as "PatRick Dennis;" Graham Hawley as "Junior Pinchley;" Ben Kaye as "Bernie Buchsbaum" & "Mrs. Eggelston;" Jenny McPherson as "Mrs. Kleeg:" Shari Mocheit as "Mama;" Thomas Squires as "Brucey;" Genevieve Thiers as "Belle Poitrine;" and Tyler Symone as "Mrs. Kepplewhite."
Special guest choreographer Jane Lanier (veteran Broadway dancer from the productions Fosse, Jerome Robbin's Broadway and Sweet Charity) will stage a featured dance number "The Rich Kid Rag," originally created by Bob Fosse for the 1962 Broadway premiere of Little Me featuring dance students from Roosevelt University Chicago College of Performing Arts.
The production team includes Larry Baker, stage manager; Keegan Bradac, sound designer; Shelby Brand, costume coordinator and Jordan Fleming, house manager.
Artistic director of Porchlight Music Theatre, Michael Weber recently directed the Judy Garland story End of the Rainbow for Porchlight Music Theatre. His productions of Side Show, Sweeney Todd, A Funny Thing Happened on the Way to the Forum, Pal Joey and Assassins at Porchlight Music Theatre, Grand Hotel at Drury Lane Theatre Water Tower Place and She Loves Me at Theatre at the Center were each nominated for the Joseph Jefferson Award for Best Production-Musical. Most recently for Porchlight Revisits he directed Chess and Mack & Mabel. Previously Mr. Weber served as artistic director of Drury Lane Theatre Water Tower Place (now The Broadway Playhouse) and at Theatre at the Center (1998-2004). His credits include Living the History-125 Years of The Auditorium Theatre starring Patti LuPone, John Mahoney and stars of Lyric Opera of Chicago, The Joffrey Ballet, Alvin Ailey American Dance Theater and more, Fifth of July and Talley's Folly at the Oak Park Festival Theatre, The Petrified Forest at Theatre at the Center, Beauty and the Beast at Marriott Theatre, Over the River and Through the Woods at The Mercury Theater, A Funny Thing Happened on the Way to the Forum at Pheasant Run Theatre, and Cirque du Symphony at Sears Center Arena. The recipient of two Joseph Jefferson Awards, he has written and directed the past nine Equity Joseph Jefferson Awards ceremonies. Weber is proud to serve as a pledge host on WTTW, Channel 11, and he is author of the play, WAR of the WELLES.
ABOUT Linda Madonia, music director
A Porchlight Music Theatre Artistic Associate, Linda Madonia was music director for Porchlight's A Funny Thing Happened on the Way to the Forum and Double Trouble. She recently conducted The Man Who Killed Sherlock Holmes at Mercury Theater Chicago. As a music director and conductor in the Chicago area for the past 30 years, credits include Plaid Tidings, Suds, Beehive and Gypsy at the Williams Street Rep. Leo on Ice for Leo Burnett at the Chicago Theater; Hollywood's Greatest Hits, The Fantasticks, Cabaret and Man of La Mancha for Light Opera Works; and Forbidden Broadway: SVU at the Royal George Theater. Other credits include Grand Hotel and Nunsensations at Drury Lane Water Tower Place and A Chorus Line, She Loves Me and Me and My Girl at Theatre at the Center. For the past nine years, Madonia has been the music director for Chicago's Equity Joseph Jefferson Awards. During the day, she owns American Eagle Productions, a touring theater company that takes shows and workshops directly into schools. American Eagle has been doing shows for twenty-four years and presents 250 shows a year to Chicago area schools.
ABOUT CRAIG V. MILLER, choreographer
Craig V. Miller returns to Porchlight Music Theatre where he was assistant choreographer for the Jeff Award-winning Ain't Misbehavin'. He began his training in the Fine Arts Academy at Southfield-Lathrup High School and Motor City Dance Factory. He attended Oakland University as a Merit Scholarship student, earning a B.A. in Dance Performance. He has trained with Dayton Contemporary Dance Company, Alonzo King's LINES Ballet and the Ailey School summer intensives. Miller was an apprentice for Eisenhower Dance Ensemble, a member of the Michigan Dance Project, Inaside Chicago Dance and Chicago Repertory Ballet. He has performed works by Louis Falco, Amy Marshall, Sean Curran, Robert Moses, Joel Hall, Harrison McEldowney, Autumn Eckman,, Alonzo King and Steve Koester, to name a few. As a guest artist, he has performed with the Civic Ballet of Chicago's production of "The Nutcracker", Esoteric Dance Project, Dance in the Parks, and Chicago Dance Crash. Choreography credits include: The Color Purple at Mercury Theater Chicago where he was the associate choreographer and won the Broadway World Award-Best Choreography in a Musical) and Carl Neilsen's "Maskarade" (Vox3 Collective, Choreographer). His work has also been presented at Dance Chicago, Dance Chance and Chicago Freelance DancE. Craig has been training dancers for 11 years, and is a Peffpointe© certified teacher at the 25 hour level, teaching workshops, and choreographing for competitive dance studios.
Matt Crowle is a Chicago based, Jeff Award-winning actor and choreographer who was last seen on Porchlight's stage in his Jeff Award-winning role of "Hysterium" in A Funny Thing Happened on the Way to the Forum. He also directed the Chicago premiere of Porchlight's Double Trouble. Other notable local credits include roles at Drury Lane Oakbrook, Mercury Theatre Chicago, Northlight Theatre, Paramount Theatre and Chicago Shakespeare Theatre. For many years, he lived and worked in New York City, performing on and off Broadway, and has toured the country from coast to coast, tap dancing with Tommy Tune. He is also the resident theatre tap instructor at the School of Porchlight. Crowle's class structure is designed to simulate a professional theatre tap call, giving students a chance to push themselves to absorb choreography quickly and perform it with a strong sense of confidence and a quality of ease. The choreographic style of class routines is hugely influenced by the MGM movie-musical canon and by such legendary performers as Fred Astaire, Ann Miller, Gene Nelson, Ray Bolger and Eleanor Powell.
ABOUT PORCHLIGHT REVISITS
Continuing to forge its role as "Chicago's Music Theatre," Porchlight launched the exciting new series Porchlight Revisits in 2013; especially created for the die-hard music theatre aficionado. Each season, Porchlight Music Theatre shares with audiences the rare opportunity to visit three musicals that opened on the Great White Way but have since gone "unsung." The finest music theatre artists in Chicago dust off these neglected treasures and, with script in hand and minimal staging, escort audiences to a world of Broadway long past. Previous Porchlight Revisits productions include: (2016/17) The Rink, (2015/16) Chess, Applause, Babes in Arms, (2014/15) Bells Are Ringing, City of Angels, Mack & Mabel, (2013/14) Anyone Can Whistle, Golden Boy and Fade Out-Fade In.
All Porchlight Revisits, performances include "Behind the Show Backstory," a multimedia presentation, hosted by Artistic Director Michael Weber, setting the stage on the creation of the featured Porchlight Revisits production, sharing all the juicy backstage stories and the state of the art on Broadway that season.
The final Porchlight Revisits production in the 2016 - 2017 season is
On a Clear Day You Can See Forever (1965)
May 9 - 11 at 7:15 p.m.
Book and Lyrics by Alan Jay Lerner
Music by Burton Lane
Based on Berkeley Square by John L. Balderston
Direction by Lili-Anne Brown
Music Direction by Aaron Benham
It's the story of a scatter-brained young woman named Daisy Gamble who is desperate to quit smoking and who lays siege to a noted hypnotist, Mark Bruckner. But it happens that Daisy, for all her goofiness, is unexpectedly gifted: she can find lost items, she knows when the telephone will ring--and once under hypnosis she transforms via reincarnation into Melinda, a woman who lived, loved and died more than a century before, and with whom Dr. Bruckner falls immediately in love.
Featuring the hits: Melinda, What Did I Have That I Don't Have? and Come Back to Me.
ABOUT Porchlight Music Theatre
Porchlight Music Theatre, now in its 22nd season, is nationally recognized for developing innovative new works, reimagining classic productions and showcasing musical theatre's noted veterans and rising stars. Porchlight elevates the genre in Chicago by providing intimate and powerful theatrical experiences for its growing and diverse audiences. With the vision of Artistic Director Michael Weber, Porchlight builds on its role as Chicago's only Equity not-for-profit company exclusively specializing in music theatre. Porchlight's rich history includes the staging of more than 60 productions with 15 Chicago premieres and five world premieres. Through Porchlight's "Off the Porch" new works program, the musicals of the next generation are developed and given a first audience. The School at Porchlight is Chicago's new center for music theatre training in the areas of performance, writing and appreciation. The company's many accolades include 17 Black Theatre Alliance nominations and three awards, as well as a total of 126 Joseph Jefferson Award nominations resulting in 39 Jeff Awards including four consecutive Best Production awards for Dreamgirls (2016), Sondheim on Sondheim (2015), Ain't Misbehavin' (2014) and A Class Act (2013).
Porchlight Music Theatre and Artistic Director Michael Weber are proud to announce the continuation of the fourth season of Chicago's hit "lost" musicals in staged concert series, Porchlight Revisits Little Me, music by Cy Coleman, lyrics by Carolyn Leigh and book by Neil Simon based on the novel by PatRick Dennis, with direction by Porchlight Artistic Director Michael Weber, musical direction by Linda Madonia, choreography by Craig Miller with special guest choreography by veteran Bob Fosse dancer Jane Lanier and starring Jeff Award-winner Matt Crowle. Porchlight Revisits Little Me is presented for three-nights-only Tuesday, Feb. 28 through Thursday, March 2 at 7:15 p.m. and is performed on the set of Porchlight's The Scottsboro Boys (previews begin Friday, Feb. 3) at Stage 773, 1225 W. Belmont Ave. Tickets for Little Me are $35. All tickets include access to the popular pre-performance event, Behind the Show Backstory, a multimedia presentation, created and hosted by Weber that discusses that evening's production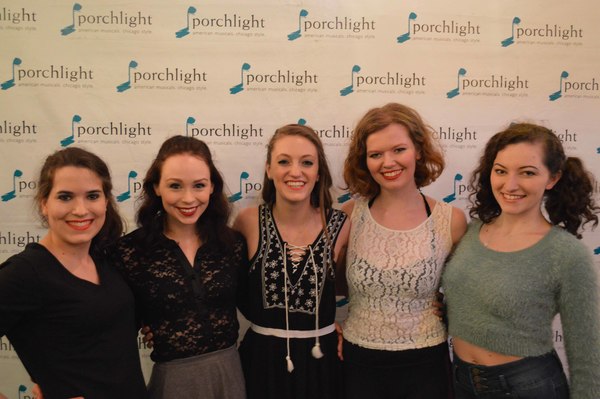 Guest dancers from Roosevelt University Chicago College of Performing Arts at the opening night of Porchlight Revisits Little Me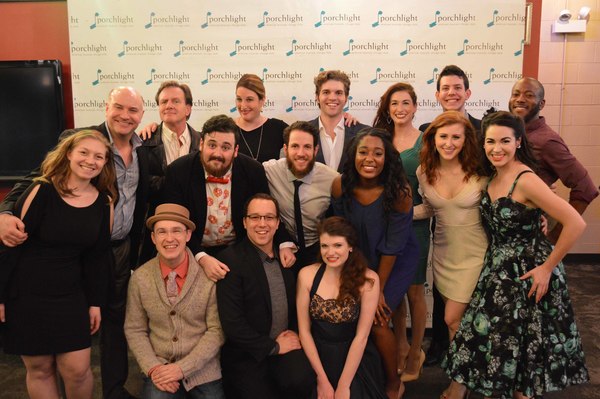 The cast and creative team of Porchlight Revisits Little Me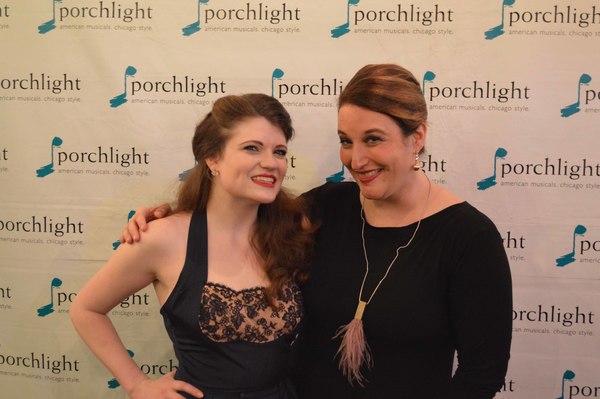 (L to R) Little Me performers Elya Bottiger and Genevieve Thiers at the opening night of Porchlight Revisits Little Me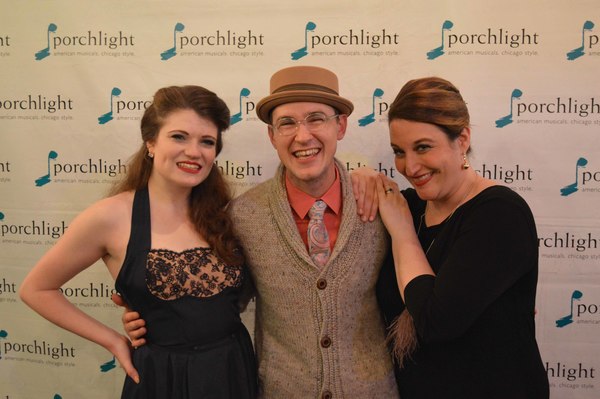 (L to R) Little Me actors Elya Bottiger,
Matt Crowle
and Genevieve Thiers at the opening night of Porchlight Revisits Little Me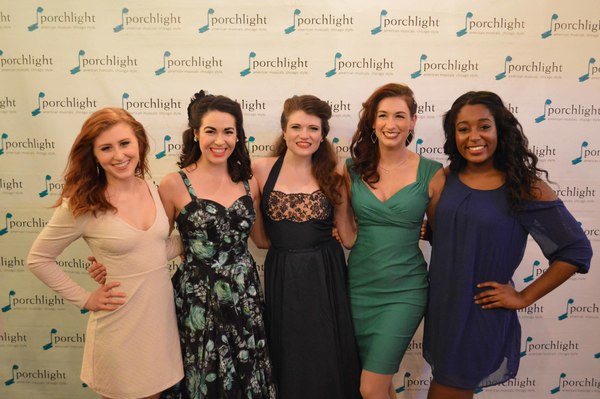 (L to R) Little Me's Jenny McPherson, Kayla Boye, Elya Bottiger,
Shari Mocheit
and Tyler Symone at the opening night of Porchlight Revisits Little Me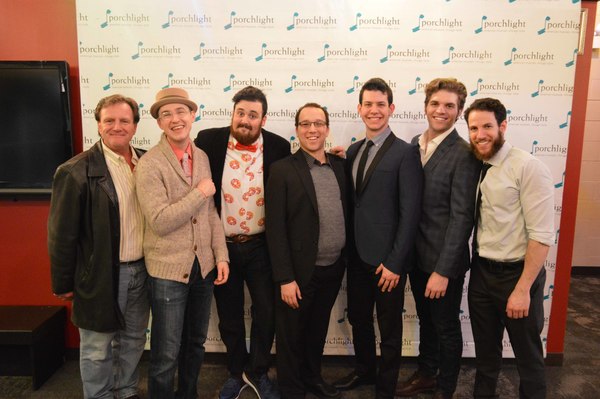 (L to R) Little Me's
Mike Accardo
,
Matt Crowle
, Ben Kaye, Thomas Squires, Graham Hawley, Michael Ferraro and
Dan Gold
at the opening night of Porchlight Revisits Little Me