Photo Flash: Lifeline Theatre Presents THE MAN WHO WAS THURSDAY
Lifeline Theatre ensemble member Christopher Walsh (Gogol/Tuesday); with guest artists Allison Cain (Sunday), Eduardo Xavier Curley-Carrillo (Gabriel Syme), Jen Ellison (Dr. Bull/Saturday), Linsey Falls (Professor de Worms/Friday), Sonia Goldberg (Familiar #2), Cory Hardin (Lucian Gregory), Marsha Harman (The Secretary/Monday), Oly Oxinfry (Familiar #1), Corbette Pasko (The Marquis de St. Eustache/Wednesday). With understudies David Gordezky and Sarah Scanlon.
PRODUCTION TEAM: Lifeline Theatre ensemble members Bilal Dardai (Adaptor) and Elise Kauzlaric (Dialect Coach); with guest artists Amanda Beranek (Stage Manager), Lizzie Bracken (Scenic Designer), Kyle Bricker (Asst. Stage Manager), Jess Hutchinson (Director), Christopher Kriz (Sound Designer), Jennifer McClendon (Production Manager), Caitlin McLeod (Co-Costume Designer), Jenny Pinson (Props Designer), Greg Poljacik (Fight Choreographer), Joe Schermoly (Technical Director), Zev Valancy (Dramaturg), Eric Watkins (Lighting Designer), Jonah White (Master Electrician), and Anna Wooden (Co- Costume Designer)
Lifeline Theatre presents The Man Who Was Thursday runs February 15 - April 7 at Lifeline Theatre, 6912 N. Glenwood Ave. (free parking and shuttle; see below). Press opening is Sunday, Feb. 24 at 4 p.m. Opening night is Monday, Feb. 25 at 7:30 p.m. (Previews are Fridays, Feb. 15 and 22 at 7:30 p.m.; Saturdays, Feb. 16 and 23 at 8 p.m.; and Sunday, Feb. 17 at 4 p.m.)
Regular performance times (February 28 - April 7) are Thursdays and Fridays at 7:30 p.m., Saturdays at 4 and 8 p.m., and Sundays at 4 p.m. Ticket prices are $40 for regular single tickets, $30 for active and retired military personnel (with ID), $30 for seniors, $20 for students (with ID), $20 for rush tickets (available half hour before show time, subject to availability), and $20 for previews. Group rate for 12 or more is available upon request. Tickets may be purchased at the Lifeline Theatre Box Office, 773.761.4477, or by visiting www.lifelinetheatre.com.
Lifeline Theatre is accessible by CTA (Red Line Morse stop/busses) and free parking is available at Sullivan High School (6631 N Bosworth Ave, lot located on Greenview Ave. just south of North Shore Ave.) with free shuttle service before and after the show. Street parking is also available. Lifeline is accessible to wheelchair users and visitors who need to avoid stairs.
Photo Credit: Suzanne Plunkett.

Sonia Goldberg as Colonel, Oly Oxinfry as Lieutenant, Corrbette Pasko as The Marquis de St. Eustache/Wednesday, Eduardo Xavier Curley-Carillo as Gabriel Syme, Linsey Falls as Professor de Worms/Friday, Jen Ellison as Dr. Bull/Saturday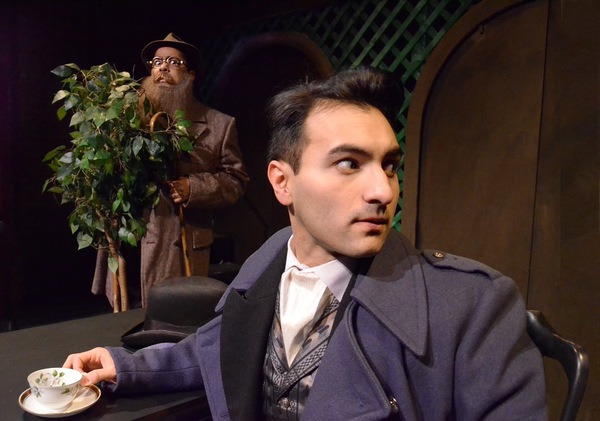 Linsey Falls as Professor de Worms/Friday, and Eduardo Xavier Curley-Carillo as Gabriel Syme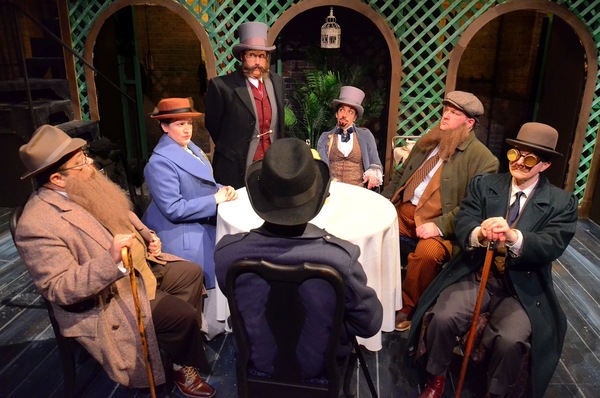 Linsey Falls as Professor de Worms/Friday, Marsha Harman as The Secretary/Monday, Allison Cain as Sunday, Corrbette Pasko as The Marquis de St. Eustache/Wednesday, Christopher M. Walsh as Gogol/Tuesday, Jen Ellison as Dr. Bull/Saturday, and Eduardo Xavier Curley-Carillo as Gabriel Syme

Cory Hardin as Lucian Gregory, Jen Ellison as Ensemble, Oly Oxinfry as Ensemble, Sonia Goldberg as Ensemble, Christopher M. Walsh as Ensemble, Marsha Harman as Ensemble, Eduardo Xavier Curley-Carillo as Gabriel Syme