Photo Flash: CURTAINS Opening Night At Drury Lane Oakbrook
CURTAINS, the hilarious new musical whodunit that was a "must-see" hit of the 2007-2008 Broadway season, playing over 500 performances, kicks off Drury Lane Oakbrook's 25th anniversary season. The production previews March 19, opens Thursday, March 26 and runs through May 17 at Drury Lane Oakbrook, 100 Drury Lane, Oakbrook Terrace, IL. This is the first regional production of CURTAINS, preceding even the first National Tour. CURTAINS is the winner of nine Drama Desk Awards and eight 2007 Tony Award nominations including Best Musical, Best Book, Best Score, and Best Performance by a Leading Actor in a Musical (David Hyde Pierce).
Michael Kuchwara of the Associated Press called CURTAINS "Musical comedy heaven! Blissful, very funny, and thoroughly entertaining!"
William Goldman
of Variety raved, "An insanely funny evening. Show stopping applause and wild laughter throughout."
Jeffrey Lyons
of WNBC enthused, "A big, delightful musical packed full of show-stopping numbers and the wittiest book in years!"CURTAINS features a book by
Rupert Holmes
(Say Goodnight Gracie), music and lyrics by Broadway legends
Fred Ebb
and
John Kander
(Cabaret and Chicago), an original book and concept by
Peter Stone
(Titanic, 1776 and The
Will Rogers
Follies), with additional lyrics by
Rupert Holmes
(The Mystery of Edwin Drood and Say Goodnight Gracie).
A "play within a play," CURTAINS takes place backstage at Boston's Colonial Theatre in 1959. It's the opening night of "Robbin' Hood of the Old West" and the new musical could be a smash hit, if it weren't for the show's incredibly untalented leading lady. When she is murdered during the curtain call, Lieutenant Frank Cioffi is summoned to conduct an investigation. The lure of the theater soon becomes irresistible to the stage-struck detective and he finds himself just as dedicated to making the show a hit as he is to solving the murder. Multi Jeff Award-winning director William Brown makes his Drury Lane directorial debut with CURTAINS. Previous directing credits include productions at various Chicagoland venues including the Writers Theatre, TimeLine Theatre, Northlight Theatre and the Goodman Theatre's annual production of A Christmas Carol.Starring in Curtains will be Sean Fortunato as "Lieutenant Frank Cioffi", Nancy Voigts as "Carmen Bernstein",
Christine Sherrill
as "Georgia Hendricks",
James Rank
as "Aaron Fox", Jessie Mueller as "
Niki Harris
", Jeff Cummings as "Daryl Grady",
John Reeger
as "Christopher Belling", Eric Parks as "
Johnny Harmon
", Mark David Kaplan as "Oscar Shapiro",
Michael Park
er Ayers as "Bobby Pepper",
Jim Corti
as "Sidney Bernstein", Nicole Hren as "Bambi Bernet", Gary Carlson as "Detective O'Farrell",
Paula Scrofano
as "Jessica Cranshaw",
Matt Raftery
as "Randy Dexter", Joey Stone as "Harv Fremont" as well as ensemble members Jarret Ditch, Stephane Duret, Michael Glazer, Cessalee Martinez,
Katheryn Patton
,
Andrea Prestinario
and
Angie Sch
oofs. The performance schedule is as follows: Wednesdays at 1:30 p.m. ($29), Thursdays at 1:30 p.m. ($29) and 8 p.m. ($33), Fridays at 8:30 p.m. ($35), Saturdays at 5 p.m. ($35) and 8:30 p.m. ($35) and Sundays at 2:00 p.m. ($35) and 6 p.m. ($33). Dinner theater packages range from $43.75 to $56 depending on the day of the week. Subscriptions for the 2009-10 season are now available for as low as $122 for 5 shows. For reservations, phone (630) 530-0111 or call TicketMaster at 312.559.1212. You may also visit www.ticketmaster.com or
www.drurylaneoakbrook.com
.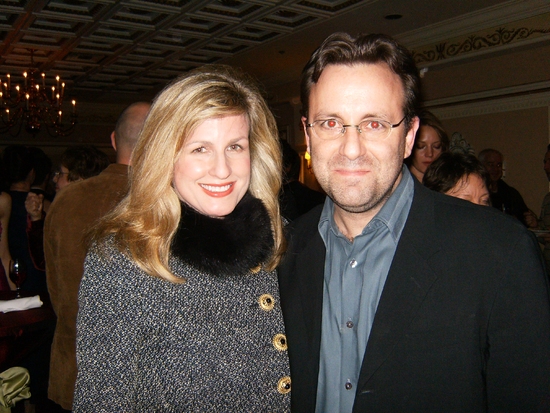 Noreen Heron Zautcke and Stef Tovar

Dan and Jackie Proctor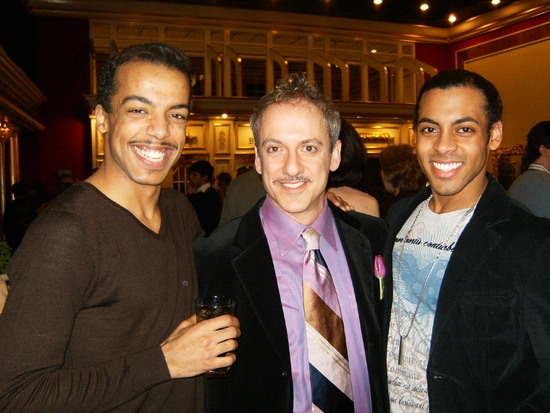 Joey Stone, Mark David Kaplan and Stephane Duret

William Osetek, Nancy Voigts, Anne Gunn and Jim Corti

William Brown and Jessie Mueller

Sean Fortunato and Jessie Mueller
More Hot Stories For You