Latest News on Jeffrey Lyons
Jeffrey Lyons News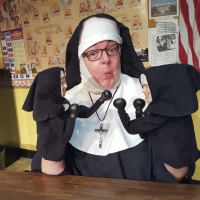 Lyric Opera Performer Rose Guccione Joins The Cast Of LATE NITE CATECHISM in Chicago
by Stephi Wild - Oct 19, 2021
Call it Loretta Young meets Carol Burnett, with a little Whoopi Goldberg thrown in, LATE NITE CATEHCISM is part catechism class, part stand-up comedy routine. Written by Vicki Quade & Maripat Donovan, it's an interactive comedy, one of the longest running shows in Chicago and U.S. theater history.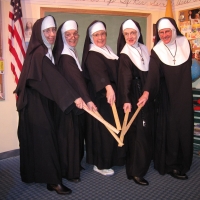 Nuns4Fun Entertainment Kicks Off New 'From The Archives' Series
by Stephi Wild - Aug 30, 2020
Nuns4Fun Entertainment is announcing a new streaming collection of its religious comedies called, a?oeFrom the Archives,a?? starting with a very special 2009 performance of LATE NITE CATECHISM.

KISSY COUSINS MONSTER BABIES To Close Manhattan Repertory Theatre's Stories Inaugural Film Festival
by A.A. Cristi - May 14, 2019
A kitschy yet cerebral, retro mash-up film titled The History of Everything Circa 1993 to the Present: Formerly Known as Kissy Cousins, Monster Babies and Morphing Elvis, directed by Emmy Award-winning filmmaker Wayne J. Keeley and co-produced by his wife, Emmy-nominated Stephanie C. Lyons-Keeley, (along with Emmy Award-winning business partner and friend Craig Dobson) will screen at Manhattan Repertory Theatre's STORIES Film Festival which takes place May 15 - 19, 2019, just a block from Times Square.

Late Nite Catechism Celebrates 26 Years! Special Performance And Discount Tickets Offered
by A.A. Cristi - May 2, 2019
A Chicago original and international hit, LATE NITE CATECHISM turns 26 in the city where it all started.

Photo Coverage: Judith Light and Tony Kushner Honored With DGF Madge Evans & Sidney Kingsley Awards
by Walter McBride - Mar 19, 2019
On Monday, March 18, DGF hosted a Salon at the Lambs Club where they presented actress Judith Light and playwright Tony Kushner with the DGF Madge Evans & Sidney Kingsley Awards. Former DGF Fellow, Oliver Houser, was also presented with the inaugural DGF Stephen Schwartz Award. The evening featured performances by Michael R. Jackson, James Jackson Jr., Sean Patrick Cameron, and Oliver Houser, and remarks by Jordan Roth, Jon Robin Baitz, and Stephen Schwartz.

Kitcschy Film Spans Quarter Century And Becomes Festival Fave With 80 Laurels To Date
by A.A. Cristi - Oct 8, 2018
A film created in partnership with Someday Productions and Siberian Films, which was originally titled Kissy Cousins, Monster Babies and Morphing Elvis, first began production back in the nineties, but it's just now making its way into theatres. From a decade which saw the massive proliferation of Blockbuster video stores, all things Jurassic Park, and men sporting those awful baggy suits, the flick has been renamed The History of Everything Circa 1993 to the Present: Formerly Known as Kissy Cousins, Monster Babies and Morphing Elvis complete with new footage and a slick update - and it's now as big as the dinosaur and ready to take over the silver screen.
Patchogue Theatre Welcomes New Executive Director & Board Chairperson
by BWW News Desk - Jul 17, 2017
Patchogue Theatre for the Performing Arts (PTPA) has named Gary Hygom, producing director, Bay Street Theater of Sag Harbor, as its new executive director and appointed Christopher Capobianco, current PTPA board member, as the new chairperson of the board of directors.
Photo Coverage: Craig Lucas Honored with Dramatists Guild Fund's Sidney Kingsley Award
by Walter McBride - Apr 5, 2016
The Dramatists Guild Fund presented their Madge Evans and Sidney Kingsley Award to actress Audra McDonald and playwright Craig Lucas just last night. McDonalad was unable to attend the event due to her SHUFFLE ALONG schedule, but the show went on and BroadwayWorld was also there for the festivities. Check out photos below!
Jeffrey Lyons Videos
STAGE TUBE: A CHORUS LINE Tour Cast Says 'It Gets Better'
by Robert Diamond - Feb 7, 2011
Cast members of the national touring company of A CHORUS LINE share their experiences on growing up as individuals who were sometimes considered 'different,' and how things really do get better. Conceived by PAUL FLANAGAN and RACHEL SCHUR. Shot and edited by JACK STEPHENS.