Photo Flash: FUNNY GIRL at Drury Lane Oakbrook
Rounding out their 2009-10 smash hit season, Drury Lane Oakbrook, 100 Drury Lane, Oakbrook Terrace, IL, presents the 1964 classic Broadway musical comedy FUNNY GIRL. Based on the life of Ziegfeld Follies comedienne Fanny Brice, FUNNY GIRL will be co-directed by Gary Griffin and William Osetek. Griffin serves as the Associate Producer at Drury Lane Oakbrook. He has directed Broadway's THE COLOR PURPLE as well as numerous other productions in London, New York and Chicago. Griffin is an eight time Jeff Award winner. William Osetek currently serves as Drury Lane Oakbrook's Artistic Director, and has directed numerous productions at the theater, most recently having directed THOROUGHLY MODERN MILLIE. FUNNY GIRL previews December 31, opens January 7 and runs through March 7.
Sara Sheperd
will star as "
Fanny Brice
". Sheperd recently starred in the ensemble in CRY-BABY, THE MUSICAL on Broadway as well as "Kate/Chutney" in the first National Tour of LEGALLY BLONDE, THE MUSICAL. Emmy nominated actor
Paul Anthony Stewart
will star as "Nick Arnstein". He has starred as "Perchik" in FIDDLER ON THE ROOF on Broadway as well as "Christian" in CYRANO on Broadway. With a book by
Isobel Lennart
and a score by
Jule Styne
and
Bob Merrill
, FUNNY GIRL is the semi-biographical story of Broadway singer and comedienne
Fanny Brice
. The musical chronicles her fortunes as she rises from humble Lower East Side beginnings to the heights of stardom in vaudeville and the Ziegfeld Follies during World War I. As Fanny finds success in show business, her personal life is complicated by a stormy relationship with debonair con artist and inveterate gambler Nick Arnstein. Punctuating a journey that is both comic and poignant, the tuneful score includes the iconic standards "People" and "Don't Rain on My Parade," along with "I Am the Greatest Star," "Sadie, Sadie," and "His Love Makes Me Beautiful."The Tony Award-nominated Broadway production opened on March 26, 1964 at the Winter Garden Theatre and ran for 1,348 performances. The original cast featured
Barbra Streisand
as
Fanny Brice
, with
Sydney Chaplin
as Nicky,
Kay Medford
as Mrs. Brice,
Danny Meehan
as
Eddie Ryan
and
Jean Stapleton
as Mrs. Strakosh. Streisand reprised her role in the 1968 movie version opposite
Omar Sharif
, winning a Best Actress Oscar (an honor she shared with
Katharine Hepburn
for "The Lion in Winter"), and played Fanny again in the 1975 film sequel, "Funny Lady." Joining
Sara Sheperd
as "
Fanny Brice
" and
Paul Anthony Stewart
as "Nick Arnstein" will be Catherine Smitko as "Mrs. Brice",
Marc Grapey
as "Florenz Ziegfeld", Jameson Cooper as "
Eddie Ryan
",
Iris Lieberman
as "Mrs. Strakosh",
Tammy Mader
as "Emma", Mary Mulligan as "Mrs. O'Malley",
David New
as "Mr. Renaldi", Holly Stauder as "Mrs. Meeker" and ensemble members
Michael Accardo
, Anne Acker, Adrian Aguilar,
Gary Carlson
, Dan Collins,
Jarret Ditch
, Ariane Dolan, Patrick Gagnon,
Kent Haina
,
Nicole Hren
, Katie Patton,
Megan Simmons
,
Joey Stone
,
Erin Thompson
and
Zach Zube
.
FUNNY GIRL will be co-directed by
Gary Griffin
and Drury Lane Oakbrook Artistic Director
William Osetek
, Choreographed by
Matt Raftery
and Musical Direction will be by
Ben Johnson
. Set Design is by
Jack Magaw
, Costume Design is by
Elizabeth Flauto
, Lighting Design is by Jesse Klug, Sound Design is by Ray Nardelli and Properties Design is by Michelle Warner.
The performance schedule is as follows: Wednesdays at 1:30 p.m. ($29), Thursdays at 1:30 p.m. ($29) and 8 p.m. ($33), Fridays at 8:30 p.m. ($38), Saturdays at 5 p.m. ($38) and 8:30 p.m. ($38) and Sundays at 2:00 p.m. ($38) and 6 p.m. ($36). Performances on 12/31 will be at 5:30 p.m. and 9 p.m. Lunch and dinner theater packages range from $43.75 to $61 depending on the day of the week. Subscriptions for the hit 2010, 5 show season start at $131. Student tickets start as low as $19 and Senior Citizen tickets start as low as $26 for matinees and $40.75 for a matinee luncheon package. For reservations, phone (630) 530-0111 or call TicketMaster at 800.745.3000. You may also visit www.ticketmaster.com or www.drurylaneoakbrook.com.

Sara Sheperd

Paul Anthony Stewart and Sara Sheperd

Zach Zube, Kent Haina and Jameson Cooper

Jeff Espino, William Osetek, David New and Adam Pelty

Jarret Ditch, Megan Simmons, Marc Grapey, Catherine Smitko and Joey Stone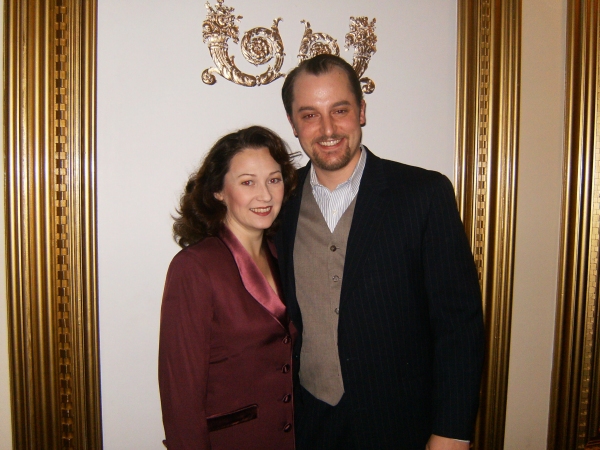 Tammy Mader and Patrick Gagnon

Anne Acker, Katheryn Patton and Ariane Dolan

Adrian Aguilar, Gary Carlson and Michael Accardo