LITTLE WOMEN THE MUSICAL Offers Free Tickets To Furloughed Federal Employees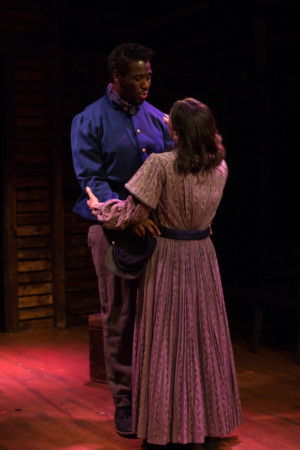 Brown Paper Box Co. is supporting the hundreds of federal workers In and around Chicago currently furloughed as a result of the government shutdown. Federal employees with a valid government ID can enjoy a free ticket to select performances of their Jeff-recommended Little Women the Musical: Monday, January 21 @ 7:30PM , Friday, January 25 @ 7:30PM, Saturday, January 26 @ 3:30PM, Saturday, January 26 @ 7:30PM, Sunday, January 27 @ 3:30PM, Thursday, January 31 @ 7:30PM, Friday, February 1 @ 7:30PM, Saturday, February 2 @ 7:30PM, Sunday, February 3 @ 3:30PM, and Thursday, February 7 @ 7:30PM.
Seats are based on availability and tickets must be acquired in person at the Box Office (1802 W Berenice Ave., Chicago, IL 60613) the hour before the preferred performance. One (1) free ticket per government ID. For ticket availability, please visit www.BrownPaperBox.org or https://dime.io/events/little-women.
Celebrating its 150th year since publication, the timeless story of the March sisters is brought to life in this Broadway chamber musical filled with personal discovery, heartache, hope, and love. Based on Louisa May Alcott's life, Little Women the Musical follows the adventures of Jo, Meg, Beth, and Amy March. Jo is trying to sell her stories for publication, but the publishers are not interested. Her friend, Professor Bhaer, tells her that she has to write more from her own point of view and life experience. Begrudgingly taking this advice, Jo weaves the story of her sisters and their experiences growing up in Concord, Massachusetts during the American Civil War.
Under the co-direction of Artistic Associate Stephanie Rohr & company co-founder M. William Panek and music direction of Artistic Associates T.J. Anderson & Justin Harner, Brown Paper Box Co.'s production will focus on their season's mantra of returning "back to the basics." This "theatre, plain and simple" approach will re-orchestrate the Broadway score for single piano to transport Jo's memories and the events of the musical into her childhood attic, designed by Artistic Associate Jeremy Hollis.
The cast for Little Women the Musical features Tessa Dettman (Jo March), Sarah Ford (Beth March/Rodrigo II), Kim Green (Amy March/Troll), Jenny Rudnick (Aunt March/Mrs. Kirk), Andi Sharavsky (Meg March/Clarissa), Denise Tamburrino (Marmee/Hag), Halle Bins (Jo U/S) Karina Stribley (Swing), Dwayne Everett (John Brooke/Braxton), Matthew Fayfer (Professor Bhaer), Will Kazda (Laurie/Rodrigo), Ken Rubenstein (Mr. Laurence/Knight), and Brian Healy (Swing).

The staff and design team includes Stephanie Rohr* (Director), Meagan Beattie (Costume Designer), Leah Geis (Stage Manager), Kaitlyn Guerrieri* (Box Office Manager), Jeff Award winner Jenna Schoppe* (Choreographer), Kristi Szczepanek* (Dramaturg), T.J. Anderson* (Music Director), Zach Dries* (Photographer), Justin Harner* (Music Director), Adrian Hadlock (Properties Designer) Collin G. Helou (Lighting Designer), Jeremy Hollis* (Scenic Designer and Production Manager), M. William Panek* (Director), and Charlie Sheets* (Graphic Designer).

For additional information, performance times, artists' bios, and ticketing information, please visit www.BrownPaperBox.org. Based in Chicago, Brown Paper Box Co. produces theatre that connects audiences to the heart of the story and to our shared human experience. By combining smart, simple design with clear storytelling, we make traditional pieces relevant and new work accessible.