Latest News on Justin Harner
Justin Harner News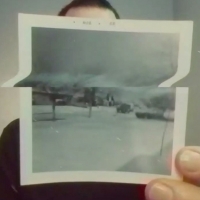 The Healthy Oyster Collective Announces Virtual Project THREE SISTERS I NEVER HAD By Eric Marlin
by Chloe Rabinowitz - Feb 17, 2021
On Tuesday, The Healthy Oyster Collective announced a new virtual project called three sisters I never had by playwright Eric Marlin, directed by Erica Wray opening this Saturday, February 20th. Marlin and Wray decided to collaborate on the new virtual project while attending The Orchard Project's Liveness Lab in the summer of 2020.
Photo Flash: Strawdog Theatre Presents LITTLE WOMEN: THE MUSICAL
by A.A. Cristi - Jan 31, 2019
Brown Paper Box Co. concludes their 2018/2019 season with their Jeff Recommended production of Little Women the Musical running now through February 9, 2019 at Strawdog Theatre. Tickets and information can be found by visiting www.BrownPaperBox.org.
LITTLE WOMEN THE MUSICAL Offers Free Tickets To Furloughed Federal Employees
by Julie Musbach - Jan 21, 2019
Brown Paper Box Co. is supporting the hundreds of federal workers In and around Chicago currently furloughed as a result of the government shutdown.
Pride Films and Plays Announces Cast for SOUTHERN COMFORT
by Julie Musbach - Dec 21, 2018
Full casting has been announced for Pride Films and Plays' production of SOUTHERN COMFORT. The musical will open to the press on March 4, 2019 in the Broadway theater of the Pride Arts Center and play through March 31.

Cast Announced For Chicago Storefront Premiere Of LITTLE WOMEN THE MUSICAL
by Stephi Wild - Oct 10, 2018
Following their Jeff Award Recommended run of Branden Jacobs-Jenkins' regional premiere of EVERYBODY, Brown Paper Box Co. concludes their 2018/2019 season with the Chicago storefront premiere of Little Women the Musical running January 11-February 9, 2019 at Strawdog Theatre Company.
Matthew Huston To Perform IT'S BEEN A F*CKING YEAR Cabaret 9/24
by A.A. Cristi - Sep 4, 2018
Life is a rollercoaster of emotions, a whirlwind of events. Who would have thought that the last 365 days could hold so much? First love, first therapist, coming out, and TWO (!?) award-winning musicals. Join Jeff-award nominee Matthew Huston as he explores coming out as a queer man, first love, and learning how to love and accept himself in "IT'S BEEN A F*CKING YEAR" - directed by Derek Van Barham, with musical direction by Justin Harner.  He will be joined by Chicago gems Honey West and Scott Gryder for a retrospect of the year that was…and wasn't.
Photo Flash: Sneak Peek - Lifeline Theatre to Present HER MAJESTY'S WILL
by BWW News Desk - Apr 26, 2017
Lifeline Theatre presents the world premiere of Her Majesty's Will, adapted by Lifeline Theatre ensemble member Robert Kauzlaric (Non-Equity Jeff Awards: New Adaptation, The Island of Dr. Moreau and Neverwhere), and directed by Lifeline Theatre ensemble member Chris Hainsworth, based on the 2013 novel by Chicago-based author/actor/fight choreographer (and Rogers Park resident) David Blixt, who will design the violence for the production. BroadwayWorld has a sneak peek at the cast in character below!
Brown Paper Box Co. Announces Executive Team Changes and Addition
by A.A. Cristi - Apr 18, 2017
 It is with great excitement Brown Paper Box Co. announces a change-up and addition to their Executive Team as they continue their 2017/2018 season. Co-founding members Anna Schutz and M. William Panek are making the move to Executive Director and Marketing Director, respectively. They are joined by Kristi Szczepanek in the company's newest Executive role, Director of Community Outreach & Development. Kristi has gone above and beyond as Company Admin and has proven herself as a driven, organized, and forward-thinking leader in her short time as Artistic Associate.
Photo Flash: Positively Presents AN UPLIFTING CABARET
by A.A. Cristi - Apr 14, 2017
Brown Paper Box Co. kicked off their 2017/2018 season with a wildly successful 2-night cabaret at Mary's Attic in Andersonville April 7 & 8. Hosted by company member Kristi Szczepanek*, Positively Present: An Uplifting Cabaret featured performances from BPBCo. company members and friends, as well as past (and present!) show participants.
Justin Harner Videos
STAGE TUBE: Watch Highlights from Brown Paper Box Co.'s NOW. HERE. THIS.
by Stage Tube - Jul 29, 2016
Brown Paper Box Co.'s summer production of Now. Here. This. is currently up and running at the Rivendell Theatre in Chicago's Edgewater neighborhood. The show opened Saturday, July 23, and runs Thursdays through Saturdays at 7:30 PM, and Sundays at 2:00 PM through August 21 at Rivendell Theatre (5779 N. Ridge Avenue). Click below to watch highlights from the show!