Her Story Theater Announces Cast for INVISIBLE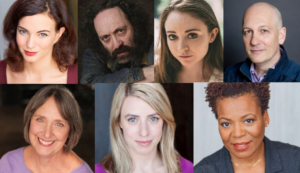 Her Story Theater will stage the world premiere of INVISIBLE, written by Mary Bonnett, as its Fall 2019 production. INVISIBLE imagines a woman in a small Mississippi town in 1925 who is forced to reconcile her involvement in the modern Women's Ku Klux Klan movement with her religious beliefs and sense of decency. Wrapping their anti-immigrant mission in a cloak of patriotism following the passage of women's suffrage, Mabel Carson's neighbors have convinced her of the justness of their cause, but the arrival in town of a Chicago newspaper reporter just as their WKKK chapter is gaining momentum forces Mabel to question her beliefs. INVISIBLE is a powerful and suspenseful drama in the tradition of American southern-set narrative fiction. It looks back at the nearly forgotten but significant WKKK. While the plot and characters of INVISIBLE are imagined, the descriptions of the WKKK activities are accurate, and actual historical figures are mentioned as off-stage characters. The play is set in Mounds, Mississippi, a once-real town that was destroyed after it was engulfed by a massive flood in 1927.
INVISIBLE was written by Her Story Theater's Producing Artistic Director Mary Bonnett, author of the company's earlier productions that comprised its "Chicago Sex Trafficking Cycle." The cycle includes SHADOW TOWN, voted one of the 2013 "Ten Best Productions of the Year" by Chicago Theater Beat; THE JOHNS, MONEY MAKE 'M' SMILE for youth, and 2018's breakout hit MONGER, of which the SUN TIMES said "It lands with a crushing (and factually supported) weight." SPLASH MAGAZINE gave it four stars, saying, "The Play's action is mesmerizing; at a tightly crafted 75 minutes... it hits many nerves at once; anger, disbelief, compassion, fear and a desire to help." BUZZ CENTER STAGE said "What I really want is for you to go see this play. This is something real."
INVISIBLE will be directed by longtime Chicago director Cecilie Keenan, who earned raves for her direction of WEDDING BAND in 2017 for The Artistic Home. That production prompted Tony Adler, the then-theater editor of the READER to declare " So praise the Lord, as one of its characters would certainly say, for the Artistic Home revival of Childress's WEDDING BAND."
Barbara Roeder Harris has been cast as Lucinda, the driving force behind the establishment of the town's WKKK chapter. Lisa McConnell will play Jubalation, the indomitable activist and multi-racial woman who challenges the town's bigots. Rich Cotovsky is the CHICAGO TRIBUNE reporter David Stein. Mabel Carson will be played by Morgan Laurel Cohen, and Mabel's husband Tom will be played by Brad Harbaugh. Megan Kaminsky will be the young wife and WKKK member Doris, and Maddy Flemming will play the mysteriously magical 11-year-old "Ghost Girl".
The production team will include Kevin Rolfs (Set Design), Shelby Wilkins (Costume Design), Parker Langvardt (Projection Design), Blake Cordell (Lighting and Sound Design), Myesha-Tiera, (Assistant Director), Sean Smyth (Stage Manager), Jamise Wright (Assistant Stage Manager), Auden Granger (Wardrobe Mistress, Props Manager).
INVISIBLE brings to light the nearly forgotten national Women of the Ku Klux Klan (WKKK), also known as Women's Ku Klux Klan, and Ladies of the Invisible Empire, which held to many of the same political and social ideas of the nationwide KKK but functioned as a separate branch of the national organization with their own actions and ideas. While most women focused on the moral, civic, and educational agendas of the Klan, they also had considerable involvement in issues of race, class, ethnicity, gender, and religion. The women of the WKKK fought for educational and social reforms like other Progressive reformers but with extreme intolerance to race, religion and ethnicity. Particularly prominent in the 1920s, the WKKK existed in every state, but their strongest chapters were in Ohio, Pennsylvania, Indiana, and Arkansas. White, native-born, Protestant women age 16 or older were allowed to join the Klan. Women of the Klan differed from Klansmen primarily in their political agenda to incorporate racism, nationalism, traditional morality, and religious intolerance into everyday life through mostly non-violent tactics with the men often acting as enforcement of those targeted by the women's Klan. Her Story Theater was founded in 2011 and has focused primarily on raising awareness of the epidemic of sexual exploitation of minors and homelessness. The four produced plays in Her Story's "Chicago Sex Trafficking Cycle" include SHADOW TOWN (2013), THE JOHNS (2014), MONEY MAKE'M SMILE (2016, 2017) and MONGER (2018). As a group, the plays depict domestic sex trafficking from the perspectives of the various participants - the traffickers, girls and boys who are trafficked, and the men who buy them. While INVISIBLE is concerned with issues of bigotry, nativism and violence against minorities and children, it also speaks to issues of spousal abuse and feminism as well. Her Story Theater continues its work to raise awareness of the prevalence of domestic sex trafficking and the trauma-based victim through its touring productions, presentations and school programs. Tickets to INVISIBLE will be on sale soon and will be available at
www.stage773.com
or by phone at 773-327-5252. For Group Ticket discounts, please call 312-835-1410. More information on INVISIBLE and Her Story Theatre is available at
www.herstorytheater.org