Chicago's Trinity Irish Dance Company Comes To The Auditorium 2/2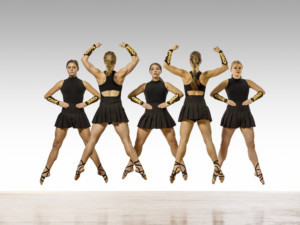 Chicago's own Trinity Irish Dance Company (TIDC) brings its unique form of progressive Irish dance to the Auditorium Theatre on February 2 for its first full-length Chicago performance in over a decade. Called "sophisticated and commanding" by the Los Angeles Times and "impossibly complex" by The New York Times, the company of elite performing artists from across North America (including five dancers from Chicago) presents both classic and groundbreaking world premiere works at the National Historic Landmark theatre.
"Trinity Irish Dance Company is a uniquely powerful Chicago institution, and we are excited to bring the company back to the city and to our historic stage for this special 'Made in Chicago' 312 Dance Series performance," says C.J. Dillon, Auditorium Theatre Chief Programming Officer.
"TIDC elevates the form through our own distinct vocabulary and is driven by the capacity of dance to change lives," says Mark Howard, founder and artistic director of TIDC. "The company is grateful to have the opportunity to do so at home."
TIDC's one-night-only performance at the Auditorium features the world premiere of An Sorcas (Gaelic for "the circus"), a collaboration between Howard, associate artistic director and company member Chelsea Hoy, and company member Michael Gardiner. An Sorcas examines the battle between substance and spectacle and is TIDC's most ambitious piece to date. The company also gives the world premiere to Howard's Drunken Sailor, which features world solo champions Paige Turilli (who has won more solo world titles than any other Irish dancer in United States history) and Ali Doughty. Other works on the program include Howard's Push, an explosion of hard-driving percussive power that exemplifies the company's consistent message of female empowerment; Howard and Sandy Silva's Communion, a blend of Irish dance and body percussion; and Johnny, created for late-night TV host Johnny Carson by Howard, who was a regular guest on Carson's Tonight Show.
Trinity Irish Dance Company is the high watermark of the art form, offering something profoundly significant - the transcendence of craft to art and a dance legacy that is rooted in tradition, yet forward-looking and ever-evolving. The result is a fresh, engaging, and integrity-filled vision that goes beyond the source without losing touch with its essence.
Founded in 1990 by choreographer/artistic director Mark Howard, TIDC is the birthplace of progressive Irish dance and has directly influenced commercial productions such as Riverdance. TIDC has performed around the world, including sold-out tours in Europe and Asia and appearances at distinguished venues including the Kennedy Center in Washington, DC; The Joyce Theater in New York; Orchard Hall in Tokyo; and Royce Hall in Los Angeles, among many others. Howard's work has appeared in numerous feature films and national television programs. For more information, visit TrinityIrishDanceCompany.com.
Tickets start at $29 and are available online at AuditoriumTheatre.org, by phone at 312.341.2300, or in person at the Auditorium Theatre Box Office (50 E Ida B Wells Dr). Trinity Irish Dance Company is part of the "Made in Chicago" 312 Dance Series, which also includes Hubbard Street Dance Chicago/Malpaso Dance Company and offers a 20 percent discount on both shows. Discounts are also available for groups of 10+.
The Auditorium Theatre also offers $15 student rush tickets to full-time college students, and $5 tickets to young people ages 13-19 with Urban Gateways' Teen Arts Pass program. The Auditorium Theatre's ADMIT ONE program, launched in 2016, offers complimentary tickets to Chicago area community groups. Community groups may apply for ADMIT ONE here.