Chicago Sinfonietta Presents SEA OF LIGHT: REFLECTIONS ON DIWALI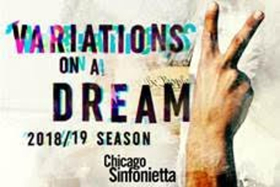 Light over dark. Good over evil. Explore these ever-relevant motifs with one of the most diverse classical music organizations in the nation, Chicago Sinfonietta, as it presents its newest concert, Sea of Light: Reflections on Diwali, which honors the rich heritage and cornerstones of this autumn holiday. Claude Debussy's masterpiece, La Mer, will be performed, highlighting a truly unique collaboration of Indian and Western classical works. Featuring special guests, including Grammy-nominated composer/artist Guarav Mazumdar and American-Indian composer Reena Esmail, the Chicago Sinfonietta will perform Saturday, November 10 at 8 p.m. at Wentz Concert Hall at North Central College, 171 E. Chicago Ave., Naperville, and on Monday, November 12 at 7:30 p.m. at the Symphony Center, 220 S. Michigan Ave.
"Every country has its own unique and important traditions for celebrating its beliefs and customs," said Mei-Ann Chen, music director of Chicago Sinfonietta. "All, in their own way, at some point celebrate light, goodness and knowledge - perhaps none more clearly than the Indian Festival of Diwali, The Hindu Festival of Lights. It is a time of new beginnings and strengthening relationships."
Each piece selected for this performance powerfully joins to honor the festival of Diwali either through its connection to the Indian heritage or its influence from color and light. Debussy's La Mer, the stunning musical compilation that is widely admired and considered to be a classic in its own right, creates a unique and riveting juxtaposition between both hemispheres. The work draws inspiration from the magnificent wonders of the sea and the light that reflects upon it throughout a day's passing. Eric Whittaker's Lux Aurumque will also be performed, acting as an elegant ode to the warmth and beauty of light itself. Mazumdar's Celebration and Esmail's Teen Murti will complete the works performed, both offering their own unique perspectives.
"Each of these works is so different and provides great compliments to each other. There is something relatable in each different work that inspires, and celebrates the good and the light, like Diwali, the Festival of Lights," said Chen.
The concert will serve as the Chicago premiere for Mazumdar (Celebration), a soloist hailing from Allahabad, India, who has received critical acclaim from performances given all over the world.
"This concert will mark my 25th anniversary as global performer," said Mazumdar. "I am delighted that I will be celebrating this commemoration with a performance focused around Diwali, as it is my favorite Indian festival. Everyone dresses in their best attire, switches off their electricity and uses oil candles for light. My piece, Celebration, reminds me of my fond memories celebrating the festival and I am so excited to bring that to the Chicago audiences for the first time."
Esmail, an American-Indian composer based in Los Angeles, will also make her Chicago debut. Her work seamlessly blends the two cultures together and is revered for doing so.
"As an Indian American, it is so significant to me to see Chicago Sinfonietta honoring the festival of Diwali, and I am honored to be a part of it," said Esmail. "My piece, Teen Murti, connects Indian and Western music through their classical traditions."
Chicago Sinfonietta has been a defiantly different kind of orchestra since its inception in 1987. The orchestra was founded by Maestro Paul Freeman to address disconnect between the utter lack of diversity in orchestras and the vibrant, nuanced, communities for which it plays. For over 30 years, Chicago Sinfonietta has made its mission to represent the city of Chicago, reflecting that vibrancy on stage and in their programming, making classical music accessible for anyone. In everything it does, Chicago Sinfonietta is inspired by founder Paul Freeman (1936-2015). The orchestra's 31+ years have been highlighted by six European tours, two Kennedy Center performances, three Millennium Park concerts attended by more than 19,000 people, and 16 recordings.
"As Chicago Sinfonietta continues to grow and celebrates 31 years of music making, Sea of Light: Reflections on Diwali highlights the mission of our organization - shining a light on the vibrant and exciting differences in our wonderful community and educating our communities about the light that can be found in diversity and creativity, making classical music accessible for everyone," said Chen.
For 31 years, diversity, inclusion and bold and dynamic programming have been at the center of Chicago Sinfonietta's mission. In 2016, Chicago Sinfonietta was one of just 14 organizations in the nation to receive the MacArthur Award for Creative and Effective Institutions - the "genius award" for nonprofit organizations. The Sinfonietta was also selected in 2016 by the Chicago Innovation Awards in recognition of its innovative approach to programming. Prior to that, Chicago Sinfonietta was named by ASCAP as the recipient of the 2011-12 Award for Adventurous Programming and in 2013 was dubbed, "the city's hippest orchestra" by the Chicago Tribune, always embracing the daring programming that has been part of its history.
Chicago Sinfonietta is grateful to concert sponsors Skadden, Molex and Fifth Third Bank. Season sponsors including BMO Harris Bank, Blue Cross Blue Shield of Illinois, Southwest Airlines, Fairmont Hotel, Hotel Indigo, Macy's and its season media sponsors including Chicago Magazine, Naperville Magazine, and WBEZ.
Tickets to Sea of Light: Reflections on Diwali range from $10 to $62 when purchased in advance online. For tickets or more information, please visit www.chicagosinfonietta.org.
Related Articles View More Chicago

Stories

Shows
More Hot Stories For You