Chicago Human Rhythm Project Raises $175,000 at Jubalee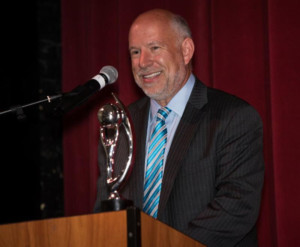 The Chicago Human Rhythm Project (CHRP) hosted its Jubalee Gala July 21 at the Fine Arts Building, 410 S. Michigan Ave., Chicago, which included honoring The Chicago Community Trust and its President and CEO Terry Mazany with the JUBA! Award for Extraordinary Contributions to the Cultural Community in Chicago. Past JUBA! Award recipient, the Honorable Mayor Rahm Emanuel, served as Honorary Chair. With nearly 600 people in attendance, CHRP raised $175,000, including a $75,000 leadership gift from guests Philip and Marsha Dowd, from a combination of ticket sales, sponsorships, contributions and a raffle. Following a preshow reception in CHRP's American Rhythm Center, guests gathered in the packed Studebaker Theater for the presentation of the JUBA! Award and the JUBA! Masters of Tap and Percussive Dance performance that highlighted CHRP's 27th annual Rhythm World summer festival. The concert featured Chicago Human Rhythm Project performing a world premiere by Artist In Residence Dani Borak and three classics by African-American choreographers Buster Brown, Lon Chaney and Harold "Stumpy" Cromer; STOMP alumna and Broadway hoofer (Shuffle Along) Lisa Latouche performing her masterpiece Love Me or Leave Me with Tre Dumas and Nico Rubio; STOMP cast members Ali Bradley and Jeremy Price; North Carolina Youth Tap Ensemble; solo performances by Lee Howard and Jumaane Taylor; a trio performance by Star Dixon, Donnetta Jackson and Imania Fatima Detry; scholarship students from Tokyo directed by Yukiko Misumi; and more. A VIP champagne reception onstage with the artists followed the performance.
"The Trust provided leadership support for administrative and artistic staff, which allowed us to grow from an annual festival of American tap into the first year-round presenter of contemporary percussive arts in the United States. In turn, this has enabled us to reach more Chicagoans and serve tens of thousands of children, teens, adults and elders throughout Chicago every year," said CHRP Founder and Director Lane Alexander. "In 2012, the Trust provided another seminal investment that has since evolved into an annual, citywide festival known as STOMPING GROUNDS." Proceeds from this year's Jubalee support year-round performance programs; CHRP's summer Tap Scholar program, which provides scholarships to deserving, talented teens and enables them to study tap and percussive arts with world-class artists; and free, rhythm-based arts education programs in Chicago Public Schools.

JUBA! Awards Terry Mazany is President and CEO of The Chicago Community Trust, one of the nation's leading community foundations, which recently celebrated its 100th anniversary. With assets of more than $2.5 billion, the Trust partners with donors to distribute more than $150 million annually. The Trust selected Mazany as the sixth executive in its 100-year history in 2004. In 2011, he also served as the interim chief executive officer of Chicago Public Schools. He is also chairman of the National Assessment Governing Board and principal investigator for the CAPriCORN CDRN, network member of PCORnet. He was a member of the board of directors of the Federal Reserve Bank of Chicago. Prior to his work in philanthropy, Mazany enjoyed earlier careers in public education, archaeology and dendrochronology and has degrees in anthropology, business and education. He has also been awarded Honorary Doctorate degrees from DePaul University and Lewis University. Past JUBA! Award recipients include Tommy Tune, Gregory Hines, Bill Irwin, Savion Glover, Fayard Nicholas, Maurice Hines, Michelle Dorrance, Nicholas Young, Luke Cresswell, American Airlines, TARGET, Richard G. Weinberg, Elaine Cohen, Mayor and Mrs. Richard M. Daley, Ted and Susan Oppenheimer, Bill Kurtis and Donna LaPietra, Mayor Rahm Emanuel, Patti Eylar and Charles Gardner and the John D. and Catherine T. MacArthur Foundation. The Story of JUBA William Henry Lane was the first African American allowed to perform with white minstrel dancers in the 1840s. Lane and an Irishman named John Diamond were promoted in a series of staged tap dance competitions throughout the United States, and Lane won the huge majority. He went on to give command performances before the crowned heads of Europe and was proclaimed the greatest dancer of all time by American and European critics alike. He received the appellation "Juba"-master of all dancers. Juba (also spelled giuba) is a river/valley/city in Somalia/Ethiopia/Sudan. It is also a word in Swahili/Zulu/Italian with meanings as varied as "king" and "dove." A juba was also a dance that slaves created featuring hand clapping and foot stomping, referred to as "patting the juba." The JUBA! Award William Henry Lane faced crushing prejudice in a country divided by slavery, yet he was able to accomplish, excel and win. Lane's life is a testament to people's ability to overcome all obstacles, excel despite adversity and affect change through acts of personal courage and fortitude. This award acknowledges those who personify these characteristics through their support of the art of tap dance. Funding Chicago Human Rhythm Project is supported by The John D. and Catherine T. MacArthur Foundation, Chicago Free for All Fund at The Chicago Community Trust, MacArthur Fund for Arts & Culture at Prince, Bloomberg Philanthropies, The Joyce Foundation, Doris Duke Charitable Foundation, Dance USA/Engaging Dance Audiences, The Chicago Community Trust, The Richard H. Driehaus Foundation, The Gaylord and Dorothy Donnelley Foundation, The Shubert Foundation, The Deluxe Foundation, The Saints, BMO Harris, Northern Trust Charitable Trust, DeKalb Community Foundation, Elaine Cohen and Arlen Rubin, Charles Gardner and Patti Eylar, Jane Ellen Murray Foundation, The Oppenheimer Family Foundation, Joyce Chelberg, Lyon Family Foundation, The Weinberg Family Foundation,, Jeannette & Jerome Cohen Philanthropic Fund of the Jewish Community Foundation of Greater Kansas, Phil and Marsha Dowd, Ingenuity's Creative Schools Fund, Capezio and Dancing Fair. Chicago Human Rhythm Project
Chicago Human Rhythm Project (CHRP) creates community through American tap and contemporary percussive arts in world-class, innovative performance, education and outreach programs. Believing tap is to dance what jazz is to music-an American contribution to global culture-CHRP has been presenting American tap and global percussive dance for almost 30 years, evolving from a summer tap festival into the world's first, year-round presenter dedicated to foot-drumming and contemporary rhythmic expression. Central to CHRP's performance, education and community activating programs is its mission to build bridges between individuals and communities through the practice and appreciation of rhythm. Whether as part of the oldest and largest tap festival on the globe, Rhythm World; the collaborative citywide percussive dance festival, STOMPING GROUNDS; year-round education programs in Chicago Public Schools, We All Got Rhythm; or its shared dance/arts incubator, the American Rhythm Center (ARC), CHRP focuses on artistic excellence, innovation, authentic diversity and cultural pluralism. CHRP received an Emmy nomination for its PBS-ITVS documentary JUBA! Master of Tap and Percussive Dance; curated the first-ever full-length tap concert in a major theater at the Kennedy Center; has officially represented the U.S. in dance festivals in South America, Asia and Europe; and has been lauded as a pioneer in the field by the New York Times. Past students receiving great acclaim include, among many others, MacArthur "Genius" Michelle Dorrance, Broadway hoofers Karissa Royster and Lee Howard and Jazz at Lincoln Center soloist Jared Grimes. For information, visit chicagotap.org.



Related Articles View More Chicago

Stories

Shows
More Hot Stories For You