CSO Cellist Richard Hirschl Joins New Philharmonic For MAC Concerts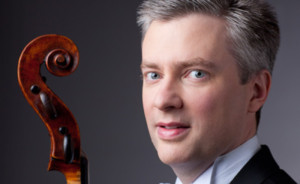 Joined by Chicago Symphony Orchestra cellist Richard Hirschl, New Philharmonic, will perform two concerts featuring works by Beethoven, Tchaikovsky and Rachmaninoff. The concerts, conducted by Maestro Kirk Muspratt, will be held at the McAninch Arts Center, 425 Fawell Blvd.; Saturday, Nov. 3 at 7:30 p.m. and Sunday, Nov. 4 at 3 p.m. A free MAC Chat will precede each concert. The concert program is as follows:
Pyotr Ilyich Tchaikovsky (1840 - 1893): Lenski's Aria ("Kuda Kuda"), from "Eugene Onegin" arranged for cello and orchestra, featuring Hirschl. Lenski's wonderful melodic line works extremely well on the cello. The result is this rendition, where the powerful emotions of the music come through even without the words.
Sergei Rachmaninoff (1873 - 1943): "Vocalise," Op.34, No.14, featuring Hirschl. This is the last of Rachmaninoff's 14 songs or 14 romances.
Pyotr Ilyich Tchaikovsky (1840 - 1893): "Variations on a Rococo Theme," Op. 33, for Cello and Orchestra, featuring Hirschl. This was the closest Pyotr Ilyich Tchaikovsky ever came to writing a full concerto for cello and orchestra.
Pyotr Ilyich Tchaikovsky (1840 - 1893): "The Sleeping Beauty," Op. 66a, Selections IV - Panorama, I - Introduction: La Fee des lilas, II - Pas d'action. The ballet's premiere received more favorable response from the press than "Swan Lake" butTchaikovsky never had the opportunity witness his work become the instant success it did in theaters outside of Russia.
Intermission
Ludwig Beethoven (1770 - 1827): Symphony No. 4 in B-flat major, Op. 60.Franz von Oppersdorff, a relative of Beethoven's patron Prince Lichnowsky, liked Beethoven's Symphony No. 2 so much he offered money to Beethoven to compose this symphony.
Hirschl has been a part of the CSO's cello section since 1989. He has given concerto performances with the Peoria Symphony, Ars Viva Symphony Orchestra, Jupiter Symphony, St. Louis Philharmonic, Maracaibo Symphony, National Repertory Orchestra, St. Louis Orchestra and Philharmonia Virtuosi of New York. He attended the Julliard School, where he won the 1988 Julliard Concerto Competition, worked as an associate teacher before moving to Chicago, received a bachelor's degree in 1987 and a master's in 1988. Tickets New Philharmonic's concert with CSO cellist Richard Hirschl will be performed Saturday, Nov. 3 at 7:30 p.m. and Sunday, Nov. 4 at 3 p.m.
Tickets are $49. To order tickets or for more information, call 630.942.4000 or visit AtTheMAC.org. As New Philharmonic audiences have come to expect, there will be a free pre-concert MAC chat; plus the opportunity to mix and mingle with Maestro Muspratt, members of New Philharmonic and guest artists during the "Cookies with Kirk" post-performance lobby receptions, sponsored in part by Brookdale Glen Ellyn, Senior Living Solutions.
New Philharmonic, the only professional orchestra based in DuPage County, has inspired classical music enthusiasts in Chicago and the suburbs for more than 40 years. It continues to thrive with the goal to give innovative treatment to both classic compositions and modern works while striving to make the music accessible to new audiences and youth through a variety of educational efforts. The orchestra was honored with the Illinois Council of Orchestras' 2017 ICO Award for Professional Orchestra of the Year. Today, under the direction of Kirk Muspratt, recently named 2018 Conductor of the Year (Professional Orchestra) by Illinois Council of Orchestras, New Philharmonic consists of more than 60 professional musicians and performs more than a dozen concerts a year, reaching more than 7,500 from the greater Chicago area annually. Its 2018-2019 Season includes "Show Boat and Show Tunes," (Sept. 29-30); a concert featuring CSO Cellist Richard Hirschl (Nov. 3-4); Von Heidecke Chicago Festival Ballet's "The Nutcracker" (Dec. 15-16); New Year's Eve Concert performances (Dec. 31); the opera "Die Fledermaus" (Jan. 26-27) and a concert featuring Winston Choi (April 13-14). About the MAC
The McAninch Arts Center (MAC) at College of DuPage is located 25 miles west of Chicago near I-88 and I-355. It houses three indoor performance spaces (the 780-seat proscenium Belushi Performance Hall; the 236-seat soft-thrust Playhouse Theatre; and the versatile black box Studio Theatre), the outdoor Lakeside Pavilion, the Cleve Carney Art Gallery and classrooms for the college's academic programming. The MAC has presented theater, music, dance and visual art to more than 1.5 million people since its opening in 1986 and typically welcomes more than 75,000 patrons from the greater Chicago area to more than 230 performances each season.
The mission of the MAC is to foster enlightened educational and performance opportunities, which encourage artistic expression, establish a lasting relationship between people and art, and enrich the cultural vitality of the community. For more information visit AtTheMAC.org, facebook.com/AtTheMAC or twitter.com/AtTheMAC.
Related Articles View More Chicago

Stories

Shows
More Hot Stories For You