Alvin Ailey American Dance Theater Returns To The Auditorium Theatre 3/7-11
The internationally-renowned Alvin Ailey American Dance Theater brings six performances of inspiring, timely works to the Auditorium Theatre, the company's Chicago home for nearly half a century, on March 7-11.
"Alvin Ailey American Dance Theater's annual Chicago residency has been an important part of what we do at the Auditorium Theatre since the company's first performances here in 1969," says Tania Castroverde Moskalenko, Auditorium Theatre CEO. "Each year, we welcome them back to our National Historic Landmark stage and await with great anticipation to be awed and inspired by their programming."
"The Auditorium Theatre is Alvin Ailey American Dance Theater's Chicago home, where each year we continue a decades-long conversation that touches the heart, mind, and soul," said Alvin Ailey American Dance Theater Artistic Director Robert Battle. "In a wide variety of choreographic treasures - from Alvin Ailey's American masterpiece Revelations to Ailey star Jamar Roberts' blues-inspired Members Don't Get Weary - the company's 32 remarkable dancers, including Chicago native Solomon Dumas, will uplift, unite, and enlighten audiences. This year's celebration of inspiring artistry will also shine a spotlight on the legendary Talley Beatty, a modern dance pioneer who was raised on Chicago's South Side, with the restaging of his vibrant and dynamic Stack-Up."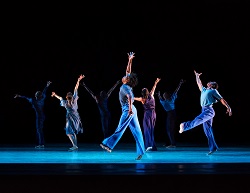 Roberts' Members Don't Get Weary is "a response to the current social landscape in America ... an abstract look at the notion of 'having the blues'" with the aim of having audiences to transcend them. For his choreographic debut on the company, Roberts created a highly personal piece for 10 dancers that pairs perfectly with music by legendary jazz saxophonist and composer John Coltrane.
The company also gives the Chicago premiere to Spanish choreographer Gustavo Ramírez Sansano's Victoria, a work for 10 to 12 dancers that showcases Sansano's audacious, athletic style. Sansano (who has worked with companies including Hubbard Street Dance Chicago, Atlanta Ballet, and Nederlands Dans Theater) has created a propulsive work that feels vital and thrillingly of-the-moment, set to award-winning composer Michael Gordon's "Rewriting Beethoven's Seventh Symphony" with elaborate sets by scenic designer Luis Crespo.
In addition to the world premieres by Roberts and Sansano, the Ailey company continues its commitment to presenting important works by dance world greats with new productions of Twyla Tharp's The Golden Section, Beatty's Stack-Up, and Jawole Willa Jo Zollar's Shelter.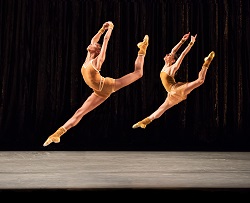 Celebrated choreographer Tharp's thrilling work The Golden Section, first performed by the Ailey company in 2006, was originally presented as the finale of her Broadway production The Catherine Wheel in 1981. The piece pushes the limits of human physicality as dancers soar with breathtaking leaps and finely-honed partnering to a new wave rock score by David Byrne.
Ailey collaborator and Chicago-raised choreographer Talley Beatty's Stack-Up is a poignant, brutal depiction of life in 1970s Los Angeles. The work originally premiered on the Ailey company in 1982 and has been recently restaged by Ailey Associate Artistic Director Masazumi Chaya. Set to a throbbing soundtrack by Earth, Wind & Fire; Grover Washington, Jr.; Fearless Four; and Alphonze Mouzon, Stack-Up follows the story of a drug dealer and two displaced lovers, depicting the emotional "traffic" of a community that is stacked on top of each other.
Urban Bush Women's Jawole Willa Jo Zollar's Shelter, which had its Ailey premiere in 1992, is a passionate, dramatic statement about the physical and emotional deprivation of homeless people. This work for six women features an inventive score that incorporates drumming and poetry by playwright and poet Hattie Gossett and performance artist Laurie Carlos, with text that has been updated to highlight recent weather events and how climate change can threaten everyone's shelter.
Other works performed throughout the company's Chicago engagement include four pieces by Battle: Mass, a work for 16 dancers that showcases Battle's signature ritualistic style that has never before been performed in Chicago; Ella, a high-energy duet set to Ella Fitzgerald's "Airmail Special" that matches the legendary singer's scatting with lightning-fast movement; In/Side, an emotional solo work set to "Wild Is the Wind" by Nina Simone; and The Hunt, a ballet for six men that examines the relationship between modern sport and ancient gladiator rituals. The company also performs Alvin Ailey's Cry, a three-part tour-de-force solo created as a birthday gift for his mother and celebrating black women everywhere, originally danced by Ailey's former Artistic Director and dancer Judith Jamison.
Keeping with a decades-long tradition, each performance closes with Ailey's American masterpiece Revelations, called "the Ailey gift that somehow keeps on giving" by The New York Times. Acclaimed as a must-see for all, Revelations, which has been seen by more people than any other contemporary dance work, reflects the cultural heritage of African Americans and is set to a suite of traditional spirituals.
This presentation is supported by the Arts Midwest Touring Fund, a program of Arts Midwest that is funded by the National Endowment for the Arts, with additional contributions from the Illinois Arts Council Agency and the Crane Group.
In addition to the six main performances, Alvin Ailey American Dance Theater performs a one-hour Student Matinee on Friday, March 9 at 11AM for students in grades K-12. The Student Matinee performance features an excerpt of Talley Beatty's Stack-Up and Ailey's Revelations.
On Wednesday, March 7 at 5:30PM, the Auditorium Theatre offers a Community Class with dancers from Alvin Ailey American Dance Theater, offering the chance for dancers of all levels to learn some of the moves to Ailey's Revelations. The Community Class takes place at Roosevelt University's Goodman Center (501 S Wabash Ave). The class is free to students from Chicago Public Schools and to patrons with tickets to the March 7 performance. Reservations required.
The theatre also offers the Power in Movement: Alvin Ailey American Dance Theater five- or eight-class residency to schools in the Chicagoland area. Students have the opportunity to work with Auditorium Theatre teaching artists to explore the history of Alvin Ailey American Dance Theater, using dance as a lens to explore the concept of community.
Performance Information
Alvin Ailey American Dance Theater
Wednesday, March 7 | 7:30PM Members Don't Get Weary / The Golden Section / In/Side / Revelations
Thursday, March 8 | 7:30PM Stack-Up / Victoria / Ella / Revelations
Friday, March 9 | 11AM (one-hour Student Matinee performance) Stack-Up (excerpt) /Revelations
Friday, March 9 | 7:30PM Mass / Shelter / Hunt / Cry / Revelations
Saturday, March 10 | 2PM Stack-Up / Victoria / Ella / Revelations
Saturday, March 10 | 8PM Members Don't Get Weary / The Golden Section / In/Side / Revelations
Sunday, March 11 | 3PM Members Don't Get Weary / The Golden Section / In/Side / Revelations
Tickets start at $41 and are available online at AuditoriumTheatre.org, by phone at 312.341.2300, or in person at the Auditorium Theatre Box Office (50 E Congress Pkwy). Alvin Ailey American Dance Theater is part of the International Dance Series (which also includes Les Ballets de Monte-Carlo and Ballet Nacional de Cuba) and the March Madness Series (which also includes Les Ballets de Monte-Carlo and Hubbard Street Dance Chicago), offering 30% discounted subscriptions. Performances may also be added to the Create Your Own Series subscription, discounted at 20-25%. Discounts available for groups of 10+
Related Articles View More Chicago

Stories

Shows
More Hot Stories For You