Adithi Chandrashekar's OPEN SEASON to Play The Gift Theatre
The Gift Theatre will present OPEN SEASON, the inaugural production of 4802, The Gift's new play research and development wing, written and performed by Adithi Chandrashekar and directed by Mara Stern.
OPEN SEASON will play three performances only September 15 - 17, 2017 at The Gift Theatre, 4802 N. Milwaukee Ave. in Chicago. Tickets are FREE to the public and available at thegifttheatre.org or by calling the box office at (773) 283-7071.
Named after The Gift's storefront address on N. Milwaukee Ave., 4802 gives artists residency in its 40-seat space and provides them with dedicated tailor-made time, space and support for their work. The six-week residency is supported by a budget of $7,000. OPEN SEASON has been in development since December 2015 and explores the abuses of power and the universal nature of loneliness in all creatures, large and small.
A young deer is struck and badly injured on a dark, suburban road one winter night. The sheriff - a new mother, only recently back to work after her maternity leave - arrives on scene. After some assessment, the sheriff decides she must put the deer down and shoots it in the head. Whether the shooting was just, we're not quite sure. One thing is for certain, deer, in general, have become a problem in society. They are reckless, bread constantly and threaten human safety. But when the humans design laws to regulate "population control," nature's course is disrupted.
"The 4802 residency is an exciting opportunity to bring the strange story of a deer and a sheriff to life," says playwright and actor Adithi Chandrashekar. "We're experimenting with a few different storytelling devices - from live performances to video and sound elements - and we know some of our ideas will work, and some may not. We're so grateful to have support and encouragement from The Gift to tell this story, test ideas, learn from mistakes and hopefully, innovate."
"The Gift has given us an amazing opportunity to collaborate on this non-traditional piece that focuses on creation by the ensemble," add director Mara Stern. They have given us the room to try what none of us has done before in a safe and incredibly supportive environment. This is a rare jewel in theatre that makes the folks at The Gift so special."
Comments 4802 Producer Monty Cole, "The vision and challenge of 4802 is to invest in artists we believe in, and to provide them with the opportunity to stage the impossible in a storefront space. We're thrilled to work with Mara and Adithi, and to have Open Season launch our 4802 program. This is a highly ambitious piece, innovative in storytelling and form - and we're deeply inspired by Adithi and Mara's passion. We're thrilled to provide them a lab space where they can experiment, innovate, and challenge the constraints of the storefront theater."
Since opening its storefront in 2005, The Gift has defied preconceptions of what's possible in an intimate space. Their production of Grapes of Wrath, the world premieres of David Rabe's Good for Otto, Mat Smart's Royal Society of Antarctica, ensemble member Laura Marks' Mine, as well as Caryl Churchill's Cloud 9, Stephen Adly Guirgis' Last Days of Judas Iscariot, ensemble member Will Eno's Oh, the Humanity (and other exclamations) and Marco Ramirez's Broadsword are projects that have challenged rational storefront logic in terms of size, scope, cost and ambition. With the development of 4802, the Gift will pioneer the boundaries of storefront theater even further.
The production team for OPEN SEASON includes: Eleanor Kahn (scenic design), Katie Vaughters (costume and props design), Diana Kaiser (lighting design), Aaron Stephenson (sound design), Yeaji Kim (video/projections design) and Justine B. Palmisano (stage manager).
ABOUT THE ARTISTS:
Adithi Chandrashekar (Playwright/Actor) is an actor and writer based in Chicago. She has worked with The Gift Theatre, The Hypocrites, Jackalope Theatre, Haven Theatre and is currently understudying Great Expectations, a co-production of Remy Bumppo Theatre Company and Silk Road Rising. Adithi is a proud 2015 graduate of the School at Steppenwolf, and has trained at the Second City Training Center, iO Theater, Green Shirt Studios and the Acting Studio Chicago. She has appeared in ABC's Betrayal and NBC's Chicago Med. Adithi is represented by the hard working folks at Stewart Talent Agency.
Mara Stern (Director) is a director and producer in Chicago, working with EX-Pats, Jackalope, Pride Films and Plays, The Kinematics and The Hypocrites where she is currently assistant directing the remound of You on the Moors Now for Theatre on the Lake. Mara is a graduate of Columbia College Chicago and The British American Drama Academy in London. She is also a teaching artist and administrator with
Northlight Theatre
, Steppenwolf, Lookingglass and Writer's Theatre.
Monty Cole (Producer) is a Chicago-based producer and director. Cole was the Artistic Programs Manager for Victory Gardens Theater where he was casting director and producer of many lines of programming within the artistic department. He has directed for The Goodman Theatre, Victory Gardens Theater, The House Theatre, Definition Theater Company/ALTA, The Gift Theatre and Jackalope Theatre Company. In 2016, he directed Kristiana Rae Colon's florissant & canfield for the Goodman Theatre's New Stages Festival and Laura Jacqmin's end of message (EOM) for Victory Gardens Theater's Ignition Festival of New Plays. This past spring, he directed Shaina Simmons' one woman show Bayou Blues which toured to University of North Carolina-Chapel Hill. Working with American Theatre Company's Youth Ensemble this summer, he re-imagined PJ Paparelli and Josh Jaeger's docudrama The Project(s), abridged by Sarah Slight and Jess McLeod. This summer, he and his wife Alysia Cole also wrote and performed That Unnamed Feeling for the Chicago Theater Marathon. Cole directed the critically acclaimed and Jeff Award winning production of The Hairy Ape for Oracle Productions. He's currently writing and directing Thatcher Woods for the House Theatre of Chicago and Black Like Me, a theatrical adaptation of the classic American non-fiction book for American Theatre Company. Next summer, Cole will direct Hamlet at The Gift Theatre. Monty is an MFA Directing candidate at the California Institute of the Arts.
The Gift's 16th season consists of three world premieres and kicked off in February with Mona Mansour's war-torn drama Unseen, directed by ensemble member Maureen Payne-Hahner, followed by Claire Kiechel's Pilgrims, co-directed by ensemble member Michael Patrick Thornton and guest artist Jessica Thebus (June 2-July 30). The season closes with Janine Nabers' time-hopping love story A Swell in the Ground, directed by guest artist Chika Ike (October 13-December 10). Season subscriptions are available for as little as $75. The Gift subscribers ("Gifters") receive admission to three shows, free parking at Gale Street Inn, free admission to all Wednesday night "Natural Gas" improv shows and invitations to special subscriber-only special events. Subscribe at thegifttheatre.org or by calling (773) 283-7071.
Pictured; Playwright/actress Adithi Chandrashekar in a publicity image for The Gift Theatre's production of OPEN SEASON. Photo by Joe Mazza/Brave Lux, illustration by Max Lollar.
More Hot Stories For You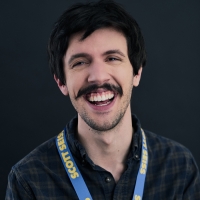 Comedian Scott Seiss to Perform at The Den Theatre This February

November 28, 2022

The Den Theatre will present comedian Scott Seiss for an evening of stand-up on Friday, February 17, 2023 at 7:30 pm on The Heath Mainstage.
---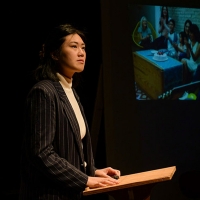 Photos: First Look at TITLE TEN, Now Playing at Theater Wit

November 28, 2022

In Title Ten, a new play by Julie Proudfoot, eight radically different women share stories about their fight for autonomy over their own bodies, from 1978 to now. Check out all new photos here!
---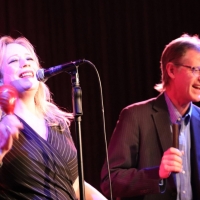 Anne and Mark Burnell Perform 19th Annual Eve of the Eve Show at Drew's on Halsted Next Month

November 28, 2022

One of Chicago's most popular and acclaimed musical duos and national Jazz radio favorites, Anne Burnell and Mark Burnell will perform their 19th Annual Eve of the Eve show at Drew's on Halsted, 3201 North Halsted, Friday, December 30th, from 7:30-10:30pm.
---
THE PRINCESS STRIKES BACK Will Run Monthly at Bughouse Theater

November 28, 2022

After a critically acclaimed fringe festival run, Writer/Performer Victoria Montalbano brings her solo show back to Chicago. The Princess Strikes Back: One Woman's Search for the Space Cowboy of her Dreams will run monthly at Bughouse Theater, 1910 W Irving Park Rd, Chicago, IL 60613.
---
Young People's Theatre Of Chicago to Present Chicago Premiere Of DON'T LET THE PIGEON DRIVE THE BUS!

November 25, 2022

The Young People's Theatre of Chicago's inaugural 3-Play 2022-23 season will continue with the Chicago premiere of Mo Willems' high-spirited and hilarious Don't Let the Pigeon Drive the Bus!
---