STEEL MAGNOLIAS Comes to Act II Playhouse This Month
The production will run from January 31 through February 26, 2023.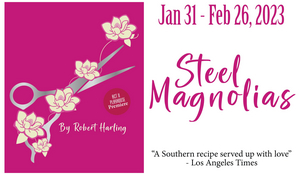 Act II Playhouse announces its latest production, the beloved "Steel Magnolias" by Robert Harling. The production is an Act II Playhouse Premiere and will run from January 31 through February 26, 2023.
Set in a small town in Louisiana, "Steel Magnolias," centers on the customers of Truvy's beauty salon; the hub of all gossip where it's dispensed as freely as the shampoo. Here we meet the town residents; an eclectic cast including the newly-hired salon assistant, a soon-to-be-married bride, her concerned mother, and the town's cantankerous elder. Though this diverse group may seem delicate as flowers, we soon learn that the bonds forged in the salon chair are strong as steel. "Steel Magnolias," the inspiration for the celebrated 1989 film, is an audience favorite and guarantees laughter and tears in equal measure.
"With sassy one-liners, great character connections, and an unexpected cathartic release, 'Steel Magnolias' will play beautifully in our intimate space. Our patrons will be smiling one minute, crying the next," said Artistic Director Tony Braithwaite.
The Act II production features a cast including Sabrina Profitt, Kelsey Hébert, Mary Carpenter, Jenna Kuerzi, Carolyn Nelson, and Penelope Reed.
Profitt and Reed are returning to Act II having previously appeared in productions during the 2022-2023 season. Profitt starred alongside Tony Braithwaite in Neil Simon's, "The Prisoner of Second Avenue" and Reed starred as First Lady Eleanor Roosevelt in the one-woman production, "Eleanor." The rest of the cast make their mainstage Playhouse debuts in "Steel Magnolias."
"Steel Magnolias" is directed by Megan Bellwoar. Paul Dake is the Production Stage Manager, Seana Benz the Assistant Stage Manager, Meghan Jones the Scenic Designer, Janus Stefanowicz the Costume Designer, Bridget Brennan the Wig Designer, James Leitner the Lighting Designer, Andrew Meinhart the Technical Director, Adam Danoff the Sound Designer, Kelly Palmer the Prop Designer and Alice Dake the Scenic Painter. Philadelphia Scenic Works will construct the sets.
Ticket prices start at $32 and are available online at act2.org, by calling the Act II Box Office at 215-654-0200, or in-person at the Box Office at 56 E. Butler Ave., Ambler, PA. The Box Office is open Mon-Sat, 2 p.m. - 6 p.m. Student tickets are $15 and group discounts are available.
Act II Playhouse is committed to theatrical programming that is both accessible and entertaining. Act II is committed to creating and producing original, classic, and contemporary plays, musicals, and cabarets (both comedic and musical) that reflect the highest artistic standards, and presenting them in our intimate venue that draws audiences and performers into a unique, vibrant and dynamic interaction. Act II Playhouse has received 43 Barrymore nominations and 6 Barrymore Awards. Act II Playhouse was founded in 1998; in 2012, Tony Braithwaite became the 3rd Artistic Director in the theatre's history.