People's Light Presents Lynn Nottage's Pulitzer Prize-Winning SWEAT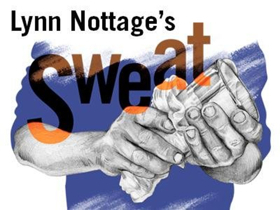 People's Light presents Lynn Nottage's Sweat, winner of the 2017 Pulitzer Prize for Drama and nominee for the 2017 Tony Award for Best Play. Currently the second-most produced play in the country, Sweat is an extensively researched portrait of early 2000s Reading, PA and an incisive examination of deindustrialized America. Sweat has already been extended due to popular demand and runs January 16 through February 17, 2019 on the theatre's intimate, 160-seat Steinbright Stage. Tickets range from $30-$50. To purchase, call 610.644.3500 or visit www.peopleslight.org. People's Light is located at 39 Conestoga Road, Malvern, PA 19355.
Alternating between the years 2000 and 2008 in Reading, PA, the play centers around a group of steel workers and long-time friends. Most nights, they gather at the neighborhood dive bar to celebrate birthdays, complain about union dues, and make plans for vacation and retirement. When rumors of layoffs at the steel mill begin to circulate, external forces lead to internal unrest as relationships are strained and racial tensions mount. Told with humor, insight, and a great respect for its characters, this highly relatable and gripping drama is hailed as a "theatrical landmark" (The New Yorker) of our time.
Though rooted in the historical context of the first decade of this century, Sweat continues to speak to issues of identity, immigration, and the lasting effects of an economic downturn. For Director Elena Araoz, it is the story of a community abandoned by the American dream. "I believe the play asks us to consider, 'How are we taking care of others, and who are we depending upon to take care of ourselves: our children, our elders, our community, our loved ones, our friends, our schools, our employers, our government?'"
Sweat doesn't take sides or offer answers; it illustrates the human aspect of our society's most pressing concerns. In an interview with The Interval, Playwright Lynn Nottage says, "What I want is for people to go into the theatre and in some way their perception is shifted, so that if they do enter with their biases, perhaps they won't leave with them."
To write Sweat, Nottage spent years in Reading, PA and interviewed dozens of residents. During this time, People's Light was designing its New Play Frontiers program, which brings leading American Playwrights to the Philadelphia region to share the untold stories of local communities. People's Light Producing Director Zak Berkman met with Nottage as she was writing Sweat, eager to learn about her immersion in Reading and her approach to this kind of theatre-making. "The rigor of Lynn's research, her commitment to reciprocity, and her ability to weave together the experiences of our neighbors into a great work of theatre directly informed New Play Frontiers. As the closest major theatre to Reading, we are honored to tell this story on our stage."
The cast of Sweat includes Philadelphia favorites and returning guest artists Akeem Davis (All My Sons, Mark Twain: Sacred Cows Make the Best Hamburgers) as Evan, Bowman Wright (The Mountaintop) as Brucie, and William Zielinski (Row After Row, The Trip to Bountiful, One Flew Over The Cuckoo's Nest, The Merchant of Venice) as Stan, along with People's Light Company Member Teri Lamm (Romeo & Juliet: A Requiem, Morning's at Seven, The Matchmaker, The Harassment of Iris Malloy) as Jessie. Making their People's Light debuts are Dakota Granados as Oscar, David Kenner as Jason, Brandon Pierce as Chris, Monica Steuer as Tracey, and Lisa Strum as Cynthia.
Elena Araoz directs. Roman Tatarowicz (Bach at Leipzig, How to Write a New Book for the Bible, Sleeping Beauty: A Musical Panto) returns as set designer. New York-based designer Harry Nadal creates costumes. María-Cristina Fusté designs lights and Nathan Leigh is sound designer. Paul Dennhardt serves as Fight Director, aided by Caitlyn Herzlinger as Assistant Fight Director. Melanie Julian (Project Dawn) returns as Dialect Coach. Wendy Blackburn Eastland stage manages, and Company Member Gina Pisasale dramaturgs the production.

Related Articles View More Central Pennsylvania

Stories

Shows
More Hot Stories For You