Millbrook Presents FOOTLIGHT FRENZY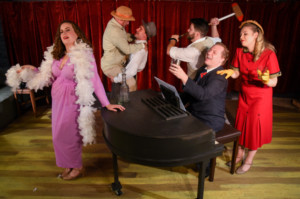 The Board of Directors and Artistic Director, David Leidholdt, are excited to present FOOTLIGHT FRENZY by Ron House, Alan Shearman, Diz White, Bud Slocumb, Mark Blankenfield, Brandie Kemp, and Mitchell Kreindel, playing from July 13th to the 22nd in the Poorman Cabaret.
The fun continues in the Poorman with FOOTLIGHT FRENZY. In a desperate attempt to save their bankrupt "School for Unusual Children," an inexperienced PTA group valiantly mounts an ambitious benefit play, written by a has been Broadway director. His near hysterical direction and the group's questionable talent turn the production into a shambles. The scenes shift back and forth from the real tribulations of the performers to the play they are "performing," and it is hard to tell which is sillier. This is fast and furious theatrical fun of the first order, with us watching the fun from the "back" of the stage!
FOOTLIGHT FRENZY is directed by Nick Brennan and features a mix of newcomers and season favorites with James Cougar Canfield as Paul Becker, Georgia Fender (Savannah Sipping Society, The Marvelous Wonderettes: Dream On) as Laura Becker, David M. Farrington as Tony Langdon, Christopher David Roché as Alex Malone, Kristina Walz (The Marvelous Wonderettes: Dream On) as Debbie Turner, and ?Galen Molk as Benny Dribble.
FOOTLIGHT FRENZY production team includes Set Design by Joshua E. Gallagher, Costume Design by Shivanna Sooknanan, Lighting Design by Caleb Stroman, Sound Design by Adam Visconti, and Props Design by David Singleton.

Tickets are on sale now at the Millbrook Playhouse in the Poorman Cabaret July 13-14 and 18-21 at 7:30 pm and matinees are July 15, 18, and 22 at 2:00 pm. Tickets are $25 for adults, $15 for students and $10 for children. NEW THIS SEASON: Discounted ticket prices on Wednesday evening and Sunday matinees, all tickets are 10% off. Group rates are available. You can purchase tickets by calling 570-748-8083, online at www.millbrookplayhouse.net, or by coming to the box office any day of the week. Box Office hours: Mon. and Tues. 9am-5pm and Wed. through Sun. 9am-9pm.
Also, take advantage of our optional Sunday Brunch, exclusively for the Sunday Matinee performances! For only an additional $16 per person, enjoy a lovely buffet brunch from Haywoods On The Green that includes drink specials on Bloody Mary's and Mimosas from the Stage Right Bar! (for those 21 and over). Brunch is served at 1:00 pm in the Courtyard!

Photo: Georgia Fender as Laura Becker, David M. Farrington as Tony Langdon, Galen Molk as Benny Dribble, Christopher David Roché as Alex Malone, James Cougar Canfield as Paul Becker, and Kristina Walz as Debbie Turner. Photo Credit Bill Crowell