BWW Review: ALL THE KING'S MEN at Gamut Theatre Group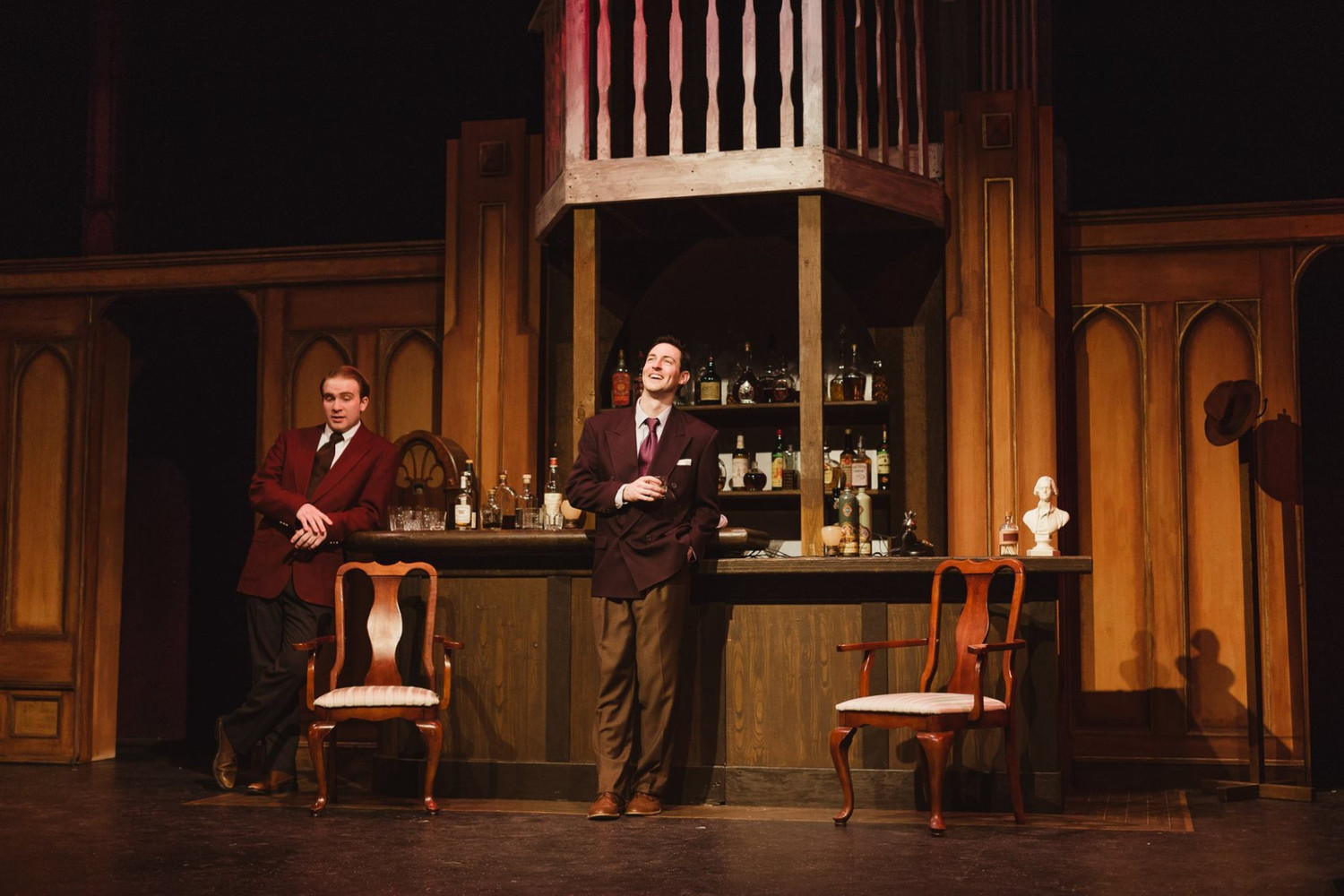 Robert Penn Warren's 1946 novel All the King's Men features Willie Stark, downhome country boy from Louisiana, whose story is loosely based on the life and career of governor Huey Long. Warren's novel won the Pulitzer Prize and has been adapted for screen and stage. The 1949 film adaptation won the Academy Award for Best Picture. Recently, Gamut Theatre Group brought All the King's Men to Harrisburg. While I did not have an opportunity to see their production until the final weekend, I am so glad I didn't miss it.
As always, the team at Gamut uses their space well. Their use of stairs and levels, aisles, and simple furniture movement creates the feeling of being in different buildings, rooms, and so forth in a way that keeps the production flowing while still setting the scene for the audience. Costume designer Victoria Wojciechowski deserves a round of applause as well for her work on All the King's Men. There were times when some of the actors did not project as well, causing some of the lines to be lost, which is unfortunate for a show in which there is so much significant dialogue.
Philip Wheeler as the Professor and Ross Carmichael as Jack Burden provide the narrative and hints to the emotions and thoughts of the various characters. These actors have great energy and presence. Carmichael has the added challenge of transitioning between narrator and active participant in the scene. Through the use of movement and changes in posture and facial expression, he handles these transitions with enviable ease. Carmichael's Jack Burden is the glue that holds the production together, and his talent on the stage is highlighted brilliantly in this show.
Tiny Duffy, played by Michael James Kacey, is the quintessential over-the-top politician out to further his own influence by latching on to other influential people. Kacey's Tiny is the guy everyone loves to hate with his maneuvering and blustering. Almost a complete opposite to Tiny Duffy is Mr. Larsen. Chris Ondeck is a smooth, calm Larsen, who relies on his name and wealth rather than posturing to get what he wants. Ondeck has great stage presence, which gives Larsen an air of subtle importance and gravitas.
The character around which the story centers is Willie Stark. We learn that Willie has a number of women in his life as he climbs the political ladder-his wife, Lucy; Sadie Burke, his secretary; Anne Stanton, sister of Dr. Adam Stanton and girlfriend of Jack Burden. It's a complicated web of relationships that highlight some of the ways in which Willie Stark's rise to fame and power has corrupted his morals.
The tough-as-nails Sadie Burke is ably portrayed by Tara Herweg-Mann. Herweg-Mann makes the audience like Sadie and feel sympathetic toward her despite her rough exterior. Aneesa Neibauer is a charming and complex Anne Stanton. Her first monologue, which is prophetic, is beautifully delivered, and her scene in act two with Carmichael's Jack Burden where she explains why she has pulled away from him is heartbreakingly touching. Samantha A. Camp is very convincing as Lucy Stark. As she sees her husband spiraling and her son following in his footsteps, Camp's Lucy shows a great mix of desperation, strength, and battling emotions. She particularly shines in the scene when Lucy and Willie learn that their son, Tom, has died.
Alex Winnick and Aidan Roth take on the roles of Tom Stark and Sugar Boy, respectively. Winnick's Tom Stark tries to get his father's attention by being a football star and by emulating his father. When Tom is confronted by his parents after landing in jail, Winnick shows the audience a cocky teenager who doesn't think he can get into any trouble because he's the town's football hero and his father is a powerful man. Interestingly, Winnick is able to infuse his character with a sense of a young man who is lost and seeking his father's attention and approval. Sugar Boy, Willie Stark's hired gun, is, in many ways treated more like a son by Willie Stark. Roth is fantastic in this role. His adoration for Willie Stark is sometimes felt in the quiet way he supports and helps him and at other times comes out in passionate actions and words.
Diego Sandino is fun to watch as the man in the audience as Willie Stark gives his speeches. It's hard not to get caught up in the fervor as he claps and reacts to Stark's passionate message. Where Sandino really shows his talent is as Mr. Frey, the father of Sibyl Frey who accuses Tom Stark of being the father of her unborn child. Sandino is believable as the protective father trying to restore his daughter's honor and to get Stark to make his son take responsibility for his actions. Lisa Leone Dickerson joins Sandino as a member of the community there to hear Stark's speeches. She also has the tough task of bringing Jack Burden's mother to life on the stage. While the mother doesn't appear in very many scenes, Dickerson is fully invested in every moment on stage. When she learns of the death of Judge Irwin, her emotions are palpable.
Judge Irwin is a man who seeks to do good and uphold a strong moral code, all the while knowing that he fell short of his own ideals in the past. Jeff Wasileski's Judge Irwin meets my expectations wonderfully. He is congenial, steadfast, and honorable. When confronted with his past missteps, he demonstrates a deep sense of regret, and Wasileski allows the audience to see the vulnerability of a man who has tried his whole life to atone for those mistakes. In his final scene with Carmichael's Jack Burden, Wasileski is utterly captivating.
Adam Stanton, played by Brennen S. Dickerson, begins as an idealist-a doctor who believes in goodness and tries not to be swayed by power and ambition. In his first scene, Dickerson's Stanton is thoughtful, friendly, and unwavering in his desire to do good without compromise. As the performance progresses, Dickerson shows the audience, through his expression, tone, and movement, Stanton's disillusionment as he learns of his father's illegal actions and his sister's relationship with Willie Stark. The fast-paced ending to Stanton's story requires a great deal of intensity, and Dickerson delivers.
Finally, Willie Stark, the main character in the story Jack Burden tells us, is performed by Nick Wasileski. Willie Stark has the most extreme arc in terms of his state of mind and emotions, and Wasileski manages this transformation with both subtle and dynamic changes in his speech patterns, gestures, and expressions. The transformation feels authentic and plays out in his interactions with every other character on the stage. The audience literally sees Stark go from poor, unassuming country boy with high ideals to smooth-talking, passionate, power-hungry politician struggling with moral ambiguity.
All the King's Men is a thought-provoking exploration of human nature, theories of goodness, and what it means to really live, and Gamut Theatre Group did not disappoint with their production. One of the most captivating parts of the show for me was their use of the song "Allegory" to foreshadow the storyline with snapshots of scenes to come-their staging and movement through the song is beautiful.
While it's too late to see All the King's Men at Gamut, you will not want to miss any of their upcoming shows. They have productions for audiences of all ages, and their performances are always creative, unique, and produced with great attention to detail from start to finish. For information about their upcoming shows, visit www.gamuttheatre.org.