Review Roundup: ROMEO & JULIET at Redhouse - What Did the Critics Think?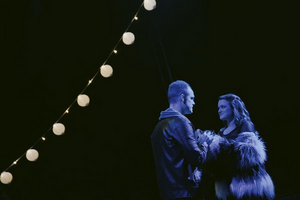 Redhouse Arts Center continues its 2020 portion of its season with William Shakespeare's most famous play, Romeo and Juliet. Anderson puts a twist on this classic tale by setting it in a dystopian world on the edge of the apocalypse.
Starring as Romeo and Juliet, and making their Redhouse debuts are Noah Plomgren (Romeo) and Grace Daley Bydalek (Juliet). Also debuting are Gerald Owen (Tybalt), Emelie O'Hara (Mercutio) and Landon Tate Boyle (Benvolio).
Let's see what the critics are saying...
---
Len Fonte, Syracuse.com: Noah Plomgrem is an amiable Romeo. With a real facility with the language and an easy physicality he easily finds the comic moments with which Shakespeare studs the text. The balcony scene with Grace Daley Bydalek's Juliet runs at a high speed, but captures the impetuousness of youth. Bydalek suffers the most from the production's breakneck pace. The speed does show a teenager running too quickly through decisions, but it robs her of any poetic weight.
Natasha Ashley, BroadwayWorld: Noah Plomgren takes on the role of Romeo and his portrayal is heartwarming, emotional, and comedic. Plomgren's connection, love, and understanding of Shakespeare's gorgeous language is evident in his exquisite portrayal. Grace Daley Bydalek's youthful energy and glowing facial expressions capture the young and hopelessly in love silly teenage girl Juliet perfectly. Her spunk and charm are memorable. Plomgren and Bydalek showcase great onstage chemistry with their spunk, energy, comedic timing, and physicality in the roles.