Photo Flash: Meet the Cast of THE ADDAMS FAMILY, Opening Tonight at Cortland Rep
Cortland Repertory Theatre's third production in their 44th annual summer season is the regional theatre premiere of the "creepy, kooky and all together ookie" musical "The Addams Family", based on the iconic characters of TV, movies, and New Yorker cartoons drawn by
Charles Addams
. A recent show on Broadway, this new musical has a book by
Marshall Brickman
and
Rick Elice
, with music and lyrics by
Andrew Lippa
. Performances of CRT's production will run from tonight, July 8, through July 25, 2015. BroadwayWorld has a sneak peek at the cast below!
The whole macabre Addams family are on hand (or in the case of Thing, are just a hand) in this sparklingly funny new musical. Gomez and Morticia Addams are just your everyday, normal parents who love their children as every parent does. But teen-age daughter Wednesday is about to rock their world. She's fallen in love with a "normal" boy, and has invited his parents to dinner. The whole Addams clan, including Pugsley, Uncle Fester, Grandmama, Lurch, and Cousin It are hurled headlong into a night that will change the family forever. Secrets are shared, truths are revealed, and everyone learns what it means to be an Addams. Audiences should get ready to spend the night with a family who will raise their spirits, steal their heart and leave them in stitches!
This musical is directed by long-time CRT director Bert Bernardi, who previously worked on such shows as "Always a Bridesmaid", "All Shook Up" and "Joseph and the Amazing Technicolor Dreamcoat" at CRT. The show is musically directed by Aimee Radics in her CRT debut, and choreographed by Robin Levine, who previously worked on CRT's "All Shook Up" last summer.
Heading the cast as Gomez is long-time CRT Costume Designer Jimmy Johansmeyer, who also handles the costumes for this production. Morticia will be played by Caitlin Diana Doyle who is currently seen as Abigail Adams in "1776". Also double cast in "1776" are Lionel Ruland who will play Uncle Fester, and Nicholas Carroll who will play the Addams' butler, Lurch. Making her debut as Wednesday is Ithaca College student Natalee Merrill-Boyet. Returnees to CRT include Rebecca McGraw ("All Shook Up", "Les Mis") as Grandmama, and young local thespian Seamus Gailor as Pugsley. Playing Wednesday's love is Brian Reiff as Lucas Beineke, with Jeremy Parker as his mother Alice, and CRT Producing Artistic Director Kerby Thompson as his father, Mal. Rounding out the cast of singing and dancing Addams ancestors are Cassie Bednall, Connor Cook, Liz Fallon, Katrina Gnatek, Jared Goldsmith, Lukas Miller, Logan Mortier, Courtney Pierchoski, Daniel Wisniewski and Rachel Womble.
Stage Manager Laura Krouch heads the production and design team. The scenic design is handled by Shelley Barish in her CRT debut. Continuing their work this season are Lighting Designer David A. Saxton, Props Designer Amanda Diaz, Sound Designer Seth Asa Sengel, Technical Director Dana White, Jr. and Assistant Stage Manager Rachel Kartiganer.
Tickets may be purchased by calling 800-427-6160 or by visiting the CRT Box Office at 24 Port Watson Street in downtown Cortland. Tickets are also available for sale 24 hours a day through the CRT website at www.cortlandrep.org.
Photos courtesy Cortland Repertory Theatre.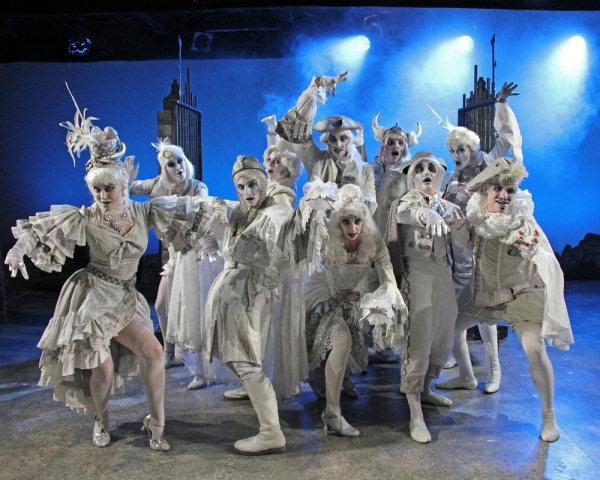 The Addams Family Ancestors emerge from the crypt: Rachel Womble, Courtney Lynn Pierchoski, Connor Cook, Liz Fallon, Logan Mortier, Cassie Bednall, Lukas Miller, Jared Goldsmith, Katrina Gnatek, and Daniel Wisniewski

Morticia shares the Addams Family history: Cassie Bednall, Courtney Lynn Pierchoski, Katrina Gnatek, Caitlin Diana Doyle (as Morticia), Rachel Womble, Jeremy Parker (as Alice Beineke), and Liz Fallon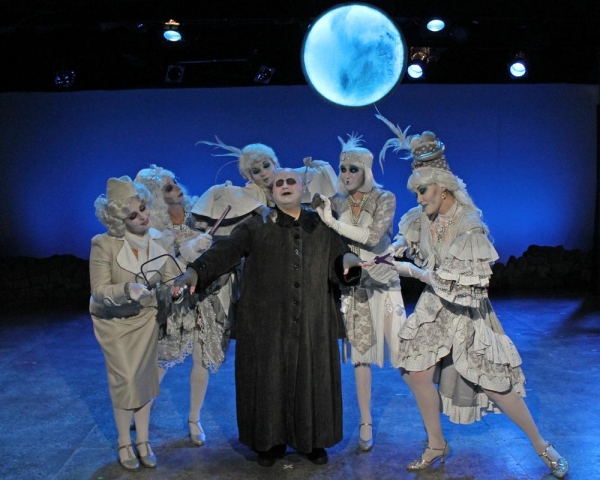 Uncle Fester sings to his love, the moon: Liz Fallon, Cassie Bednall, Katrina Gnatek, Lionel Ruland (as Uncle Fester), Courtney Lynn Pierchoski and Rachel Womble

Jimmy Johansmeyer as Gomez and Caitlin Diana Doyle as Morticia

Wednesday (NataLee Merrill-Boyet) tortures her little brother Pugsley (Seamus Gailor)