Jason Tramm to Lead Taghkanic Chorale as Music Director in Works by Faure & Handel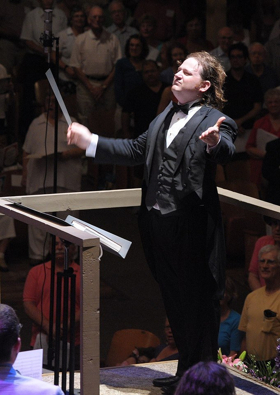 Noted American conductor Jason Tramm takes the podium as the newly appointed Music Director of the Taghkanic Chorale in works by Gabriel Faure and George Frederik Handel on Tuesday August 7 for the chorale's annual concert event "Summer Sing." The concert heralds the Westchester county based Taghkanic Chorale's fifty second season, with Gabriel Fauré's Requiem and a selection of popular choruses from G.F. Handel's Judas Maccabeus. The concert is designed to engage the audience and invites singers of all ages to sing with the Taghkanic Chorale and meet Maestro Tramm in reception afterwards. Pianist Laura Ravotti will accompany the performance.
With his appointment Tramm becomes the tenth director of the Taghkanic Chorale, succeeding Steven Fox who concluded a 11-year tenure to become Music Director of the Cathedral Choral Society in Washington, DC. "I look forward to working with the accomplished and dedicated singers of the Taghkanic Chorale and building on the Chorale's tradition of bringing the very best in choral music to our community," said Tramm.
Tramm will conduct the Taghkanic Chorale's 2018 -2019 Season in works by composers Gabrieli (O Magnum Mysterium), Whitacre (Lux Aurumque), Tallis (O Nata Lux), Praetorius, (In DulciJubilo), Pinkham (Christmas Cantata) Brahms (O Heiland Reiss), Robert Cohen (Sleep, Little Babe, Sleep), Caldwell/Ivory (Children, Go Where I Send Thee) and G. Walker (Rejoice!) in the Taghkanic Chorale's much anticipated annual holiday concert "Rejoice: Music both Ancient and Modern" on December 1st and 2nd. In 2019 the Taghkanic Chorale will present Carl Orff's scenic cantata Carmina Burana and works by Dello Joio (A Jubilant Song), Barber (Reincarnations, Op. 16) and Ives (Psalm 90) in "A Celebration of Spring" taking place May 4th and 5th.
Hailed as a "Conductor to Watch" by Symphony Magazine, Tramm holds degrees in music from the Crane School, the Hartt School and a DMA in Conducting from Rutgers University where he received their prestigious Presidential Fellowship. Tramm's work in choral, symphonic and operatic repertoire has received critical acclaim throughout the United States and abroad.
Tramm concurrently serves as Artistic Director and Principal Conductor of the NJ-based MidAtlantic Opera, with which he made his Carnegie Hall debut in 2015 and at NJPAC in 2017. He also serves as Music Director of Teatro Lirico D'Europa; Guest Conductor of the Palmetto Opera (SC) and Opera New Hampshire; and Music Director of the Morris Choral Society. An accomplished educator, he serves as Director of Choral Activities at Seton Hall University, where he leads the University Chorus, Chamber Choir, Orchestra, and teaches voice and conducting. In 2017, Seton Hall named him University Faculty Teacher of the Year. From 2008-2012, he served as Artistic Director of the New Jersey State Opera , where collaborated with some of the finest voices in opera, including Samuel Ramey, Vladimir Galouzine, Angela Brown, Gregg Baker, and Paul Plishka. His 2009 HDTV broadcast with PBS affiliate NJN of "Verdi Requiem: Live from Ocean Grove," garnered a regional Emmy Award nomination.
For over half a century the Taghkanic Chorale has provided audience and music lovers throughout the surrounding Northern Westchester communities the opportunity to sing and hear the greatest choral music of all eras from the Renaissance to contemporary composers. Throughout its 52 year history the Taghkanic Chorale has attracted music directors with enormous talent and unique ability to inspire avocational singers to high levels of performance. Recently the chorale was one of twelve area musical organizations selected to participate in a Make Music New York event in Central Park (June 2013) where groups joined to sing R. Murray Shafer's Credo for 12 choirs under the direction of George Steel. Other New York performances have included performing Verdi's Requiem at Carnegie Hall in a mass choir assembled by MidAmerica Productions and singing works by John Rutter at Carnegie Hall under the composer's direction. For further information about the Taghkanic Chorale or to inquire about auditions visit www.taghkanicchorale.org