The Zazzali Sisters Team Up with Rozi Baker to Sing Jeanine Tesori at Feinstein's/54 Below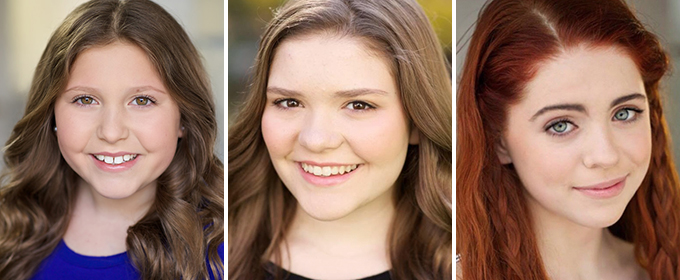 Eva and Valentina Zazzali, will be performing with Broadway, TV & film's top talent this Sunday, July 23 at 9:30pm, singing "I Know It's Today" from Shrek the Musical with Rozi Baker (Shrek, Mary Poppins, Bonnie & Clyde) in Tim Realbuto & Friends Sing Jeanine Tesori at Feinstein's/54 Below. Tickets are still available for the concert HERE!
Eva Zazzali, started her dance career at age 3 and became a member of her company dance team in jazz, and ballet when she was 8. She coupled that skill with voice lessons and immersed herself in the stage and musicals in several junior theater companies. Her favorite dance is tap.
Eva's dream roles in any production is a toss up between Annie in "Annie" and young Fiona in "Shrek", which won her a platinum trophy and second place all around singer/dancer at a recent vocal competition.
Valentina Zazzali, (aka Vale pronounced Vah-lay) began her formal dance training at the age of 2, then formal training at age 5. Her first show was at age 6 as a Silly Girl in "Beauty and the Beast" The voices of Andrea McArdle, Patti LuPone, and her personal dream mentor, Sutton Foster, have been her catalyst.
Most recently, Valentina performed in Broadway Kidz Backwardz, Hosted by Matt Rodin and Produced by Hannah Cecille St. Claire and Curtains Up Inc. at Feinstein's/54 Below, that featured Broadway's, Daisy Eagan. She also sang at Carnegie Hall's Weill Recital Hall, with PCI's Broadway: Next Generation.
Directed by Brooke Procida Ritchie with Musical Direction by Ted Arthur. This April, she played the role of Rosie, in Our Lady of Mercy Academy's production of "Bye Bye Birdie" in the role of "Rosie" in Park Ridge, NJ.
Sisters, Eva and Valentina's dream is to be on Broadway. Both sisters are well traveled domestically and internationally. Their grandfather, the late Mario Perillo of Perillo Tours would be very, very proud!
Please visit Eva and Valentina's websites for more information and upcoming performances: www.valentinazazzali.com and www.evazazzali.com.
Here's more information about this Sunday's amazing line-up!
between 8th Avenue & Broadway
Tickets: $25-$35 with $25 Food/Drink Min.
Trains: C,E,1 to 50th Street
*A Portion of Proceeds will be donated to ACLU Women's Rights Project*
Join award winning performer/composer Tim Realbuto (The Emperor's Club; Off-Broadway's YES) as he returns to Feinstein's/54 Below for the fifth time, this time celebrating one of Broadway's greatest treasures, Tony Award winning composer and women's history maker Jeanine Tesori. Musical Direction by Julianne B. Merrill and the show will be Directed by Paul Mitchell Wilder.
Tim has brought his popular sold-out songwriter series to venues across New York City, celebrating the work of Maury Yeston, Marc Shaiman and Scott Whitman, and now he will celebrate Ms. Tesori at the one and only Feinstein's/54 Below!
Hear Jeanine Tesori's gorgeous melodies sung by Tim Realbuto and a bevy of Broadway guest stars at this beautiful, intimate venue.
Songs from Tesori's breakout hit Thoroughly Modern Millie, her legendary Tony Award winning Fun Home, her haunting Caroline, or Change, her passionate and inspiring Violet, and her whimsically clever Shrek The Musical will come alive for one night only in the best of all possible venues!
The Show Stars Tim Realbuto (The Emperor's Club; Off Broadway'sYES, Ghostlight)
and features Stars of Broadway, Film & TV
Rozi Baker (Shrek, Bonnie & Clyde, Mary Poppins)
JaLeesa Beavers (Avenue Q)
Yvette Bedgood (Freedom's Song)
Nicole Corris (Forbidden Broadway, SVU)
Eddie Egan (West Side Story, The Radio City Christmas Spectacular)
Nick Gaswirth (The Great Comet, A Christmas Story) ,
Jenna Leigh Green (Wicked, Sabrina The Teenage Witch)
Kimberly Faye Greenberg (Danny and Sylvia, Fabulous Fanny)
Deborah Heagan (Urinetown, Christmas Carol)
Chazmond J. Peacock (Porgy & Bess, Oliver!)
Mara Kaye (Spongebob Square Pants The Musical)
Erin Leddy (Ghostlight)
Sarah Litzsinger (Beauty & the Beast, Amour)
Brianna Morris (Young Frankenstein)
Marissa O'Donnell (Shrek, Annie)
Laurissa Romain,aka"Lala"(South Pacific,Chris Rock's TopFive)
Joshua J. Schwartz (42nd Street)
Mavis Simpson Ernst (Evita, You're A Good Man Charlie Brown)
Sofia Trimarchi (Fun Home)
Morgan Weed (American Psycho)
Other performers include:
Grace Bennett (Dooples the musical)
Grace Field (After We're Gone)
Teresa Hui (Candide at Lincoln Center)
Katie Mack (No Filter: A Love Story)
Lieselotte Nickmans (9 to 5)
Kevin Riddagh (Gaybraham Lincoln: The Musical)
Allison St. Rock (Wunderkind)
Lauren Testerman (Love Quirks; The Black Book)
Adena Walker (Carrie)
Paul Mitchell Wilder (City of Angels)
Eva Zazzali (Broadway's Next Generation at Carnegie Hall; Shrek the musical)
Valentina Zazzali (Reddi High; Shrek the musical)
Tim Realbuto'S Jeanine Tesori ENSEMBLE:
Mary Hannah Dober
Cameron Draper
Alexis LaBarba
Casey Miko
Kristina Platé
Jackie Reynolds
Matt Rickmeier
Shannon Rowland
Krystal Sobaskie
Jay Wilkinson