The RRazz Room Spring 2018 Cabaret Series Continues With Singing & Comedy Brother Duo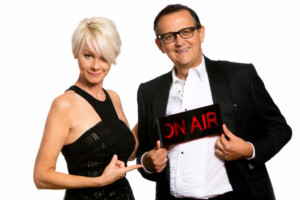 Will & Anthony Nunziata THE NEW CLASSICS: THE SOUNDTRACK OF OUR LIVES
Will & Anthony put their fresh take on Jazz Standards, 60's Hits, Broadway Classics to Pavarotti, Billy Joel and Adele..."The New Classics" is an unforgettable evening of music and laughs where everything sounds new and always feels familiar.
Will & Anthony Nunziata are two of the most in-demand entertainers in the country. Classically-trained tenors and Upright Citizens Brigade-trained comedians, they wow sold-out audiences all across the country with their inspiring and fresh takes on songs ranging from pop standards and classical crossovers to Broadway and movie-bound original songs.
The critically-acclaimed duo just headlined Carnegie Hall for two sold-out concerts and filmed featured roles in the Netflix comedy "The Last Laugh" with Chevy Chase and Richard Dreyfuss.
$55.00/$50.00/$45.00

COMING SOON
Saturday, April 21, 2018 @ 730pm
COMEDY LEGENDS
Dick Capri & Stewie Stone"HAPPILY EVER LAUGHTER"Dick Capri has taken the comedy world by storm and has left millions laughing in his comedic wake. He has played every major entertainment medium including nightclubs, resorts, arenas, and theaters. Capri has plied his trade on the Broadway stage and national television. Capri made his Broadway debut in 1991 at The Lunt-FontanneTheater, co-starring in the critically acclaimed Catskills On Broadway. The show played to sold out houses for 14 months and later toured nationally, leaving audiences roaring with laughter night after night. Dick's unique style features a measured and deliberate delivery and his material is crisp and topical.
Stewie Stone is living proof you can't take the kid outa Brooklyn. Even his name "Stewie" comes direct from Flatbush. His fame and fortune turning point came when Stewieopened for Frankie Valli & The Four Season in a Fort Lauderdale nightclub. He then spent four years touring with the group and managed to play virtually every major nightclub in the States. He hit the jackpot when he arrived in Las Vegas. He's opened for Paul Anka, Dionne Warwick, Ben Vereen, Bobby Vinton, Cher, Engelbert Humperdinck, just to name a few. He earned himself the reputation of being one of the best co-bills in the business. After over thirty years of friendship, Stewie still goes on tour with Frankie Valli. For the past 10 years, he has been the Vice-President of the famous Friars Club in NYC, and is their main MC and Roast Master. $50.00/$45.00/$35.00
Sunday, April 22, 2018 @ 7pm
THE SUPPER CLUB RADIO HOUR With Jill & Rich Switzer ("The Morning Lounge" co-hosts on Legends 100.3 Radio)
When it comes to Palm Beach entertainment, Jill Switzer's name has been at the top of the list for the past twenty-five years. Since the age of sixteen, she's performed with various bands and orchestras at many of the island's most exclusive and sophisticated venues, honing her vocal style on Porter, Gershwin and Berlin tunes. She's shared the stage with Ann Hampton Callaway, John Pizzarelli, and The Supreme's Mary Wilson, to name a few, and has recorded with The Four Freshmen and Nicolas King. In addition, Jill is a published author and co-hosts "The Morning Lounge" with her husband and musical director Rich weekdays on Legends 100.3 FM in Palm Beach County.Rich Switzer is a gifted multi-instrumentalist/composer, entertaining audiences in South Florida for the past thirty-two years and an honorary board member of The Society for the Preservation of the Great American Songbook. He's worked on stage and in the recording studio with Mary Wilson of The Supremes, The Four Freshmen, Avery Sommers, Nicolas King, Ann Hampton Callaway and Faith Prince. His four CDs of original piano instrumentals have made a significant mark on the New Age/AC market, beginning with Rich's debut release, Quiet Storm, which was picked up by national distributor DeVorss and Company and was also sold through live performances. $40.00/$35.00/$30.00
Friday, April 27, 2018 @ 730pmAn Exciting Evening of Music & Laughter starringMichael Amante and Sal Richards
This co-headliner bill is a Las Vegas style live stage performance by two world-class entertainers. Mr. Richards' decades long comedic career spans from historic clubs around the country, headlining in Atlantic City and Las Vegas, to appearing in legendary films including "Rounders" and "Out For Justice". Mr. Amante's singing has taken him to New York's Carnegie Hall and Lincoln Center to the nation's top casinos including Caesar's Palace and Hard Rock. Together they are a powerhouse of music and comedy. These seasoned artists and long-time friends will deliver a memorable night of colossal laughs and soaring high notes, and leave their audience on their feet shouting for more. Between them, this duo has over 100 years of entertainment experience.Affectionately known as "The People's Tenor"and crowned the "Prince Of The High C's", Michael Amante continues to be celebrated by audiences and critics alike around the world. Michael's repertoire includes Broadway, Jazz, Rock, Gospel and American Standards as well as the soaring notes if high Opera.The New York Daily News calls Sal Richards "One of the funniest guys in show biz!" Cindy Adams of The New York Post said Sal Richards is hilarious a must see!"$62.50/$52.50/$42.50
Saturday, April 28, 2018 @ 730pm
Judy GoldAward winning comedienne Judy Gold returns to The RRazz Room with An Evening of Comedy! This funny lady is known for her acclaimed stand-up specials on HBO, Comedy Central, and LOGO, as well as appearances on The Late Show with Stephen Colbert, LOUIE, Broad City, Pop TV's Nightcap, and the new Showtime series, I'm Dying Up Here. She is the host of the podcast Kill Me Now.
$55.00/$45.00/$35.00
Saturday, May 19, 2018 @ 730pmJoe Posa As Joan Rivers "The Bitch Is Back!"with Special Guest Tony TripoliNationally acclaimed Female Impersonator Joe Posa and Tony Tripoli (Executive Producer of Fashion Police and the late Joan Rivers' head comedy writer), join forces to bring there 90-minute Loving Tribute to & Living Portrait of the
Related Articles View More Cabaret

Stories

Shows
More Hot Stories For You