Show Tunes Get a Classical Twist in CHOPIN MEETS BROADWAY at Feinstein's/54 Below
Feinstein's/54 Below, Broadway's Supper Club, presents Peisha McPhee & Sergiu Tuhutiu in "Chopin Meets Broadway" on March 18th, 2017.
For one night only, world-renowned vocalist and American Idol Vocal Coach Peisha McPhee, and award-winning European concert pianist Sergiu Tuhutiu, have collaborated to create their new show Chopin Meets Broadway, brilliantly bringing to life a medley of classical music and Broadway standards.
The audience will be transported into a world of classical repertoire, experiencing some of the most famous and romantic pieces from composers such as Chopin, Brahms, and Rachmaninoff, ingeniously arranged to match Broadway standards with repertoire including Sondheim, Gershwin, and Berlin.
Chopin Meets Broadway is uplifting, emotional, and exciting for all! Throughout the show Peisha and Sergiu will also be telling entertaining stories that bring authentic theatre to the concert. The audience will be left wanting more! Special guests Katharine McPhee (Scorpion, Smash) and Holt McCallany (Mindhunter, Julie Wilson's son) are to perform duets with Peisha.
Peisha McPhee & Sergiu Tuhutiu in "Chopin Meets Broadway" plays Feinstein's/54 Below (254 West 54th Street) on Saturday, March 18th, 2017. There is a $30-$40 cover charge and $25 food and beverage minimum. Tickets and information are available at www.54Below.com. Tickets on the day of performance after 4:00 are only available by calling (646) 476-3551.
Peisha McPhee has been charming audiences from coast to coast for three decades, with critically acclaimed performances at the legendary Cinegrill at the Hollywood Roosevelt Hotel, the Gardenia Supper Club in Los Angeles, and the Metropolitan Room, Helen's Hideaway in New York City, and Club Universel in Paris. She has performed her critically acclaimed one-woman show throughout the US and Europe, and has appeared in national tours throughout the country including Showboat, Man of La Mancha, and Fiddler On the Roof, co-starring with theatre luminaries such Donald O'Connor and Davis Gaines. With a style that has been called "a return to cabaret elegance and sophistication," and "sometimes sultry and provocative, other times disarmingly comic," Peisha's work received LA Weekly's Pick of the Week.
Peisha was the premiere American Idol vocal coach, training the show's contestants and eventual winners of four seasons. Her presence with American Idol organization elevated singer's performances and thus the quality of the show, helping to make it one of the highest-rated television programs in history. Most recently, Peisha is the vocal coach for Disney's newest animated, musical adventure Moana. Peisha helped launch the careers of some of the most famous singers in modern music, including her daughter, Katharine McPhee, the star of NBC's hit show Scorpion. Throughout her career, Peisha has also worked with some of music's top producers and songwriters, including Jimmy Iovine, Don Was, Rodney Jerkins, and Harvey Mason, Jr.
Peisha and Sergiu have created a highlight video of Chopin Meets Broadway. Check it out below!
---
Winner of Debut to Master Soloist Piano Competition in St. Petersburg, Russia (2013), Sergiu Tuhutziu established himself as one of the most creative and charming pianists of his generation. He holds two Master degrees from Staatliche Hochschule für Musik und Darstellende Kunst, Stuttgart and Gheorghe-Dima Academy of Music, Cluj-Napoca. He is also a graduate of the National University of Music, Bucharest. In 2011 he received a scholarship at London Masterclasses and in 2013 he was awarded with Artist Diploma by the Royal College of Music, London.
Sergiu Tuhutziu had his debut at the age of eighteen with Dinu Lipatti Philarmonic Orchestra from Satu-Mare, playing the Beethoven's 3rd Piano Concerto, and has since appeared in concerts on main stages in England, Germany, France, Switzerland, Italy, Russia, Brasil, Canada and Romania. Sergiu Tuhtziu is currently residing in London. Most recently he won Second Prize at the Manhattan International Music Competition (June 2016).
54 Below, Broadway's Supper Club, and Michael Feinstein, one of the world's great musical artists, have united to give New York an unparalleled destination for entertainment and dining. Feinstein's/54 Below, Broadway's Supper Club & Private Event Destination, is the performance venue in the grand tradition of New York City nightlife. A few blocks from the heart of Times Square and just below the legendary Studio 54, Feinstein's/54 Below is a classically designed state-of-the art nightclub in the theatre district that hosts audiences with warmth and style. Feinstein's/54 Below presents iconic and rising stars from the worlds of Broadway and popular music. The venue provides a food and beverage menu from early evening through the wee hours of the morning that is worthy of the world-class entertainment on the stage. Located at 254 West 54th Street, Feinstein's/54 Below features up to three shows nightly with cover charges ranging from $15-$105.
---
Join Team BroadwayWorld
Are you an avid Cabaret fan in NYC? We're looking for people like you to share your thoughts and insights with our readers. Team BroadwayWorld members get access to shows to review, conduct interviews with artists, and the opportunity to meet and network with fellow theatre lovers and arts workers.
Interested? Learn more here.
---
More Hot Stories For You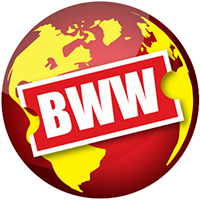 Award-Winning Director/Composer Barry Kleinbort Joins JAMIE DEROY & FRIENDS As Co-Host

November 28, 2022

Barry Kleinbort, multi-award director, composer, lyricist, and librettist joins "Jamie deRoy & friends" as co-host.  He will team with Jamie deRoy, the legendary 10-time Tony Award Broadway Producer and founder of her popular long-running talk show.
---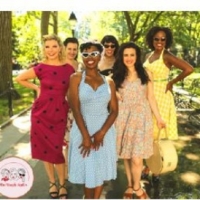 THE RANDY ANDYS HOLIDAY FETE to be Presented at The Triad Theater in December

November 28, 2022

The Randy Andys Holiday Fete will take place on Friday, December 9 at 7 pm at the historic Triad Theater. Step back in time with The Randy Andys for a magical evening of nostalgic merriment. Singing holiday favorites with their signature postmodern twist.
---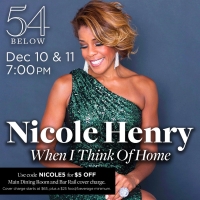 Nicole Henry to Present WHEN I THINK OF HOME at 54 Below in December

November 28, 2022

54 BELOW, Broadway's Supper Club, will present award-winning jazz vocalist Nicole Henry in WHEN I THINK OF HOME on December 10 & 11 at 7pm.
---
Joe's Pub to Present Justin Vivian Bond, Murray Hill & More This Holiday Season

November 28, 2022

Get in the holiday spirit at Joe's Pub with Murray Hill, Justin Vivian Bond, Bridget Everett, Justin Hicks and more!
---
Bebe Neuwirth, Jeff Hiller, Andrew Keenan-Bolger and More Will Appear in VILLAIN: DEBLANKS Next Month

November 28, 2022

NYC's favorite monthly fill-in-the-blanks comedy will be back at 7pm, Wednesday, December 14. The lineup includes Bebe Neuwirth, Andrew Keenan-Bolger, Jeff Hiller, and more!
---