REFRIGERATED DREAMS Comes to Joe's Pub This Month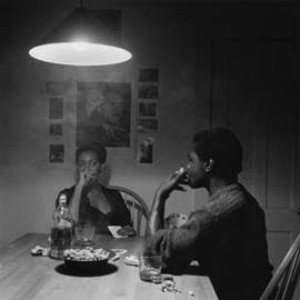 Funk rock pioneer Nona Hendryx continues her year at Joe's Pub as the inaugural recipient of The Vanguard Residency and Award. In collaboration with renowned American artist Carrie Mae Weems, award-winning theater director Niegel Smith and acclaimed choreographer Francesca Harper, Hendryx created Refrigerated Dreams, an immersive multimedia installation and concert transforming Joe's Pub into the dinner party of the season. Inspired by Weems's seminal The Kitchen Table Series, the work-in-progress is directed by Smith and features choreography and performances by Harper, Josh Johnson and The Francesca Harper Project, with original music by Hendryx.
Refrigerated Dreams will debut on Saturday, October 27 with two special fundraising performances at 6:30PM and 9:00PM. Tickets are available online ($75-$200), via phone (212-967-7555) and in-person at The Public Theater's box office (425 Lafayette, NYC).
>From the first message announcing Refrigerated Dreams, the audience enters a world of binaries: man or woman, black or white, stay or go. In that first email, a man invites you to a dinner party, for which he has secured Nona Hendryx and her performance art band Anon as the entertainment. But lurking behind him are the images from The Kitchen Table Series. In a way, they are asking, what's going on in the kitchen; what's the backstory? Missing from the dinner table is 'The Man,' performed by Josh Johnson and 'The Woman,' performed by Harper. Where is she? Is she coming? Will she break out of the heteronormative?
Refrigerated Dreams features costume design by Machine Dazzle, projection design by Katherine Freer, lighting design by Ania Parks, sound design by Thanasis Psarros and set design by Alex Hansen.
Refrigerated Dreams is part of New York Voices, the artist commissioning program of Joe's Pub, made possible, in part, by generous funding by the National Endowment for the Arts. The show was also made possible by support from JoAnn Chase, The National Black Theater, The Flea Theater and Hi-Arts.org.
A project of Joe's Pub, the Vanguard Award and Residency is an award and yearlong residency that celebrates the career of a singular artist who has contributed to American life and pop culture and is a part of the Joe's Pub family of artists. This artist also sustains and leads their own artistic community while creating a body of work that stands apart from their peers. Additionally, the award answers to the music industry's widening gaps in funding. Joe's Pub offers a cash grant as well as a monthly performance series to be performed and curated by the artist.