MASHUP-Stories Into Song Comes To The Duplex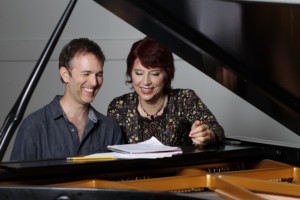 Storyteller/producer Jude Treder-Wolff and composer Wells Hanley present MASHUP-Stories Into Song, Sunday, December 2 at 4:00 pm at The Duplex. MASHUP-Stories Into Song features some of New York City's hottest storytellers and original songs written by Treder-Wolff and Hanley.
The line-up includes storytellers Robin Bady (MOTH winner, FringeNYC), Richard Cardillo (6-time MOTH winner, RISK!), Michele Carlo (PBS Stories From The Stage, The Moth), and Vernon Payne ((mostly) TRUE THINGS, Broadway Comedy Club). Original songs performed by Matt DiPasquale, John Gordon (Deacon of Funk), Theresa Sereo, and Gracie Tierzen.
MASHUP-Stories Into Song is an entirely unique show that brings an incredible line-up of storytellers and singers to the stage. Great stories have words, ideas, and an emotional energy which inspire music. In this show, songwriting team Jude Treder-Wolff and Wells Hanley get some of New York's finest storytellers to perform a story followed by an original song inspired by the story that they wrote together, which have a incredible arrangements created by Wells Hanley.
This first collection of stories into songs was performed at the Speak Up! Rise Up! Storytelling Festival at The Tank in NYC, and at The Performing Arts Studio in Port Jefferson, NY.
Performance takes place at The Duplex, 61 Christopher Street, New York, NY. Subway: 1 to Christopher Street. Tickets are $15 in advance, $20 at the door + 2-drink minimum and are available at https://bit.ly/2REfPeW
More information available at https://www.mashupstoriesintosong.com.
BIOGRAPHIES
Jude Treder-Wolff is a singer/songwriter, writer/performer and creative arts therapist who is host/creator of (mostly) TRUE THINGS, a game wrapped in a storytelling show that is a monthly event on Long Island, performed in NYC and around the country. She is active in the NY storytelling scene, with recent appearances on RISK! live show and podcast, The Armando Diaz Experience, Mortified, Grackle, StoryFest at The Pit and many others and facilitates teen storytelling programs in southwest Iowa and Long Island. Her solo show This Isn't Helping was featured at the 2017 Speak Up! Rise Up! Storytelling Festival and got rave reviews at The Whitefire Theatre Festival in Sherman Oaks, CA. www.judetreder-wolff.com
Wells Hanley is a composer, songwriter, musician and arranger who creates all the music tracks for the songs in MASHUP-Stories Into Song. He has performed at major festivals and clubs all over the U.S. and Europe, including the Spoleto Festival in Italy, the Montreaux Jazz Festival in Switzerland, The North Sea Jazz Festival in the Netherlands, and Birdland and the Iridium in New York City. He has performed and/or recorded with a variety of artists including Dave Matthews, Wynton Marsalis, Betty Carter, Tom Wopat, Steven Lutvak, David Liebman, and John McCutcheon. He has a Bachelor of Music in classical piano from JMU and a Master of Music in jazz and commercial music from Manhattan School of Music.
Featured BroadwayWorld Events
Check out these concerts...




More Hot Stories For You