Liz Callaway, THE LIGHTNING THIEF, and More Next Week at 54 Below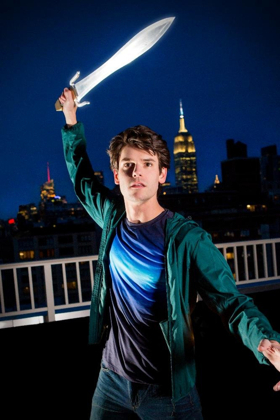 Next week, FEINSTEIN'S/54 BELOW, Broadway's Supper Club & Private Event Destination, presents some of the brightest stars from Broadway, cabaret, jazz, and beyond. To purchase tickets or for more information, visit www.54Below.com/Feinsteins or call (646) 476-3551.
54 SINGS THE MUPPETS, MAY 21 AT 9:30PM
It's time to play the music!
For over 60 years, the Muppets have been entertaining the world through laughter, learning, love - and lots of music. Join some of Broadway and comedy's brightest stars in a celebration of the songs they've brought us and the stories they've told us - those most sensational, inspirational, celebrational, muppetational Muppets!
Featuring: Noel Carey (Brooklyn Sound, Murder for Two), Stephanie D'Abruzzo (Tony Award nominee, Avenue Q, Sesame Street), Mia Gerachis (Jekyll & Hyde), Alex Gibson (SpongeBob SquarePants, The Great Comet), Gizel Jiménez (Miss You Like Hell, Party People), Rick Lyon (Avenue Q, Sesame Street), Larry Owens (To Dust, Gigantic), and Brynn Williams (SpongeBob SquarePants, Bye Bye Birdie).
Music Direction by Ben Caplan. Produced and Directed by Philip Romano.
$35-$45 cover charge. $75 premium seating. $25 food & beverage minimum.
PACE UNIVERSITY'S SENIOR CLASS OF 2018, MAY 21 AT 11:30PM
The acclaimed Musical Theater program at Pace University begins their students' schooling with a performance at Feinstein's/54 Below, so it is only fitting that they end here! Come celebrate Pace University's Senior Class of 2018! These talented men and women have been working tirelessly for the past four months on their showcase for the city's top agents and casting directors, and now it's time to finish off their year with a celebratory concert of their favorite musical theater material. The seniors of Pace MT are ready to take on the world. Don't miss this chance to see these upcoming and inspiring artists!
Featuring: Kyle Brown, Gabi Campo, Gabriella Certo, Hanako Greensmith, Katie Hollenshead, Ryan Hotes, James Anthony Hunsaker, Kelsey Fowler, Emily Louise Franklin, Byron K. Freeman, Chris Isolano, Noah Mogaka, Jamie Murray, Sandra Okuboyejo, Aidan Perry, Ari Raskin, Kyle Samuel, Kayla Saunders, Eric Schell, Linnea Sumner, Jada Temple, Bethany Tesarck, Jake Vielbig, and Zack Zaromatidis.
$20 cover charge. $40 premium seating. 2 drink or $20 food & beverage minimum.
Liz Callaway, MAY 22, 24, 25, & 27 AT 7:00PM
In A Hymn to Her, the all-new show from Emmy winner and Tony nominee Liz Callaway, Liz turns to the women who have inspired her to become the woman she is. Drawing from a vivid cross-section including Eydie Gormé, Barbara Cook, Carole King, Billie Jean King, Julia Child, Nora Ephron, and more, Liz pays tribute to her sheroes in story and song.
In a career spanning four decades, Liz Callaway made her Broadway debut in Stephen Sondheim's Merrily We Roll Along, received a Tony Award nomination for Baby, and won acclaim as Grizabella in Cats for five years. She won the Emmy Award for her children's show "Ready to Go." She also starred on Broadway in the original casts of Miss Saigon, The Three Musketeers, and The Look of Love. She has recorded numerous solo albums, including the recent The Essential Liz Callaway and has toured the world as a major concert artist. She is also well-known as the singing voice of the title character of Anastasia, introducing the Academy Award-nominated song, "Journey to the Past."
$45-$55 cover charge. $85-$90 premium seating. $25 food & beverage minimum.
BROADWAY'S GOT TALENT, MAY 22 AT 9:30PM
Broadway's Got Talent! is an International Musical Theater Talent Show, where fifteen musical theater performers, chosen by a panel of discerning judges, will be performing the best tunes from Broadway shows. A stellar panel of four judges will determine with live feedback who the winner will be.
Judges are musical theater performer and cabaret singers Francesca Capetta and Brian Charles Rooney; Broadway star and cabaret performer Klea Blackhurst; and legit Talent Agent from The Mine Dustin Flores.
In addition to serving on the judges panel, Klea Blackhurst will also host the evening.
Finalists are: John Battagliese, Danielle Bowen, Rory Cabrera Connolly, Shawday Graves, Katie Gray, Caroline Gurland, Elliott Lane, Kira Leiva, Monica Poston, Eric Stephenson, Adam von Almen, and David J. Wiens.
Music Direction by Jacob Yates.
For more information about auditions, visit www.broadwaysgottalent.com
$25-$35 cover charge. $60 premium seating. $25 food & beverage minimum.
Quentin Earl Darrington AND THE HANG PRESENT HOPE IN THE CITY WITH Laura Osnes, MAY 22 AT 11:30PM
Together, Quentin Earl Darrington (Ragtime, CATS, Once on This Island) and The Hang are proud to bring their celebration of hope in musical theater to Feinstein's/54 Below! With musical direction by Brian Ames, HOPE IN THE CITY will use musical theatre selections that showcase hopelessness or "hopefulness" that will lead you to a place to find it for yourself. Featuring songs from Shrek, Children of Eden, Dear Evan Hansen, and new works. HOPE IN THE CITY is for everyone who needs to find hope today! Join us and see if you don't find leave feeling hopeful.
The Hang is a group of talented artists from all around New York City, dedicated to fostering ability and inspiring community amongst its artists. Members include Jordan Grizzard (Carnegie Hall with Michael W. Smith), Kayla Grizzard, Leah Beth Etheredge, Rachel Gifford, and Brian Ames.
Special guest star and two-time Tony Award nominee Laura Osnes (Rodgers & Hammerstein's Cinderella, Bonnie & Clyde) will take the take as well.
$20 cover charge. $40 premium seating. 2 drink or $20 food & beverage minimum.
Donna Murphy HEADLINES EPIC DUETS, MAY 23 AT 7:00PM
Epic Theatre Ensemble presents Epic Duets, an evening to benefit Epic's nationally-recognized education and college access initiatives. This one-night-only event will feature fine dining and fabulous duets of Epic's students alongside renowned performers like Donna Murphy (2-time Tony Award winner, recently Hello, Dolly!), Jacob Ming-Trent (Hands on a Hardbody, Shrek), Gizel Jiménez (Miss You Like Hell), and Daphne Rubin-Vega (Miss You Like Hell).
At Epic, we believe in the voices of young people. We believe that their optimism, energy, and insightfulness, can, when harnessed, lengthen the arc of social justice and provide massive uplift to their communities. We also believe that participation in theatre is a uniquely powerful tool to help young people discover their voices, especially for those who have long lacked access in under-resourced communities and under-funded schools.
The Epic theatre experience goes beyond self-expression; it is a young person's Epic story of "firsts". For most, Epic is the first time they join a group, collaborate on a project, adhere to a schedule, raise their voice, tell their story and create beauty, not to mention set foot on a stage and act in a play they built.
Epic's impact doesn't stop there. In fact, the Epic magic stays with our students as they leave the high-school stage and begin a life of new firsts - from that first day of college, to the first day of a new job - and then onto to becoming employees, supervisors, parents and citizens of the world, often relying on their Epic "firsts" as a foundation. Epic provides the stage where firsts can emerge, giving students the confidence, perspective, experience and opportunity for a more successful future. Young people who work with Epic over four years of high school have a stunning college attendance and retention rate of 98%, more than double that of their peers. It costs Epic only $1,250 to empower a young person for four years inside and beyond high school, ultimately helping these students matriculate into college. We are proud to report that the average Epic alumnus receives over $25,000 in merit-based financial aid towards their higher education, yielding a 20x return on investment.
THIS IS A PRIVATE EVENT.
By purchasing tickets for this Special Event you agree to share your contact information with the hosts of this event.
$150-$200 cover charge. $250 VIP seating. $325 premium seating. 2 drink or $20 food & beverage minimum. All tickets include a two course prix-fixe and one signature cocktail.
Rob Rokicki AND THE GOOD KIDS, FEATURING SONGS FROM THE LIGHTNING THIEF, MAY 23 AT 9:30PM
After numerous appearances at Feinstein's/54 Below with the likes of Joe Iconis & Family, Rob Rokicki, composer and lyricist of the smash off-Broadway hit The Lightning Thief: The Percy Jackson Musical, returns to Broadway's Living Room with his own 54 concert debut, Rob Rokicki and the Good Kids!
Packed with songs from the Drama Desk-nominated The Lightning Thief and the graphic novel/rock album Monstersongs, along with deep cuts and brand new, never-before-heard tunes, this is a night of rock-and-roll musical theatre revelry that you don't want to miss!
Featuring: Maria Andreoli, Jianzi Colón, Leana Concepcion, Amanda Flynn (Wicked, Mamma Mia), Morgan Siobhan Green (Folk Wandering, Between the Lines), Joe Iconis (Be More Chill, Broadway Bounty Hunter), Peggy Sue Johnson, Lauren Marcus (Be More Chill), Kyle McIntire, George Salazar (The Lightning Thief, Be More Chill), Kristin Stokes (The Lightning Thief), Luca Padovan (School of Rock, Newsies), and Sarah Beth Pfeifer (The Lightning Thief).
$25-$35 cover charge. $60 premium seating. $25 food & beverage minimum.
THE Marcus Scott SONGBOOK, MAY 24 AT 9:30PM
Wild Young Hearts: The Marcus Scott Songbook
The concert explores the world of what Scott calls 'Afro-Americana' and what it could be through his music and lyrics. The centerpiece of the concert is Scott's show Cherry Bomb (2017 Drama League First Stage in Artist Residence and Finalist for National Black Theater's I am Soul and Yale Institute for Musical Theatre's residencies), an original musical that tells the story of an ambitious young man and the depths he and his high school friends will go to in ensuring that they and their dreams have a place in the world.
Marcus Scott, an accomplished playwright/journalist and alum of NYU's Graduate Musical Theatre Writing Program, makes his Feinstein's/54 Below debut tonight, having previously had his work published with Elle, Essence, and Playbill.com, and performed in NYC at such venues as the Tank, Theatre 80 St. Marks, Nuyorican Poets Cafe, and the historic Cherry Lane. With songs crossing such genres as hip-hop, Motown, funk, and contemporary pop/musical theatre, and a cast of up and coming performers (plus a surprise Broadway name or two), Wild Young Hearts is a pulsating concert that will leave you thinking and grooving in your seat.
Featuring: Emma Claye ("Arts and Sciences" EP), Lindsay Fabes (Double Rainbow - The Secret Theatre, Tribes - Barrington Stage), Sheldon Gamabon (The 25th Annual Putnam County Spelling Bee and The Boy Friend - TheaterZone), Mark Andrew Garner (Oliver! - N.A.A.P., Mary Poppins - Alabama SF), Luis Eduardo Mora (Naked Boys Singing - NYC, Pedro Pan - NYMF), Eric Stephenson (The Facebook Fighter - Signature Center, Miles and Me - Musical Theater Factory), and Alexander Tomas (Zuccotti Park - Fringe NYC).
Production and Direction by Justin Schwartz. Music Direction by Yan Li.
$25-$35 cover charge. $60 premium seating. 2 drink or $20 food & beverage minimum.
54 SINGS BROADWAY'S GREATEST HITS, MAY 25 AT 9:30PM
Previous volumes of this Scott Siegel concert event hit Feinstein's/54 Below like lightning! This was the show that every musical theater-lover had been waiting for... and now we're going to do it again, with a brand new line-up of Broadway's Greatest Hit Songs of All Time!
If you skip through cast albums just to hear the very best songs in each show, this is the nightclub concert event for you. If you love the classics of the Great White Way, come and hear the songs that made Broadway great, that made your heart soar, that you used to sing (maybe still do) in the
shower! But at Feinstein's/54 Below, you will hear the greatest Broadway songs of all time performed by today's greatest stars, singing them straight up, the way you want to hear them!
And who better to produce/direct/host this show than the creator of Town Hall's critically acclaimed Broadway by the Year series, Scott Siegel, creator of more than 200 major concert events centered on Broadway music! Broadway's Greatest Hit Songs of All Time will be a thrilling night that you won't forget.
Starring: Paola Hernandez (Rent), Jillian Louis (It Shoulda Been You, Cabaret), William Michals (The Lincoln Center Production of South Pacific), Brian Charles Rooney (The Threepenny Opera) and Gabrielle Stravelli (Multi-Award Winning Vocalist).
Featuring: Sarah Burke (Beyond the Binary) and Pedro Coppeti (Broadway by the Year).
$40-$55 cover charge. $75-$90 premium seating. 2 drink or $20 food & beverage minimum.
THE WRITERS LAUNCH WITH Jordan Silver, HEATHCLIFF SAUNDERS, AND MORE, MAY 25 AT 11:30PM
Late Night at Feinstein's/54 Below continues its new series that is unlike anything else at the venue: The Writers Launch!
Once a month, expect the unexpected when writers, both emerging and established, drop by to present an original tune. Some of the songs will be from musicals and some won't. Some will be performed by an actor and some by the writers themselves. Some will be brand new and some will be favorites from years ago. The twist? You'll find out three of those writers in advance - and 10 will remain a surprise until showtime.
At the top of the night, any writers wishing to present work will enter a lottery. Names will be chosen at random to present a song at the venue. Then, get ready to hop onstage and play your original number for a readied audience of musical theatre lovers. Lottery must be entered in the lobby by 11:20pm.
The cover charge is $10 for all seats for the first Writers Launch events. Though no guest is guaranteed to present a song, we encourage all interested writers to arrive readied to play. A piano will be provided. If you have any questions about participating as a writer, email producer Anthony Crouchelli at anthonycrouchelli@gmail.com. For inquiries about the series, please contact Amy Sapp at asapp@54below.com.
You never know who might drop in...!
How It Works: For Songwriters
-Give your name to the designated producer upon entry downstairs.
-At 11:25pm, entries to perform close.
-5 to 7 names will be selected randomly to perform that night, live at Feinstein's/54 Below.
-Songwriters may elect to have other performers sing their work. These songwriters are responsible for bringing their performers.
How It Works: For Viewers
-Enjoy a night of stellar composition and delicious food and drink at Feinstein's/54 Below!
$10 cover charge. $25 premium seating. 2 drink or $20 food & beverage minimum.
THE SONGS OF THOMSON & DESMON WITH Justin Guarini, Nick Adams, AND MORE, MAY 27 AT 9:30PM
We Write Good: The Songs of Thomson & Desmon
Come join Broadway's goodest talent as they guide audiences on a rollicking, rude, and uncomfortably heartfelt journey through the musical and lyrical imaginations of Jeff Thomson and Jeremy Desmon. Featuring a spectacular roster of their favorite performers, this wild and tuneful evening includes songs from Pump Up The Volume, The Oliver Experiment, Big Rock, Auburn Falls v. Google, and Thomson & Desmon's latest project, their upcoming musical based on the iconic super-sleuth, Nancy Drew.
Featuring: Nick Adams (Priscilla Queen of the Desert, Wicked), Becca Ayers (The Addams Family, South Pacific), Max Crumm (Disaster, Grease), Russell Fischer (Jersey Boys), Jillian Gottlieb (world premiere of The New World directed by Stafford Arima), Justin Guarini ( "American Idol," In Transit), Tony nominated Tom Hewitt (Amazing Grace, Doctor Zhivago, Jesus Christ Superstar, The Rocky Horror Show), Emma Hunton (Spring Awakening), Morgan Reilly (Pop Recording Artist & Songwriter), Darren Ritchie (Wonderland, Dracula, the Musical, Les Misérables), Colton Ryan (Dear Evan Hansen), and Adam B. Shapiro (HBO's The Normal Heart).
Executive Producer: Marilyn Eckley. Associate Producer: Iris Productions. Composer: Jeff Thomson. Lyricist: Jeremy Desmon. Casting Director/Line Producer: Robin Carus. Music Director: James Sampliner. Stage Manager: Jason A. Quinn.
$25-$35 cover charge. $60 premium seating. $25 food & beverage minimum.
EXPERIENCE ADELE TRIBUTE WITH ANDREA TYLER , MAY 27 AT 11:30PM
Andrea Tyler, the #1 Adele sound-alike to date, makes her Feinstein's/54 Below debut in "Experience Adele Tribute Show."
You will feel like you have been transported to one of Adele's sold-out world tours when Andrea begins to sing. This interactive show features all of Adele's greatest hits - from "Hello" and "Rolling in the Deep" to "When We Were Young" and "Set Fire to the Rain."
The show will keep you laughing as Andrea brings Adele's quirky sense of humor to life before your eyes.
Grab your Adele-loving friends and prepare to be amazed by Andrea Tyler's spot-on impersonation!
$20 cover charge. $40 premium seating. 2 drink or $20 food & beverage minimum.
MORE ABOUT FEINSTEIN'S/54 BELOW
Feinstein's/54 Below, Broadway's Supper Club & Private Event Destination, is a performance venue in the grand tradition of New York City nightlife. A few blocks from the heart of Times Square and just below the legendary Studio 54, Feinstein's/54 Below is a classically designed state-of-the art nightclub in the theatre district that hosts audiences with warmth and style. Feinstein's/54 Below presents iconic and rising stars from the worlds of Broadway and popular music and has set a new standard for culinary excellence worthy of the world-class entertainment on the stage.
In their description of the venue, The New York Times writes, "Feinstein's/54 Below has the intimacy of a large living room with unimpeded views and impeccable sound; there is not a bad seat in the house. Its sultry after-hours ambience is enhanced by brocade-patterned wall panels planted with orange-shaded lanterns. And the atmosphere is warmer and sexier than in Manhattan's other major supper clubs."
Located at 254 West 54th Street, Feinstein's/54 Below features up to three shows nightly with cover charges ranging from $5-$105. 54Below.com/Feinsteins
Photo credit: Jeremy Daniels