Lindsey Brett Carothers, Michael Andrew Daly, and More to Perform at IN THE WORKS At The Duplex this Sunday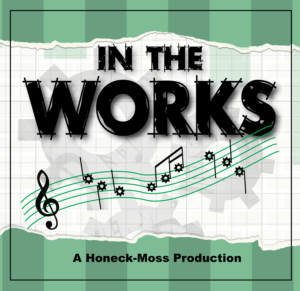 Honeck-Moss Productions is proud to present "In The Works" at The Duplex Cabaret Theatre on Sunday, October 29th, 2017 at 9:30 p.m. This is the second year of this monthly show conceived as an opportunity for composers to try out new work in front of an audience and see how it plays in a supportive environment.
"In The Works" features three composers or composing teams, each presenting new material. This is the 10th presentation in the series and will feature the works of Barbara Bellman, Will Van Dyke & Jeff Talbott, and Jeff Thomson & Jeremy Desmon. Hosted by: Drew Fornarola.
with performances by Lindsey Brett Carothers, Michael Andrew Daly, Anna Eilinsfeld, Saran Danielle Hoch, Kate Loprest, T.J. Mannix, Jake Odmark, Daniel Quadrino, Marissa Rosen, Danny Saulle, and PatRick Thompson.

The Duplex Cabaret Theatre is located at 61 Christopher Street (on 7th Avenue, just off the 1 train). Tickets are $10 in advance and $15 at the door, and there is a two beverage minimum. $5 Ticket for Broadwayworld readers, use code BWW at check out. Tickets are available at www.purplepass.com/works1029.
Barbara Bellman is a librettist, lyricist, producer and playwright and a founding member of The Producers' Fund - a Philadelphia-based coalition of producers supporting women created and/or directed theatre.
She is also a member of the Dramatists Guild and the League of Professional Women in Theatre. She holds an MFA in Creative Writing from StonyBrook University and a Bachelor of Science from Arizona State University (1973). After a career in Advertising, Barbara returned to her first love - writing full time and was accepted to the 2015 BMI Musical Theatre Workshop and the Tisch Graduate Musical Theatre Writing program (Class of 2018).
Several of her plays have been performed in Festivals. She is a four-time winner of the Philadelphia one-minute play festival; her 20-minute play, The Wine Cellar, was a winner in the DC Swan Festival in addition to its publication in The Southampton Review literary journal.
She is a resident of both Philadelphia and New York City.
Will Van Dyke and Jeff Talbott are a musical theatre writing team. Their musicals include: Imagine Harry, which was featured in the National Alliance of Musical Theatre Festival of New Musicals in the fall of 2015, was a finalist for the 2017 O'Neill Musical Theatre Conference, a semi-finalist for the 2015 O'Neill Musical Theatre Conference and a finalist for the 2015 Rhinebeck Writers Retreat; Wintersong, on which they were invited to work at the Johnny Mercer Writers Colony at Goodspeed Musicals; Seven Broken Hearts, which they were chosen to work on at the Rhinebeck Writers Retreat in 2017; and The Circle, which was commissioned by Grove Entertainment and Barbara Whitman Productions.
Their recordings include an EP called A View of the River, and a single (featuring Annaleigh Ashford) called A New Year, both of which are available on iTunes or wherever digital music is sold. Will (music and lyrics) has also written the upcoming musicals Magnificent Climb (with Rick Elice) and Writing Kevin Taylor (with Josh Holloway), as well as Winnie the Pooh Kids and The Lion King Jr. and Kids for Disney, among many other compositions. His albums Chasing the Day, Writing Kevin Taylor, Daylight, Constant and Make the Season Bright (the last three co-written with Matt Doyle) are available wherever digital music is sold. www.willvandyke.com.
Jeff Talbott (book and lyrics) is the author of The Submission, which won the inaugural Laurents/Hatcher Award in 2011, was produced Off-Broadway by MCC Theater and went on to win the Outer Critics Circle John Gassner Award for Best New American Play in 2012, and has since been produced all over the country. His play The Gravedigger's Lullaby was produced Off-Broadway (with original music by Will Van Dyke) by TACT at Theatre Row in 2017. Upcoming world premieres: (February/March 2018 Pioneer Theatre Company) and Civics and Humanities for Non-Majors (April 2018, Montclair State University, who commissioned the play). Three Rules for the Dragon was a finalist for the 2016 O'Neill Playwrights Conference and has been workshopped by Rattlestick Theatre Company/Colt Coeur and Premiere Stages in New Jersey and A Public Education was a finalist for the 2015 O'Neill Playwrights Conference. www.jefftalbott.com.
Will and Jeff live and write in New York City.
Jeff Thomson is a recipient of the Jonathan Larson Performing Arts Foundation Award as well as the Dramatist Guild Musical Theatre Writing Fellowship. His songs have been performed by such artists as Adam Lambert, Lea Michele, JoJo and he was a featured songwriter in the acclaimed songbook series at Lincoln Center.
Jeff's original musical TRAILS was performed in New York, Los Angeles, Seattle and Tokyo, winning him the NYMF award for Best Music as well as the Stage Entertainment Development Award. Other projects include VIRTUALLY ME for TheatreworksUSA, the critically-acclaimed musical horror spoof THANKSKILLING (adapted from the B horror movie), a club musical adaptation of the cult film JAWBREAKER, an arena rock musical adaptation of Allan Moyle's PUMP UP THE VOLUME (currently being developed at Seattle's 5th Ave. Theatre) and the postmodern musical comedy THE OLIVER EXPERIMENT (directed by Scott Schwartz). He was commissioned by Broadway Across America to compose the score to the hit Off-Broadway children's musical MAD LIBS LIVE! and was selected by Amazon Studios to write the music for the animated movie musical, MIDNIGHT. Upcoming projects include the live action movie musical BEYOND RED conceived by film and TV writer/director, Darren Stein.
Most recently, Jeff was selected by Simon & Schuster to pen the score to a new Broadway musical based on the iconic and beloved sleuth, Nancy Drew. www.JeffThomsonMusic.com
Jeremy Desmon is an award-winning musical theatre bookwriter and lyricist whose stories have played to audiences around the world. THE GIRL IN THE FRAME, earned him the prestigious Kleban Prize as America's most promising musical theatre bookwriter. Jeremy's "revisal" of the classic musical comedy GOOD NEWS recently opened Goodspeed Opera House's 50th Season to rave reviews. PUMP UP THE VOLUME, his rock musical adaptation of the 1990 film starring Christian Slater, is being developed with Seattle's 5th Avenue Theatre.
Also, in development: THE OLIVER EXPERIMENT, a ground-breaking new musical with composer Jeff Thomson, directed by Scott Schwartz; plus, Jeremy was recently selected to write the upcoming Broadway musical comedy for Simon & Schuster's iconic "girl detectve," NANCY DREW.
Other credits include CYRANO DE BURGER SHACK (70+ high school productions in first year), SURVIVING THE AVALANCHE(Barrington Stage), VIRTUALLY ME (TheatreworksUSA tour), and I SEE LONDON, I SEE FRANCE (NYMF).
In the world of non-musical comedy, Jeremy is also the author of the high-concept romp, 7½ WONDROUS ACT(S) OF TRUE LOVE (Midtown Direct Rep) and MUDD, a new historical-ish comedy about the Lincoln assassination.
Additionally, Jeremy writes "family theatrical" touring arena shows for some of the world's most recognizable characters, including monkeys (Universal's CURIOUS GEORGE), mice (Disney Live's MICKEY'S MUSIC FESTIVAL!), monsters (Sesame Workshop's ELMO ROCKS!) and elephants (multiple editions of RINGLING BROS. AND BARNUM & BAILEY CIRCUS). He's also proud to have writte a show that requires skates and a Zamboni, namely Disney On Ice's ROCKIN' EVER AFTER.
Jeremy is an alum of Stanford University (BA) and NYU's Tisch School of the Arts (MFA). He teaches a musical theatre writing workshop at Princeton University and was a Jonathan Larson Fellow with the Dramatists Guild for his work as a lyricist. www.JeremyDesmon.com
Drew Fornarola is a songwriter and playwright from New York City. Film: VeggieTales Noah's Ark (DreamWorks, 2015) starring Wayne Brady. Theater: STRAIGHT (2016 New York Times Critics' Pick); Claudio Quest(winner of six 2015 NYMF Awards for Excellence); Molly Shannon's Tilly The Trickster (Atlantic Theater Company, collaboration with Saturday Night Live's Molly Shannon), Thucydides (Winner of the Samuel French Play Festival), Vote (for Me!) (London Theater Workshop, Roy Arias Theater off-Broadway), COLLEGE The Musical (MTVu Award Winner, NYMF Award for Lyrics). Drew has headlined concerts at Lincoln Center, 54 Below, Broadway au Carre (Paris), London Theater Workshop and Bar Fedora in Los Angeles among others. He is a member of the Broadway Dreams Foundation faculty and the co-creator of Madame Mathieu's Soiree, an avant garde variety show at The Duplex. www.drewfornarola.com
Honeck-Moss Productions:
Thomas Honeck and Lisa Moss were awarded The 2015 MAC Award for Special Production for the show "Dancing with Death" and were given a Bistro Award in 2014 for being an Innovative and Nurturing Creative Team.
$10 Ticket in Advance & a 2 Drink Minimum in the Cabaret Theatre*
$15 Ticket at the Door (plus service fee) & a 2 Drink Minimum in the Cabaret Theatre*
*Drinks Must be purchased In the Cabaret Theatre to count towards the Minimum.