Joe's Pub At The Public Theater Announces 2019 Class Of JOE'S PUB WORKING GROUP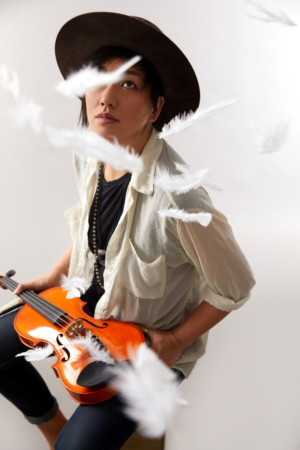 Joe's Pub, a program and venue of The Public Theater, announces the new class of Joe's Pub Working Group (JPWG), the venue's artist development program dedicated to enhancing the career sustainability and growth of performing artists. Entering its fifth year, JPWG welcomes five artists performer and songwriter Migguel Anggelo, composter and vocalist Trevor Bachman, comedian and performance artist Becca Blackwell, jazz musician and composer Yacine Boulares, and singer-songwriter Treya Lam as the core group that represents the diversity and scope of the nightly programming at Joe's Pub.
Facing the rapidly shifting state of the music industry, Joe's Pub extends the Working Group to New York City artists at a critical point in their careers. As a non-profit independent music venue in its 20th year, we've watched the music business evolve at a breakneck pace. In response to that, we're doubling down on fostering community and collaboration amongst the many artists that pass our threshold with programs like Joe's Pub Working Group, said Alex Knowlton, Director of Joe's Pub.
Joe's Pub thrives at the crux of New York City's live music and downtown performing arts scenes. The venue has not only spring-boarded the rise of global superstars like Adele and Janelle Mon e but it also serves as the home for the genre-defying projects of artists like Bridget Everett and Mx Justin Vivian Bond. By furnishing a range of administrative and curatorial services, dedicated to project-based goals, JPWG offers both personalized practical and creative assistance and a group dynamic to deepen a communal atmosphere for developing new, ongoing, and collaborative work.
Past participants include Bridget Barkan, Dan Fishback, Ali Grieb, Celisse Henderson, Juliette Jones, Larry Krone, Danny Lipsitz, Dana Lyn, Erin Markey, Stephanie McKay, Michael Mwenso, Trish Nelson, Isaac Oliver, Samora Abayomi Pinderhughes, Courtnee Roze, Kaylyn Marie Scardefield, Tori Scott, Shaina Taub, Ike Ufomadu, and Julian Velard.
Migguel Anggelo is a performer, writer, and songwriter breaking barriers on the American stage by creating unique works that are reflective of the multicultural, multi-lingual, changing demographics of our country and times. The Brooklyn-based, Venezuelan-born artist trained for a dozen years in classical ballet, studied voice at the Conservatory of Music in Cologne, Germany, has written music throughout all of his journeys as an immigrant in several countries, and has released two albums, the most recent being La Casa Azul.
In addition to performing on many of the world's greatest stages including Teatro Teresa Carreoin
Caracas; Teatro Insurgentes in Mexico City; Teatro Lola Membrives and Teatro Gran Rex in Buenos
Aires; and The New World Center in Miami Anggelo performs regularly at Joe's Pub. His upcoming show is LatinXoxo: An Unrequited Serenata, a musical exploration of love and Latino stereotypes seen through a queer lens. Previous shows created for Joe's Pub were So Close: Love & Hate, Another Son of Venezuela, and I, Inmigrante, all of which he developed with Obie Award winner David Drake. Anggelo and Drake are developing two new projects: a new, music-theater work called The Suitcase Project, exploring issues of immigration and assimilation into the United States through original music, characters, and theatrical storytelling in the BRIClab residency at BRIC; and Welcome to La Misa, Baby, a new play, inspired by the shooting at Pulse Nightclub in Orlando.
Pronouns: he/him
Trevor Bachman is a composer, vocalist, and writer of socially-focused musicals. Described by The New York Times as musically and vocally rich and by New York Magazine for their golden-voiced soulful vocals. Their most recent works are FARMED: A Live Podcast Album (Joe's Pub, Theatre C, Kickstarter HQ), which featured scored interviews from dozens of communities nationwide and a 25-person choir; Shapeshifters, a new musical commemorating the 50th Anniversary of Stonewall, commissioned by the Denovan Grant, debuting January 2019; and Chasing Fear, a new musical in English and Turkish, debuting in San Diego in April 2019.

As a vocalist, Bachman was most recently seen Off-Broadway in Black Light at Joe's Pub and the Greenwich House Theater. They are currently an artist in residence with Brooklyn Arts Council and a member of the New Dramatists 2019 Composer-Librettist Studio. Bachman has worked with upwards of a thousand young people to create and perform original songs based on their unique stories. Bachman's album Blue River features several Broadway and Off-Broadway talents and donates 100% of proceeds to arts education programs in New York. As a musical director and instructor, Bachman has worked at New York University, NYU Abu Dhabi, Baruch College, and Brooklyn College.
Pronouns: they/them
Becca Blackwell is a New York-based transgender actor, performer, and writer. Existing between genders, and preferring the pronoun "they," Blackwell works collaboratively with playwrights and directors to expand our sense of personhood and the body through performance. Some of their collaborations have been with Young Jean Lee, Half Straddle, Jennifer Miller's Circus Amok, Richard Maxwell, Erin Markey, Sharon Hayes, Theater of the Two Headed Calf, and Lisa D'Amour. Their solo show They, Themself and Schmerm still tours. Film and television credits include High Maintenance, Untitled Noah Baumbach Project, Shameless, Deadman's Barstool, and Jack in the Box. Blackwell is a recipient of the Doris Duke Impact Artist Award.
Pronouns: they/them
Yacine Boulares is a French-Tunisian saxophonist, clarinetist, and composer. Granted a Fullbright Scholarship to the New School of Jazz and Contemporary Music, Boulares moved to New York to learn from his idols, including Chris Cheek, Donny McCaslin, Reggie Workman and more. New York exposed him to different music he joined ex-Fela Kuti drummer Jojo Kuo's Afrobeat Collective, late Cameroonian singer Martino Atangana's African Blue Note, and Haitian Kompa legends Tabou Combo. In their music, he found a deep echo of his North African roots the Bikutsi rhythms from Cameroon evoked the rhythms of Tunisia. This led to the creation of the band AJOYO, a mystic brew of African tradition, jazz, and soul.
Boulares continues to play as a sideman both in the jazz repertoire with the likes of Sheila Jordan, Theo Bleckman, and Becca Stevens and for various projects like Japanese singer/songwriter Senri Oe. Boulares has also worked with Placido Domingo, Ira Coleman, Mark Feldman, Rhani Khridja, Chico Pinheiro, and Bridget Kibbey. With cellist Vincent Segal and drummer Nasheen Waits, he explored the Tunisian Stambeli repertoire, receiving a grant from the French American Jazz Exchange to make an album in 2017. Boulares also teaches song-writing at the French Heritage Language Program. Boulares is a D'Addario woodwinds and Lebayle Mouthpieces artist.
Pronouns: he/him
Treya Lam is a classically trained multi-instrumentalist and songwriter whose cinematic songs and ethereal vocals are built on Nina Simone-inspired piano, meditative guitar, and lush chamber arrangements. Lam's debut album, Good News, was released on Kaki King's label, Short Stuff Records. Produced by King, the album, which features Lam playing many of the instruments, was recorded with many talented female musicians, most notably Catherine Popper (Ryan Adams, Jack White, Norah Jones) on upright bass, and mixer Erin Tonkon (David Bowie, Esperanza Spalding). It debuted to a sold-out crowd at Joe's Pub followed by a nationwide tour in fall 2018.
Lam seeks out extraordinary venues and has performed original music at the Prospect Park Bandshell, American Museum of Natural History, Garfield Park Conservatory, MoCA museum, and the New York Public Library. Treya is an Associate Artist with the eco-theatre group Superhero Clubhouse, and member of the Resistance Revival Chorus. The Village Voice said Lam draws you in, hypnotizes you, and all at once you'll get taken up by a huge tide, a swell that takes you over completely.
Pronouns: she/her
Joe's Pub, named for The Public Theater's founder Joe Papp, opened in 1998 and plays a vital role in The Public's mission of supporting young artists while providing established artists with an intimate space to perform and develop new work. Under the new leadership of Director Alex Knowlton, this fall begins Joe's Pub's 20th Anniversary Season of presenting the best in live music and performance nightly, committed to diversity, production values, community and artistic freedom. The venue also offers opportunities like New York Voices, an artist commissioning program that provides musicians resources and tools to develop original theater works; Joe's Pub Working Group, an artist development initiative; The Vanguard Award & Residency, a yearlong series that celebrates the career of a prolific and influential artist, who leads their own artistic community; and nationwide programming partnerships. Commissioned artists include Mx Justin Vivian Bond, Bridget Everett, Daniel Alexander Jones, Ethan Lipton, Toshi Reagon, Allen Toussaint and more. The venue's food and beverage partner is NoHo Hospitality Group, helmed by acclaimed chef Andrew Carmellini. With its intimate atmosphere and superior acoustics, Joe's Pub presents talent from all over the world as part of The Public's programming downtown at its Astor Place home, hosting approximately 800 shows and serving over 100,000 audience members annually.
THE PUBLIC is theater of, by, and for all people. Artist-driven, radically inclusive, and fundamentally democratic, The Public continues the work of its visionary founder Joe Papp as a civic institution engaging, both on-stage and off, with some of the most important ideas and social issues of today. Conceived over 60 years ago as one of the nation's first nonprofit theaters, The Public has long operated on the principles that theater is an essential cultural force and that art and culture belong to everyone. Under the leadership of Artistic Director Oskar Eustis and Executive Director Patrick Willingham, The Public's wide breadth of programming includes an annual season of new work at its landmark home at Astor Place, Free Shakespeare in the Park at the Delacorte Theater in Central Park, The Mobile Unit touring throughout New York City's five boroughs, Public Forum, Under the Radar, Public Studio, Public Works, Public Shakespeare Initiative, and Joe's Pub. Since premiering HAIR in 1967, The Public continues to create the canon of American Theater and is currently represented on Broadway by the Tony Award-winning musical Hamilton by Lin-Manuel Miranda. Their programs and productions can also be seen regionally across the country and around the world. The Public has received 59 Tony Awards, 170 Obie Awards, 53 Drama Desk Awards, 54 Lortel Awards, 32 Outer Critic Circle Awards, 13 New York Drama Critics' Circle Awards, and 6 Pulitzer Prizes.